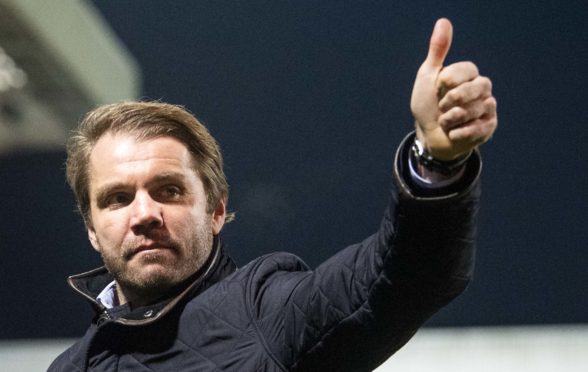 Dundee United's title-winning manager Robbie Neilson enjoyed the world's first cyber championship celebrations before promising fans a real party.
The Tangerines' boss "met" his players on social media platform Zoom to toast their promotion-winning achievement after Dundee's yes vote confirmed they will be back in the Premiership after four long, hard, frustrating years in the Championship.
The coronavirus crisis meant there were no final whistle leaps for joy, hugs with supporters or champagne in the dressing room.
Instead, it was a mass video gathering on the laptops and phones on Wednesday night.
Neilson, however, pledged to eventually paint the town tangerine and the United fans will definitely be invited.
"Honestly, I didn't do much," said Neilson.
"The boys had a Zoom call, with the chairman Mark Ogren organising one for 9pm so we did it all together.
"He said a few words, I said a few and then we left the boys to do whatever they do on these Zooms.
"It's strange. When I won it with Hearts, we had a final game and there was the relief of winning it and the celebrations.
"This has been a slightly different experience but the objective at the start of the season was to win the league and we have managed to do that.
"We have managed to do that and got a team promoted. We have to try and enjoy it the way we are just now," added the Tannadice gaffer.
"Obviously, there are a lot of things going on in the background and things going on in the world right now which are more important but I would hope we will have some sort of celebration once the lockdown is lifted because the fans deserve it.
"It's probably the first time a title has been celebrated over on Zoom but, like I said, it has been weird.
"I would hope they will get a celebration when we can come together with the fans because they have been up and down the country for the past four years in their numbers with disappointment, disappointment, then heartbreak with the play-offs.
"We haven't been told when we will get the trophy but I would like to think we will get a chance to celebrate in front of the fans at some point."
Neilson did manage to "socially distance" meet with United sporting director Tony Asghar on the big night.
He explained: "Tony stays just up the road from me and we were both out on a walk when we heard what had happened.
"We had heard all day what was going on and, like everyone else over the last few days, we had heard it was on it was off and it was on and it was off.
"We were both out walking when it came through Dundee had voted yes, so we decided to rendezvous. We kept out two metres apart to make sure everyone was alright and we celebrated.
"It's been a strange time for everyone."
'Alexa, play Endor Pump it Up': Dundee United players celebrate promotion to Scottish Premiership from home