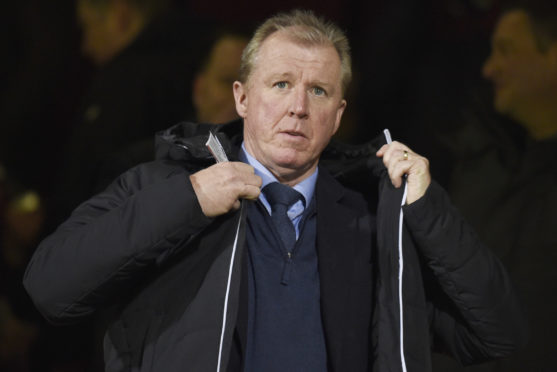 If Dundee United end up with Steve McClaren as their head coach they'll have appointed the highest football achiever to the post since Jim McLean.
No ifs, buts or maybes.
You don't get head-hunted by Sir Alex Ferguson, win a national cup competition for a provincial English club, secure a league title abroad or manage England if you're not extremely good at what you do.
The gold stars on the McClaren coaching CV are many and they shine bright.
It was his work on the training ground with Derby County, helping get them into the top flight and establishing them there, that earned him the career-defining move to Manchester United.
As instant impacts go, McClaren's takes some beating.
A few months after arriving at Old Trafford in 1999, he had the historic treble to celebrate. League titles followed in the next two seasons so it's little wonder that McClaren's name is at the top of a very distinguished list of Ferguson assistants for many United supporters.
With little prospect of succeeding the Scot, he left to be his own man at Middlesbrough. After guiding the Teeside club to a League Cup triumph, a seventh-placed Premier League finish and then to a Uefa Cup final, McClaren earned the title of Boro's best ever manager.
Those who put it down to Steve Gibson's deep pockets will probably have changed their minds in the last few years as the owner has continued to back his managers to nowhere near the same level of return.
Given he had combined his Middlesbrough job with assisting Sven-Goran Eriksson, and that their time together with the Golden Generation was reasonably successful, there was no public outrage south of the border when the FA opted for continuity and gave him the England head coach post after they were spurned by Luiz Felipe Scolari.
McClaren only got one shot at qualifying for a major championships and when his team lost at home to Croatia and didn't make it to Euro 2008, he was fired. Falling short as England boss is closer to the norm than the exception, however. It will no doubt be his biggest disappointment but it's a high bar, certainly when you're talking in the context of the next Dundee United manager.
It is to McClaren's great credit that he didn't retreat to his comfort zone of English club management, instead choosing Dutch side FC Twente for his next managerial role. Within two seasons they were crowned Eredivisie champions for the first time in their history.
This was more than career rehabilitation.
It was, by his own admission, his greatest accomplishment and, if he does become United boss, an encouraging sign that he can hit the ground running in an unfamiliar league.
From 1995 to 2010 it had, England apart, been pretty much unbroken success for McClaren. The last decade has been a different story, though.
Replicating the magic of the Netherlands across the border in Germany with Wolfsburg proved beyond him and the first Englishman to manage in the Bundesliga got his first club sacking after less than a season.
He would start to get used to it.
McClaren's time back in England with Nottingham Forest was even shorter but just as disappointing and a return to Twente was an anti-climax after what had gone before.
The peak of this second stage of his career came at Derby when the Rams got into the play-offs, losing in final. By the time another promotion bid had collapsed at the end of the following season, 2014-15, he had been linked with Newcastle United.
Being dismissed by Derby and then hired by Newcastle isn't your usual two plus two equals four football equation but there was nothing unusual about a Magpies team struggling at the bottom of the Premier League in the Mike Ashley era. McClaren left the club second bottom and even Rafa Benitez couldn't save them from relegation after he took over.
Failing to do anything special with either Derby (again) or QPR in the Championship has left the impression that McClaren's best days are behind him. As far as the very top of football is concerned, they almost certainly are.
But listen to his in-game analysis on Sky Sports – or speak to those who played under him, even in recent years – and you'll realise that, one year away from 60, the McClaren tactical and technical brain is as sharp as ever it was.
None of the club lows, the 'Wally with the Brolly' stuff from his last England game, the whitened teeth and the infamous dodgy Dutch press conference accent detract from the fact that his appointment would be a coup for sporting director Tony Asghar.
McClaren could be a perfect fit for the type of role he would be filling at Tannadice.
Leading contender Malky Mackay has video meeting with Dundee United officials as interviewees for Tangerines post revealed