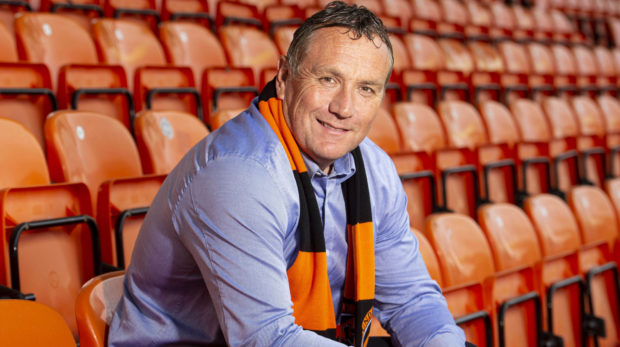 Dundee United manager Micky Mellon had told his players to forget about the title party that never was.
The Championship flag will be unfurled at Tannadice today as Scottish football reopens but there will be no packed stands full of celebrating tangerine-clad fans there to see it in person.
That will have to wait until after September 14, the date pencilled in by the Scottish Government for letting spectators back into grounds.
Instead, the award ceremony will take place before kick-off in front of a few hundred people: the staff, officials and media lucky enough to be inside the stadium while supporters are locked out.
The coronavirus restrictions will drain much of the joy from an occasion United have worked damned hard to earn over four roller-coaster years.
It is a shame but Mellon will tell his men not to dwell on that but instead concentrate on giving the at-home home fans something to cheer about on the park by beating St Johnstone in what will be the club's first top-flight fixture since they beat Kilmarnock 4-2 at Rugby Park on May 14, 2016.
Mellon, who will be in charge of his first competitive game since taking over from Robbie Neilson, said: "It will be brilliant to be back out there again, although it is sad that the fans won't be back for those first games when we are back at the level we should be operating at.
"We are as ready as we can be, the players are excited and it should be a good afternoon for us.
"Of course, it is disappointing for the fans and for the players because they haven't quite had that moment they deserve in winning the Championship but we need to put all that behind us and move forward.
"This is the way it is now and we can't be too sidetracked by that.
"It could all have all been very different but it is what it is.
"We have to go out there and announce ourselves back in the Scottish Premiership again."
The champions of the Championship, of course, will have to get used to not being the big fish in the small pond.
Arguably, the Tangerines were favourites in every one of their league matches last season in the second tier.
It will, of course, be a different story now.
Asked about being underdogs on occasion during this forthcoming campaign, Mellon said: "It is a difficult one because I would never really go into any game thinking that I couldn't go and make an impact in it.
"I would expect my players to be the same.
"We will go into every game trying to find a way of getting a result.
"Therefore, being favourites and all the rest of it is for other people to decide.
"We may obviously have to adjust and adapt to certain things at times but being favourites or not is something for the bookies – we're not allowed to get involved in that!
"We will get ourselves organised and we will go out in every game trying to get a result, starting against St Johnstone."
Mellon doesn't seem the type to make rash claims about what United will or won't do this season.
His demeanour is calm and relaxed, although that might change once the whistle blows.
Asked if he thought his players might surprise a few people in the Premiership despite being the new arrivals, he said: "I'm not thinking what people are thinking about us.
"I believe we'll get the best out of ourselves that we possibly can.
"We will have a great appetite to keep getting better and the games will provide the answers to that.
"What people think – surprise and the rest of it – that's not how I am aiming to operate.
"I just want us to go out and do ourselves justice and to realise our potential."
As Mellon chatted away about how he is loving life back in Scotland and settling into the area, he revealed himself to be something of an animal lover.
Indeed, this upbeat and interesting individual appears to have a veritable zoo about to arrive at his new home.
He said: "My family aren't up here yet but they will all move up next week.
"It will be like Noah's Ark with all the animals that we have!
"Yeah, we've got pretty much everything.
"We've got horses and dogs and all sorts so it will be good fun trying to get the Ark up the River Tay!
"We are looking forward to mooring that and getting them all acquainted with their new surroundings.
"It will be great to have them up. That is what makes it a family and a home so we're looking forward to it.
"We will be moving into our new house so we're looking forward to that.
"In terms of myself being in and around the city, it's been terrific.
"I have really enjoyed it and I've been able to speak to a lot of the fans, socially distanced of course.
"You can see the appetite that they have to have a really strong football team in the city so it's important that I'm out meeting them and they can get to know me as a person as well."
Mellon is expected to have captain Mark Reynolds available again for a central defensive role, while number one Benjamin Siegrist will be in goal.
The manager's biggest decision appears to be whether or not to start new signing Luke Bolton, who can play either right-back or wing and has joined on a season-long loan from Manchester City.
Mellon said: "Luke brings pace, power and has ability.
"He has come from Manchester City, one of the biggest clubs in the UK, and he comes with a great pedigree.
"It gives the group a lift that we can attract this sort of player because for his age he is an England international.
"He will add to the group and give us different qualities in a division where we will be playing up a level from last season."