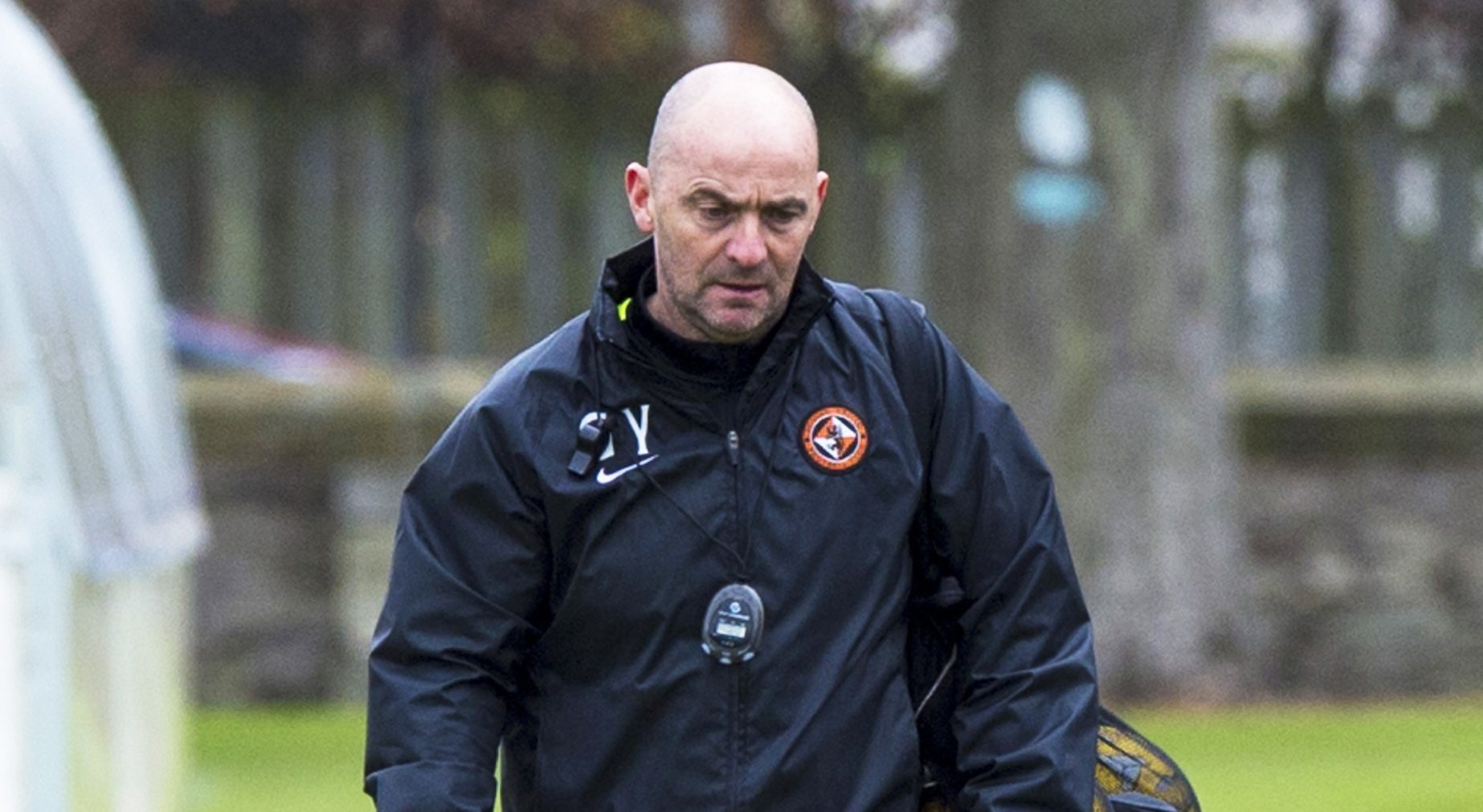 Dundee United caretaker coach Gordon Young has urged the players to put their predicament "in perspective" ahead of the final home game of the season.
Tonight's match against Partick Thistle at Tannadice will be a downbeat occasion, with the Tangerines still trying to come to terms with being relegated by city rivals Dundee.
As hard as it is to believe, Young has been through worse than this last week or so at United.
He isn't playing down what has come as a body blow to the Tangerines, with manager Mixu Paatelainen sacked and all but a handful of first-team players told they can leave.
However, he is urging the squad to remember there are worse things in life than being paid to play football.
"I was at Motherwell through administration," recalled Young.
"That really was a bleak, horrible time.
"I saw the devastation it had on individuals and families.
"I am from Motherwell and they were talking about the club closing.
"It wasn't long after the steelworks at Ravenscraig shut as well.
"So I know the impact football has on the whole of the community.
"One of my closest friends was in the administration side and they all lost their jobs.
"The playing staff was decimated. It was a very difficult time.
"What I'm saying is that there are people worse off in life.
"You've got to try and put it into perspective.
"Once players go out onto the pitch they forget cares and worries, and it's the same when they go onto the training ground because they're so happy to have a ball at their feet for 90 minutes.
"However, I totally understand the hurt of the United fans.
"I didn't appreciate the derby rivalry before I came here but I understand now and my sympathy is with the supporters."
Young suggested that going through such a tough time at United might help the players in the long run.
He added: "They hadn't experienced being bottom of the league and if anything it will stand them in good stead for later on in their careers because of this bad experience.
"If you cocoon people and everything is rosy and nice then they don't understand the full picture.
"I read a book that said most entrepreneurs in the world have been bankrupt and learning from that experience helped get them to the top.
"If the club never go back to relegation again then something has been learned.
"Football is cyclical and when you hit that downturn it gives you the chance to restructure and that's when you get the chance to lay down foundations.
"Maybe through adversity you get some silver lining."
With Ray McKinnon poised to be named the new manager, Young finds himself facing an uncertain future.
He said: "I am sure once things are finalised the chairman will let me know what my position is.
"I don't know Ray personally but I can understand why someone who has been challenging in the Premiership would make sense.
"I was given the go-ahead to take the team for the last three games – even that might change – and all I can do is prepare for that task.
"If that changes then I'll change my outlook. Everyone likes to know what their future is and I'd be telling lies if I said everything is rosy."
United, who begane life after relegation with a 3-2 win in Inverness, will be without the suspended Callum Morris after his red card in the Highlands.
Paul Paton won't be risked because of his knee injury, while Guy Demel and Chris Erskine have already left the club.