Recent times have been tough for Dundee United, but exactly 30 years ago, the club were completing one of football's most famous doubles – beating the mighty Barcelona in both legs of a UEFA Cup tie that set them on their way to the final. Michael Alexander speaks to fans about their memories.
As the SNP's Europe spokesperson, North East Fife MP Stephen Gethins knows a thing or two about the continent.
But some of his earliest European memories came through supporting Dundee United.
Now, to mark the 30th anniversary on Saturday March 4 of Dundee United's famous UEFA Cup Quarter Final 1st leg victory over the mighty Barcelona on their way to the UEFA Cup Final, Mr Gethins has this week lodged an Early Day Motion (EMD) at the House of Commons acknowledging the Tannadice club's great 1987 European adventure.
The motion, which also acknowledges the award-winning behaviour of Dundee United fans during the campaign 30 years ago, was signed by Stephen and fellow 'Arab' MPs Kirsten Oswald (East Renfrewshire), Stewart Hosie (Dundee East) and Stuart McDonald (Cumbernauld).
"Dundee United's Europe run remains one of my best footballing memories," said Mr Gethins, who revealed that Dundee United chairman Stephen Thompson intends to display a copy of the EMD in the Tannadice boardroom.
"I was only 10 at the time and thought it would always be like that!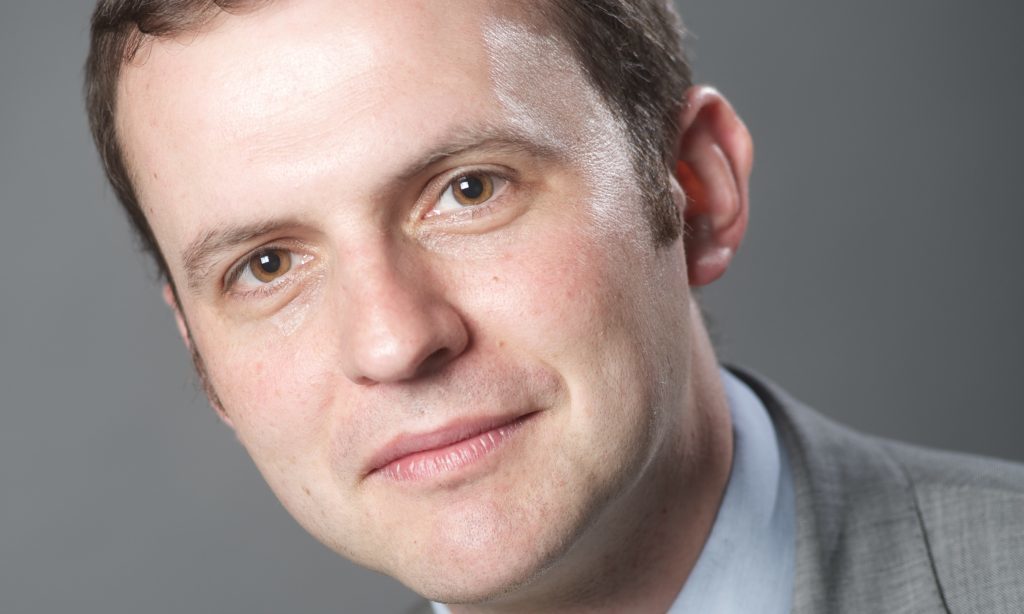 "I remember watching the Barcelona game on the black and white TV we had in the kitchen. Mum was in the living room and clearly hadn't grasped the full historical significance of the evening!
"The reception wasn't great but it was clear enough to show that Kevin Gallacher meant to go for goal and my brother, Nick, and I jumped up and down as if we were there.
"It may have been a long time ago but it's still good to remind friends who back other teams, of United's record against the mighty Barcelona."
As one half of the so-called New Firm, Dundee United had already made a name for themselves in Europe during the early to mid-1980s.
That included a famous 5-0 drubbing of Borussia Mönchengladbach in 1981, and a remarkable European Cup semi-final against Roma in 1984.
However, the 3-1 aggregate win in the quarter final of the 1986/87 UEFA Cup against the millionaire men of Barcelona made unprecedented headlines given that the Spanish club's squad boasted the likes of England international Gary Lineker, Wales star Mark Hughes and was managed by future England boss Terry 'El Tel' Venables.
Remarkably, the home and away wins against the Catalan giants repeated a feat achieved by United in the 1966 Inter-Cities Fairs Cup.
Having won the first leg 1-0 in Dundee on March 4, 1987, thanks to a Kevin Gallacher goal, and having already taken the scalps of Lens, Universitatea Craiova and Hadjuk Split along the way, Jim McLean took his side to Spain looking to hold on to their narrow advantage.
But they went one better, winning 2-1, and earning a double header against Borussia Mönchengladbach in the semi-final.
United eventually lost out to Gothenburg in the final, and the European run was the beginning of the end of the Scottish club as a force in Europe. Barcelona, by comparison, went from strength to strength.
However, Dundee United fans, who in spite of their heart breaking defeat  in the final, celebrated Gothenburg's win with them on the night, earning the Tannadice fans UEFA's first ever fair play award.
Life-long Dundee United fan and Arab Trust board member Mike Barile, 60, has many memories of the Tangerines' memorable 1987 European adventure – and describes the build up to the Barcelona game as "sheer excitement".
But perhaps the abiding memory of the former Madras College maths teacher is that a couple of months later he bunked off from his classroom duties to go to the final in Gothenburg – only to be caught out when his photograph appeared on the front of Dundee's Evening Telegraph newspaper!
"That was the first time I got into trouble as a teacher!" revealed Mr Barile, who later became embroiled in controversy when he received an absolute discharge for allegedly assaulting two pupils in the 2000s, before being barred from his profession in 2012 by the General Teaching Council of Scotland (GTCS).
"I'd officially asked for the time off to study for computing course – and believe it or not I did do studying on the ferry across to Sweden. But I was given a 'yellow card' when I got back to the school on the Friday!"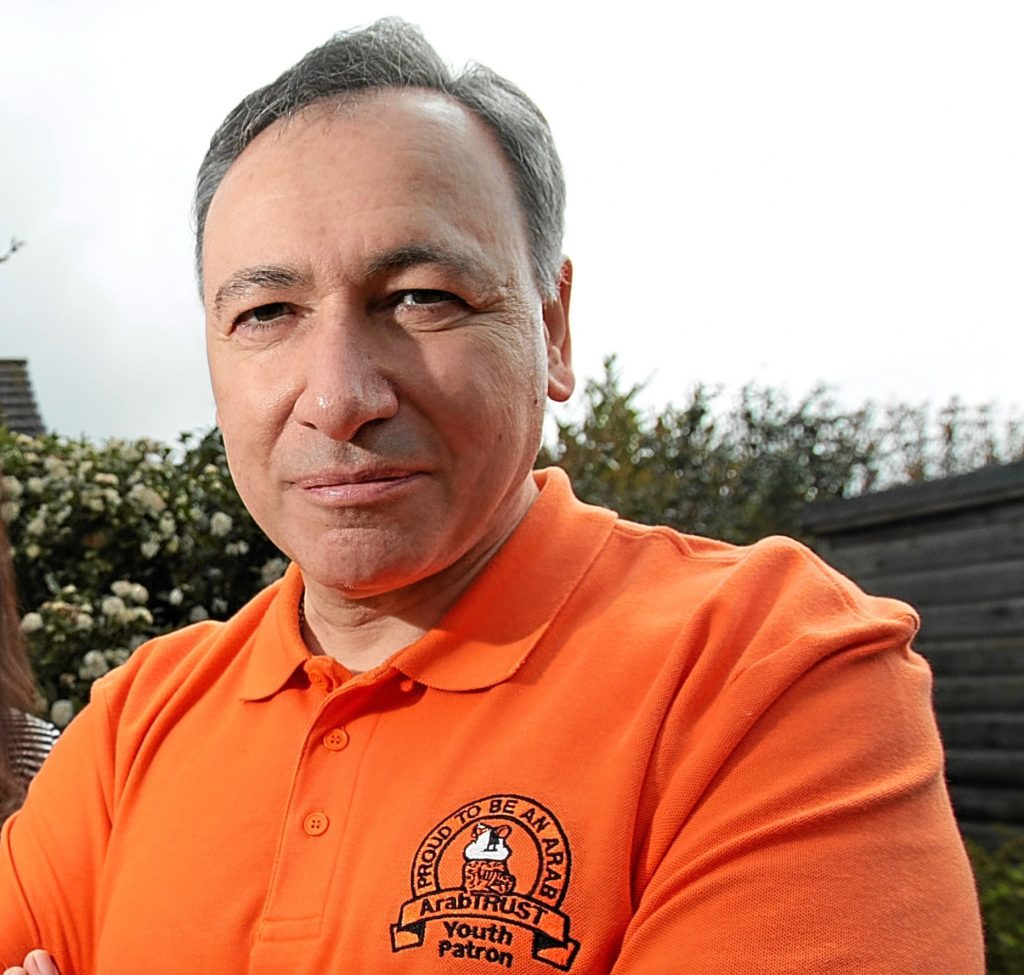 Mr Barile, who watched the Barca game from The Shed-end of Tannadice, was conscious that by 1987, Jim McLean's premier league winning squad of 1983 was starting to break-up.
But there was "quiet confidence", and a huge level of press interest from England as Barcelona rolled up at Tannadice with their team of stars.
"One English commentator even described Dundee as the 'city of the four Js' – jute, jam, journalism and Jim McLean," he recalled.
"It was only 21 years after United beat Barcelona in 1966, and there was this feeling they would do it again. We weren't too conceited about it. There was quiet optimism.
"I even won £40 on a bet that United would win both legs!"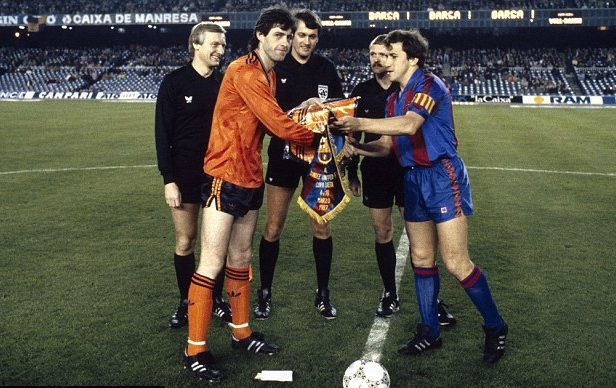 Retired Courier farming editor and former Liberal Democrat Fife councillor Andrew Arbuckle vividly remembers standing in the area where the George Fox stand is now – so he had a perfect view of Kevin Gallacher scoring from a volley to secure the famous first-leg 1-0 win which, he insists, was "sublime skill and was never a cross."
"With stars like Davie Narey and Paul Hegarty marshalling the home defence and Hamish in goal, the Barcelona stars, including a well-known goal poacher called Gary Lineker never had a chance and United took their slender one goal advantage to the Nou camp," recalled Andrew.
"As part of the small band of United supporters, who travelled to the Nou Camp for the second leg, I watched as the home team soon erased that lead.
"But we rejoiced as John Clark, with his tree trunk legs, slotted the ball into the net to regain the advantage.
"From then on it was nail biting stuff as the super stars hammered the United defence. Well it was nail biting until Ian Ferguson poked another goal in for United!
"We cheered and we waved our banners. My banner pointed out to friends who support clubs in Glasgow, Edinburgh and Aberdeen that United were the only Scottish team then playing in Europe.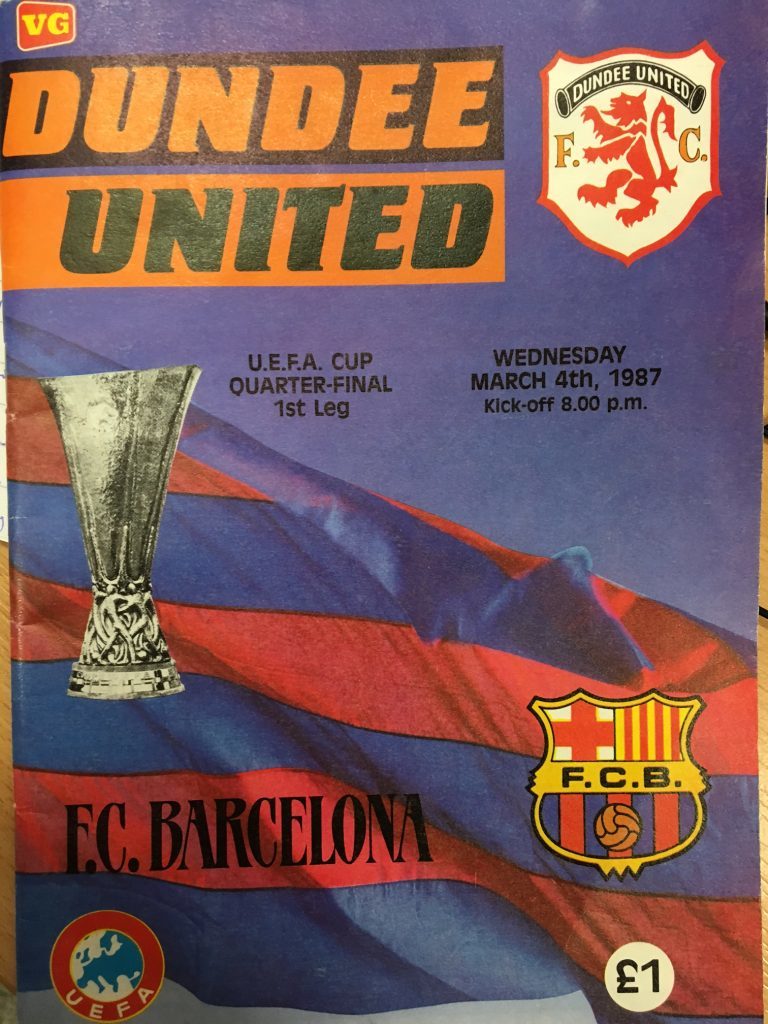 "Could things get any better? After a night celebrating, I did not think so.
"At the airport next morning every flight to Scotland was chock a block and I opted to head for Manchester.
"Who was I sitting beside? Only Alex Ferguson and Bobby Charlton.
"I hope it is not another 30 years till the next time."
United manager Jim Mclean once said United were the "corner shop team competing against supermarket giants."
But Newport-based broadcaster and Tannadice season ticket holder Billy Kay, 65, felt it was United's "destiny" to reach a European final.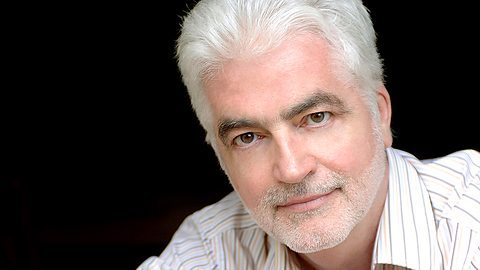 He was living in Edinburgh in 1987 and travelled with the Edinburgh Dundee United supporters' bus to the Lens game in France during the first round.
At Tannadice, he too had the perfect vantage point for Kevin Gallacher's goal at The Shed-end of what is now the George Fox stand.
He laughs, however, when he recalls watching the Barcelona away game on TV.
His daughter Catriona was just seven weeks old and had just been fed and put to sleep – only for John Clark to score the goal in the Nou Camp that put Utd back in front.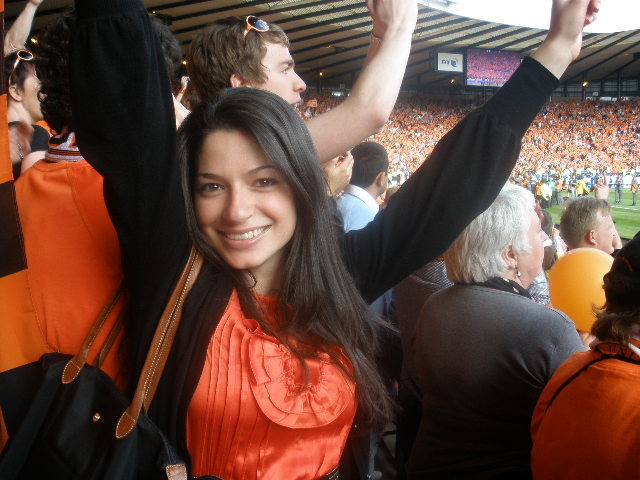 "The baby got such a fright that she threw up and burst out crying with the shock!" laughs Billy.
"My wife called me a total boor, a vandal – and other things! But I didn't care. I was dancing around the room!"
Ceres Arabs member Chris Bennison was just seven-years-old when Barcelona visited Tannadice – yet he too remembers the game vividly.
The Edinburgh-based digital marketing consultant said: "I was right down at the front of what's now the George Fox stand, I was exactly level with Kevin Gallacher when he shot past Andoni Zubizarreta.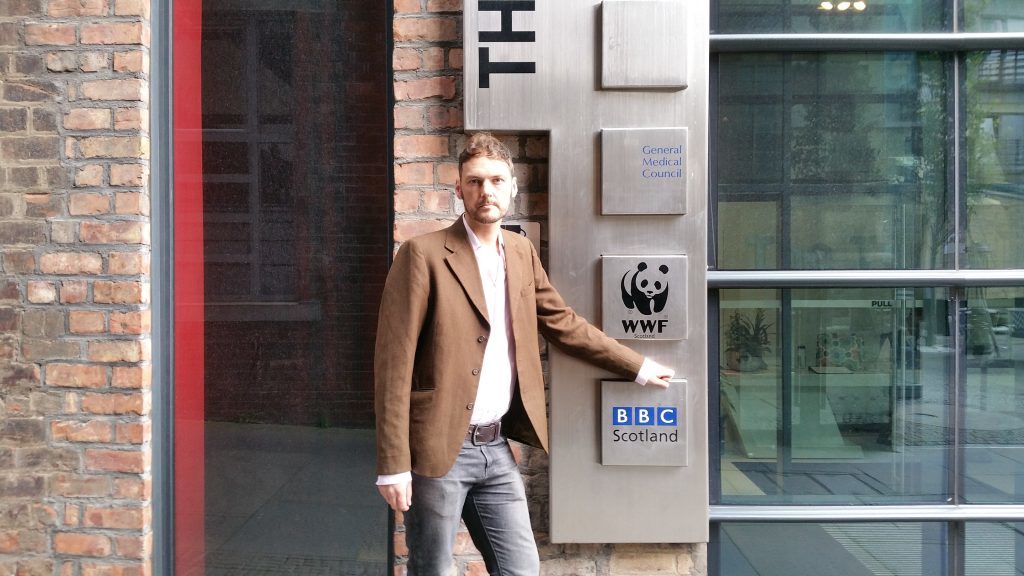 "Despite my young age, I was well aware of the enormity of the fixture. The atmosphere was electric and it was the biggest occasion, sporting or otherwise, that I'd ever attended up until then.
"The one thing I didn't quite grasp was just how special United were at the time. It was my first ever season following them and I thought European nights, cup finals and glamour fixtures were the norm!
"I've still got the match programme and I still have detailed memories of that wonderful night.
"Days later, I remember thinking that if we could win against Barcelona, we'd annihilate Clydebank. We drew 1-1, so even back then it was a roller coaster!"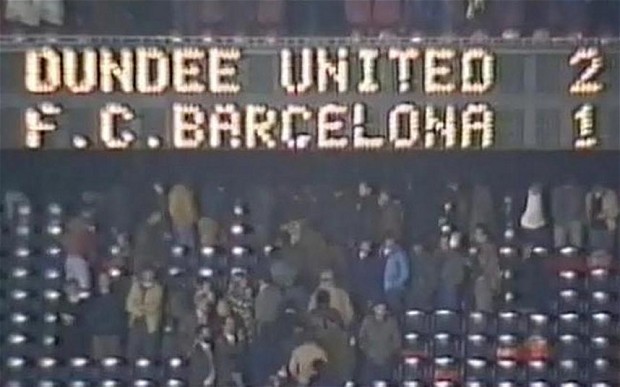 Dundee employment and disability consultant Michael Evans, 59, remembers the "incredible" atmosphere in The Shed on that famous Euro night.
The former Lawside Academy pupil later went to the return leg at the Nou Camp with his late dad Sam – and, like many others, bumped into Alex Ferguson and Bobby Charlton of Manchester United at the airport on the way back.
He already had "vague memories" of getting a "sneaky in" to the Arklay Street end of Tannadice for the Barcelona game in 1966.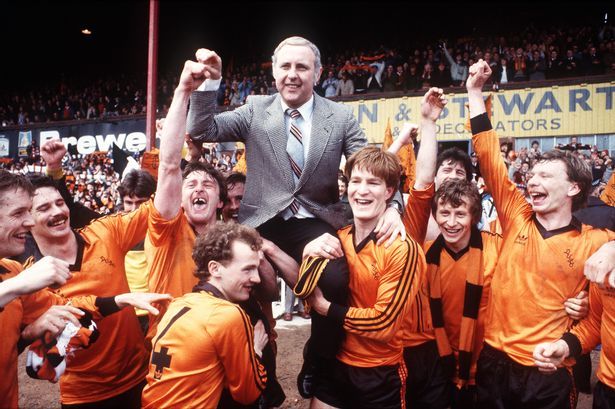 In more recent years, however, Michael has kept up ties with Barcelona by becoming a Soci member of the Spanish club – which gives him first dibs on certain tickets.
He thinks it's important for clubs like Utd to remember their history. But they have to be careful it doesn't become a "millstone" around their necks, he says.
BBC Scotland political editor Brian Taylor was also at the match. And despite a difficult few years for United, he believes the glory days can return.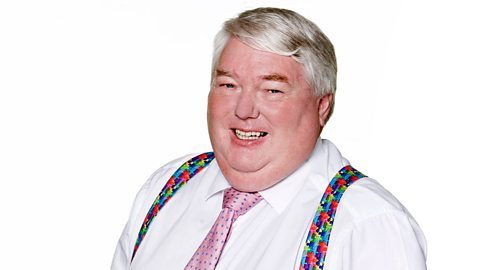 He said: "We may now be in slightly straitened times but proud Arabs can still record the following for their favourites:  United v Barcelona, competitive games.  Played four.  Won four.
"I well recall that magnificent match from the 1980s, attending the Tannadice leg and avidly following the Nou Camp contest from afar.
"Actually, I'm old enough to recall the 1966 matches, with Billy Hainey scoring our first goal in European competition against the mighty Catalans!
"Remember the final too in 1987.  Gloom at the final result, of course.
"But tremendous spirit in the crowd, giving a standing ovation and a lap of honour to Gothenburg.
"Great days.  But they will return!"
Listen to The Courier sports team discuss the 1987 victory on our Talking Football podcast: