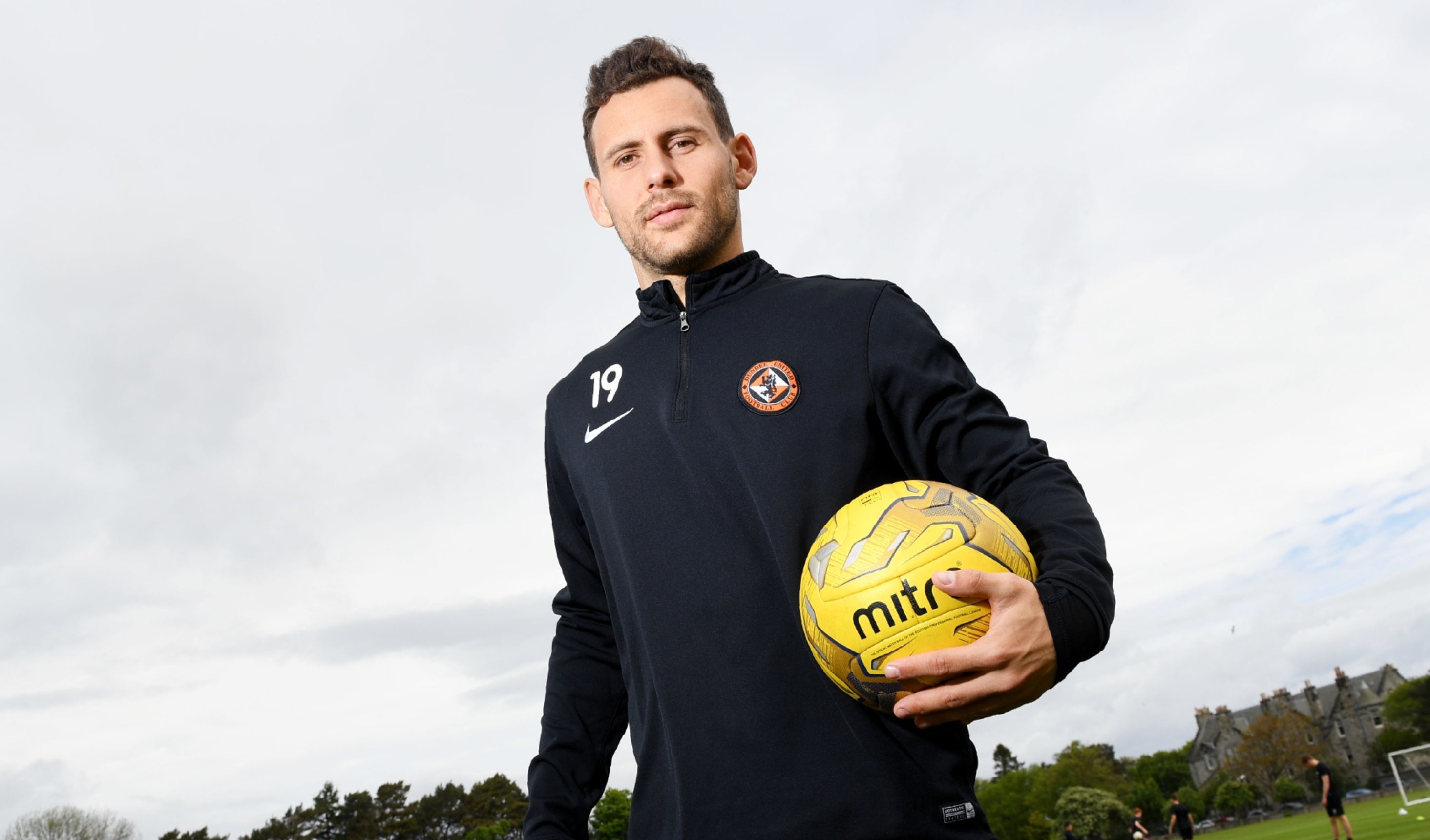 Tony Andreu will tonight welcome old friends to Tannadice with a big hug and a broad smile…then do all he can to relegate them.
The Dundee United playmaker finds himself in the – some would say unenviable – position of hoping to hurt Hamilton Accies, his former club that still has a special place in his heart.
Three years ago today, the Frenchman was a play-off hero for the Lanarkshire team when he scored deep into stoppage-time at Easter Road to level their final against Hibs at 2-2.
With extra-time failing to separate the then Championship side from the Hibees, Andreu stepped up to score a spotkick in the penalty shootout that was won 4-3 by Hamilton.
That remains the only time a side from the lower division has sent the Premiership side down in the end-of-season decider.
The irony of Andreu's situation is not lost on the player and it is added to by the fact that Accies tried to get him back from Norwich City last summer before United boss Ray McKinnon stepped in to lure him to the Tangerines.
He keeps fond memories of that play-off victory on May 25, 2014, revealing that it gave him "one of the best feelings of my career."
Any United supporter worrying about divided loyalties, though, need not worry.
Andreu is absolutely desperate to finish his loan spell at Tannadice on what would be an incredible high of promotion before returning south to Carrow Road to see out the final year of his contract with the Canaries.
Asked how he felt about the prospect of helping to send his current side up at his old club's expense, Andreu said: "Everyone has been talking about it.
"You can't really stay in the past, though, and I am a United player now.
"At the end of the day, it's Hamilton that I am playing against and that's football.
"I was promoted with them and there is an attachment but you have to get over this and try to give your best.
"It is ironic but, for me, it's just one of those things that happens.
"Hamilton have changed a lot of players since I was there – six or seven – and the coach.
"I still know a lot of their guys, though, and I will see them this week!
"I had good times there.
"I played there, did well and have always been treated very well.
"The people and the fans have always been great to me.
"I honestly hoped they would win well against Dundee and I was happy for them to be in the play-off.
"But this is business now and I will be trying to beat them."
Andreu's face lit up when recalling that remarkable win over Hibs, when hardly anyone gave Accies any chance following  a 2-0 defeat in the home leg at New Douglas Park.
He said: "It is always there in your head and it was a good moment.
"It was one of the best feelings of my career.
"It is always good when you finish a big game like the play-off as a winner.
"It will stay in my memory and I will always appreciate everything about the club (Hamilton).
"Today, though, it is all different because I am on the other side and I will be playing for my team.
"You want to be at your best and I would love to score and help United to be promoted.
"Perhaps I am due a goal so we'll see!
"The thing that reminds me of that time is the desire to get promoted.
"I felt that when I was at Hamilton previously and I feel that now with this club.
"All the United players want it so much and I think that is a similarity between the two sides."
Considering what happened with Hamilton in the past, Andreu does not just believe the Championship team can prevail in a play-off final, he knows they can.
He added: "Accies have played against stronger teams during the year so that's a factor.
"However, we proved with Hamilton three years ago that we could be better than the second-bottom team in the Premiership.
"Recently, that hasn't been the case in play-offs but it depends.
"The main factor is to be good on the day.
"If we are good in both matches, we are going to be promoted.
"If we do not perform, we are not.
"We have to be good at home, first and foremost, but we have been that all season.
"We also have to be on it from the very start of the first game.
"Also, if we score first then we can make them feel a bit unsure about themselves.
"I think it is a big advantage in two-legged ties like this to go ahead because you can put pressure on your opponents.
"We can do it."