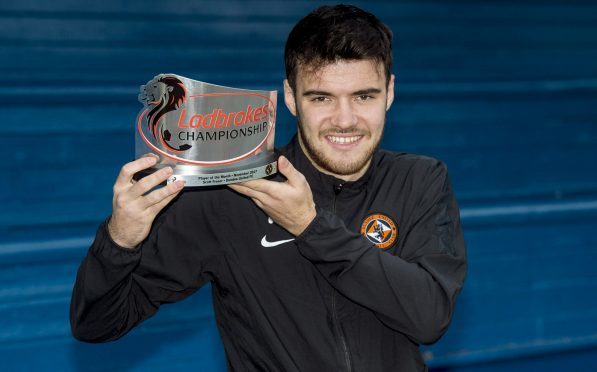 If Csaba Laszlo is able to reflect on a promotion-winning season in May, chances are that getting the best out of Scott Fraser will be high on his 'where I got it right' list.
Identifying the 22-year-old as the creative focal point of his Dundee United team didn't take Laszlo long.
And nor did it take long to reap the rewards.
Providing goals, assists and control of a football game, Fraser is the young man making the league leaders tick.
And November's Ladbrokes Championship player of the month award winner believes his recent success is a result of becoming Laszlo's man in the middle.
"I really enjoyed my football when I was on loan at Airdrie and I'm back to enjoying it as much now as I did then," he said.
"The gaffer has given me a new role in the team and told me how important I am. I'm really enjoying the freedom he's given me and I think it is benefitting the team.
"Ray McKinnon brought in Tony Andreu who was fantastic for us, so I couldn't really complain that everything went through him.
"This season was a bit stop-start with my foot injury and I was playing right of the three behind the striker. When the new gaffer came in he made it clear he saw me as a number 10 and I agreed with that.
"That's where I grew up playing. It's been important for me to get a good run centrally. I've got a few assists and a couple of goals. Hopefully I can add to that.
"Playing in that area suits me. I think that I have thrived on the responsibility.
"I felt that out on the right I was on the periphery.
"I know that I've had to improve my defensive duties but playing in front of Willo (Flood) and (Fraser) Fyvie has given me protection to do what I want.
"The gaffer says, 'if you lose it, you lose it.' There are two behind me who can go and work the ball. He still expects me to do my shift but I like the fact that there is more pressure on me to create and score."
You can understand why Fraser would be a paid-up member of the Laszlo fan club but he certainly isn't alone in the United dressing room.
"His man management has been class," he said.
"The manager makes everybody feel part of it – even the boys who aren't playing as much.
"Tactically he's brought a lot of us on as well in terms of when to press and when to sit off the game. We're all learning and becoming better players.
"He does like to talk! That's one of the things we've noticed. You come in in the morning and we have a five minute meeting. Twenty minutes later he's still going!
"I was really young when he was at Hearts so all I knew about him was what the older players had told me. They had played against his Hearts side and said how good it was.
"He's come in and seen that we're not the biggest squad but he's adapted us in terms of the passing game he wants to play."
Fraser's timing wasn't great as far as breaking into the United first team was concerned. The academy graduates before him slotted into sides challenging for trophies. He was was thrown into one on a calamitous slide.
"The United teams in the Premiership did well so when I broke into the side it was a bit of a shock to see that change," he reflected.
"It's obviously going to be tough to follow boys like wee Gauldy, John Souttar and Stuart Armstrong. You'll do well to see players like that again.
"I was young when I first came in. It was obviously a bad time at the club. I was thrown right in at the deep end. I think the plan was to take me in and out but I ended up being a mainstay.
"I think I've learned from that and have played another two seasons since.
"If we do go up hopefully I will be a better player for it.
"I grew up with Cammy Kerr. He's doing well for himself at Dundee. There are other boys I played with coming through at places like Hamilton and Kilmarnock.
"When you see these boys do well it does show you that young players can take their chance in the Premiership."
The way Fraser has played in the first half of December, scoring a double against Dunfermline, his November award may have some company in a few weeks.
"It's obviously nice from an individual point of view to win this," he said. "Because it shows that I'm doing well. But it reflects well on the team as well.
"December has started pretty well so long may it continue. We've got a tough run of games so it will be an important month for us."