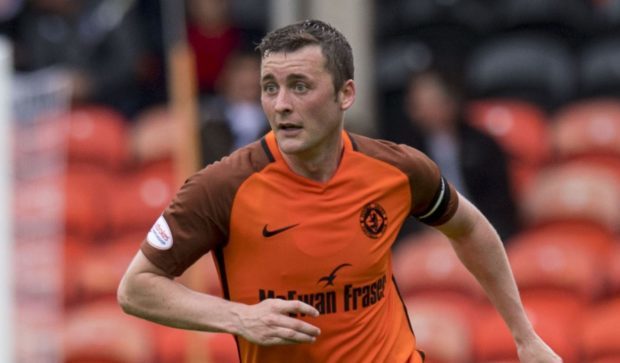 Tam Scobbie would love to win the Championship title and help ease Fraser Fyvie's injury agony.
Dundee United have been left reeling from the news that Fyvie's season is over because of cruciate ligament damage to his knee.
The bombshell announcement arrived on the eve of their crucial top-of-the-table clash away to league leaders St Mirren in Paisley tonight.
Scobbie, who has suffered more than his fair share of injury woes himself, said he was left "gutted" when he heard the scan results but promised that the rest of the Tangerines will do all they can to clinch promotion and hopefully welcome back Fyvie as a top-flight player in the summer.
Scobbie said: "Getting into the Premiership has always been the aim and, hopefully, we can now do it for Fraser.
"I am gutted for the boy.
"It looked like a nothing challenge at the time so to have that kind of result is very unfortunate.
"He has been brilliant from the first minute he stepped into the door.
"We are now going to play against St Mirren and the manager has put it into our heads to do it for Fraser because he was on a great run of form, scoring goals and playing the way people know he should be playing.
"It is gutting for him as a person and also for us as a team to lose a player who is so influential.
"He works really hard and has got himself into great shape this year. We've seen that from his performances.
"As long as we keep winning games, hopefully by the time Fraser is back fit he will be coming into a Premiership team.
"Fraser has certainly shown that he is a Premiership quality player.
"This season, he has been exceptional in every game and scored some crackers.
"He ticks the team over in central midfield so we will miss him."
Scobbie has been in touch with Fyvie by text and expects to be able to chat to him in person soon.
"I'm sure he'll be in to see the boys over the next few days," said the former St Johnstone defender.
"I texted him straight afterwards to say 'keep your head up' and I wished him all the best.
"The boys will make sure his spirits stay high and he will be around the place.
"It is horrible being out injured for a long time and sometimes you don't even want to go and watch games because you are not involved.
"Even when the guys are playing well and winning as a group you feel like the one in the background not participating or giving something to the team.
"But I'm sure me and the rest of the boys will make sure that doesn't happen with Fraser.
"He has been a massive part of our success and we are now a good way through the season so we'll make sure he's involved in everything that's going on."
As for tonight's game, Scobbie added: "We would love to be top at new year but it will be a really tough game.
"St Mirren will be galvanised by the fact they were 2-0 down in their last game (against Queen of the South) and came back to win 3-2.
"We're on a right good run, too, though.
"So it's two form teams in the Championship.
"They will be confident at home as last time there they turned us over quite comfortably, while we won at Tannadice.
"It is all set up to be a fantastic game and we are raring to go."