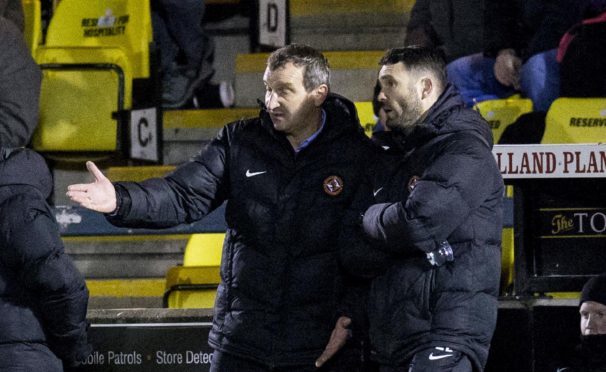 Csaba Laszlo insists he will not be "running away" from the daunting task of managing Dundee United.
The Hungarian shot down suggestions that he offered to resign in the wake of Friday's 2-1 defeat at Livingston and instead stressed his commitment to the troubled Championship club, who have fallen to fourth place in the table.
Rumours swept the city over the weekend that the last-gasp loss at the Tony Macaroni Arena had left Laszlo so exasperated with his under-performing players that he had decided enough was enough and was ready to walk.
However, Laszlo (54) signed a contract to the summer of 2019 when he took over from Ray McKinnon in November and he appears to have every intention of staying the course.
Asked if he had tendered his resignation, he replied: "I don't know where that has come from because it's definitely not true.
"We have a lot of work to do but I won't be running away.
"I am committed to the club so I don't know where that came from.
"I want to be here for the long term and I am committed for next season also.
"Every club needs stability.
"A lot of people talk about the change in the board but that is something that will happen in the future.
"You need plans for the future and I want to be involved in that.
"I will stay here for as long as I see it's possible to move forward.
"This is a big club – you see the fanbase – so everyone is thinking we have to be in the Premiership.
"The reality right now is we are in the Championship and we have to do well enough to get into the top two.
"Friday night's defeat was painful but in football sometimes you have difficult times.
"It is a hard time at the moment because more is expected of us and we have to deliver on that now.
"Everything is possible, though, and the chance is still there to get promoted so we will not give up."
Laszlo is now looking for his players to do themselves and United justice by beating Queen of the South at Tannadice tonight.
He said: "You can talk about lifting the team and the players, but it also has to come from within.
"You know what, I say: 'Go out and win the game to lift yourself.'
"There has to be pride so just go out and do it then see how you feel afterwards once you have won the match.
"You have to have it inside you.
"You have to think that you're here, you're fit and you are a player for Dundee United – so let's go and do it."
That Friday feeling has still not left Laszo, who was particularly upset by the manner in which his defenders backed off scorer Ryan Hardie for Livi's stoppage-time winner.
He added: "Against Livingston, I was waiting to score the second goal and win, not lose the match.
"But we made mistakes and were punished for it.
"If you want to move up to the next level you need to show more concentration.
"It is not a question of what you are doing in training.
"It's about the game. You have to concentrate and maintain that during the matches.
"We have enough experience to handle matches so we know we can win these games.
"This is a big week for us, we have this Queen of the South game and a match (against St Mirren) on Friday.
"We have to be committed and show we want to win."