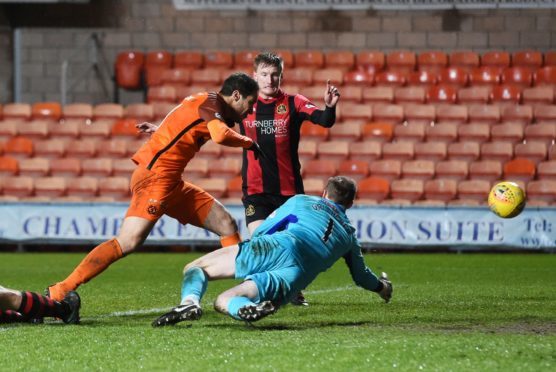 Bilel Mohsni hopes he can be a lucky charm for Dundee United after scoring in back-to-back matches.
Mohsni put the under-pressure Tangerines ahead against Morton last Saturday, only for them to lose an injury-time equaliser, then was at it again on Tuesday night as he grabbed the club's second goal in a 2-0 win over Dumbarton at Tannadice.
His one against the Sons carried some fortune – he found the net after initially losing possession – and that has left the affable Tunisian international defender convinced he can be a big help during the run-in.
Mohsni said: "I was very happy to score again because we got the three points.
"It was much better compared to our 1-1 draw with Morton a few days earlier because, although I scored there too, we only drew that game.
"So it's a better feeling because I helped the team win.
"I think I'm a lucky guy in front of goal.
"On this occasion, the ball came back to me and landed at my feet.
"Maybe I will make it a hat-trick of goals on Saturday at Dumbarton!
"Seriously, though, I just want to help the team get another victory. This is our target.
"I can help the team to score goals because that is part of my game."
The former Rangers man admitted that the heat was on United going into that match against the Sons because they had slipped out of the play-off places.
He said: "We knew we had to win against Dumbarton on Tuesday.
"At the start of the game, you could see there was a bit of pressure.
"It's very hard when you know going into a game that you have to get the three points.
"So we had to handle it and we did that well.
"Now we want to try and build on it.
"Everyone is happy and we could maybe have scored more goals, although 2-0 is still a good score.
"But the confidence is here among the players. We're going to play them again on Saturday when we'll need to take three points again.
"Sometimes the result is the main thing. It's better just to get the three points and maybe not play so well.
"If we play well on Saturday that would be great but coming back with the victory is the priority and we'll always be happy with that."
After a spell without first-team football Mohsni appears to have gotten back into the routine of playing without too much trouble. Indeed, he has quickly looked one of the team's more accomplished performers.
He said: "I'm just so happy to be back playing.
"You miss it when you are not playing like I was for nearly a year-and-a-half.
"Now I'm just taking my chance and I know the manager has a lot of confidence in me.
"So I'm just enjoying that feeling again because it's tough when you don't play for that length of time.
"Every game is difficult but I'm enjoying it a lot.
"We have a good squad and a good atmosphere within the dressing-room.
"The team and the manager have all helped me so that's been good. Having the confidence of your teammates is a big thing.
"The manager has given me freedom so that I can play the way I like."
Mohsni also appears to have won over the long-suffering United supporters in the short time he was been with the Tangerines.
He said: "Of course, it's nice when the fans take to you.
"Every time they shout my name it makes me feel good.
"So it's fantastic.
"As a player, you enjoy when the fans are behind you.
"Hopefully, I can do my bit to make them happy."