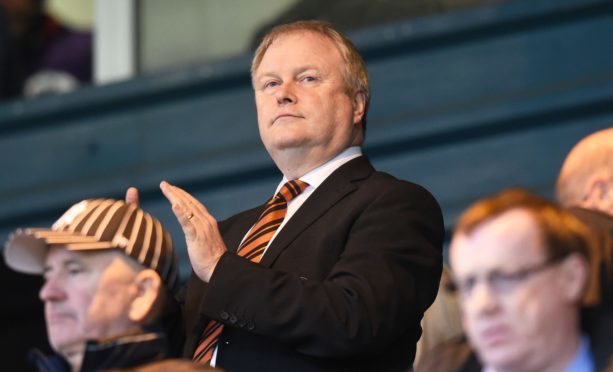 The "bitterly disappointed" chairman of Dundee United has issued a statement to fans after the club failed in a bid to return to the Scottish Premiership.
Mike Martin has promised "changes" at Tannadice after the side lost on aggregate to Livingston in the Premiership play-off semi-final, drawing 1-1 on Friday night.
The chairman said the results of a "root and branch" review at United will be rolled out in the coming weeks, claiming that they will "improve every aspect of the club".
It comes after Tangerines manager Csaba Laszlo told The Courier he will staying on to try to get the club out of the Championship after their second failed promotion bid
Mr Martin took aim at Dundee United players, claiming the team's performances throughout the 2017-18 season "haven't been good enough", adding that the fans "deserve better".
He said: "Like every United fan I am bitterly disappointed with the outcome of last night's game and the prospect of another year in the Championship.
"Frankly, the team's performances across the campaign haven't been good enough and you deserve better.
"In fact, the only constant this season has been the unswerving support shown to the team by our loyal fans.
"When I was appointed as chairman ten weeks ago, I said I would undertake a root and branch review at the club and much has subsequently happened behind the scenes.
"Over the next few weeks we will gradually roll out resultant changes, starting immediately. We will improve every aspect of the club – all in an effort to bring back the United way.
"Thank you once again for your continued support and I am truly sorry that we haven't delivered for you this season.
"I urge you to remain faithful to Dundee United and promise that I will do my very best to make 2018-19 a season to remember for the right reasons."