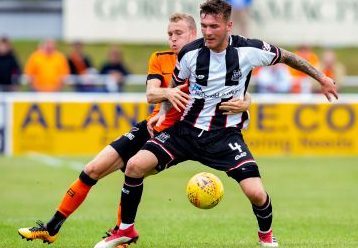 Dundee United midfielder Christoph Rabitsch has promised to use more brain than brawn after a stormy start to his Tannadice career.
The 22-year- old Austrian was substituted at half-time in the club's opening day home defeat to Championship rivals Dunfermline.
By that stage he had already been booked of a bad foul on the Pars' Faissal El Bakhtaoui and the worry was, as each subsequent challenge went in, that he risked receiving a red card.
He also got another yellow card in the win down at Queen of the South a fortnight ago to make it a hat-trick of bookings since his arrival in the summer – there was also one against Alloa in the Betfred Cup group stages.
His display against Dunfermline even prompted manager Csaba Laszlo to warn Rabitsch to manager his game better and be "clever."
To be fair to Rabitsch, from the off he has been open and honest about how he sees himself as a player. On his arrival, he spoke of how he likes to "fight for the team" instead of doing "magic things."
However, he accepts there needs to be less fire and more ice in his play, starting today at home to Partick Thistle.
He said: "The speed of the Scottish game is similar to Austria but there is a lot more aggression in the football in this country.
"I really like it because everyone wants to win so badly and that suits me.
"The attitude here and the way the teams don't mind being physical is good for me – it's perfect.
"That is how I like to play football but in the game against Dunfermline I did too much.
"I got booked early on for something I shouldn't have. It wasn't necessary and the manager took me off because of it.
"You have to be clever in football and you have to keep your composure.
"I was stupid against Dunfermline. What I did wasn't good for the team and I have learned from that.
"I just want to win because everyone has told me how important it is for Dundee United to achieve our aims this season.
"The manager wants us to have the mix between playing football but also being able to cope with the fight you get from every team."
Like the rest of his colleagues, Rabitsch is well aware of what it means to United to go up at the third time of asking.
The pressure will be right back on them and boss Laszlo if they lose to the Jags this afternoon but that is an outcome that is not being contemplated.
Rabitsch said: "I think the team that blends the football and the physical side of the game is one who will win this league.
"We want to be the side who gets this club back into the top division again after too long out of it.
"I enjoy that kind of pressure and the expectation here is to win every match. This is something I can respond to.
"There are a lot of supporters at our games and they are desperate to see us win.
"I didn't really expect to see so many people and how passionate they are – it has been a good surprise.
"The fans want us to go up a division so the expectation is there.
"It is different to my last club (Wolfsberger in Austria) because we were usually in the middle of the table. So this is a new experience for me but it is something I am enjoying.
"There is no room for mistakes because the league is very close but I am inspired by the challenge here."
Rabitsch will be looking to win the ball today and then pass it to teammate Yannick Loemba as often as possible after picking out the Congolese-born winger as a prize asset.
"We have the players to win the league and I have been very impressed by Yannick," added Rabitsch.
"He is a very good player and he is someone who can help the team to the title.
"He is one of the most talented players I have played with and is very special.
"The first time I saw him I just thought: 'Wow, he is a good player.'
"In training you can't get the ball from him.
"He can have a big impact on the team this season and has the quality to make the difference in a lot of matches."