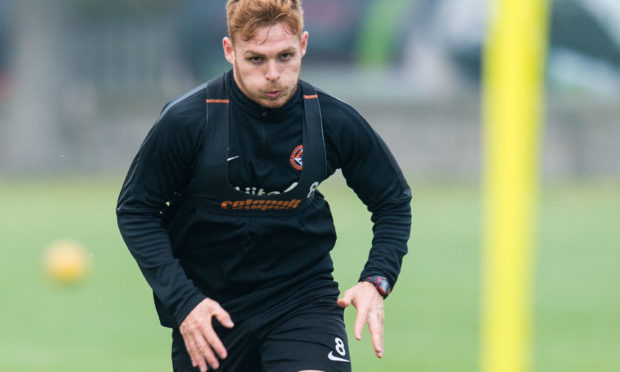 Robbie Neilson may only have been in charge for less than a week but Dundee United skipper Fraser Fyvie admits the players are already revelling in the new manager's training regime.
The former Hearts and MK Dons boss was appointed as the successor to Csaba Laszlo on Tuesday.
Neilson has been hard at work ever since at United's training ground at St Andrews putting his ideas across.
Fyvie admits the squad has responded well to the sharper style of training and hopes the team can put into practise what they have learned when they play Partick Thistle this afternoon in another vital Championship fixture.
The 25-year-old said: "The new manager has come in with his own ideas, it has been enjoyable and things have been good.
"Every manager has their own style and they want to put that across to the players straight away, so that's what has been happening this week.
"He has been telling us how he wants us to play and what he wants us to do to implement them.
"His ideas are different. Csaba had his style and Robbie Neilson has a different one – that's football.
"When there is a change of manager, it's usually because something hasn't been right and the results haven't been good enough.
"You need to move on quickly in football so it's up to us to listen to the new manager, adjust to things and learn fast.
"Training has been a bit sharper but we are still doing things now we did under the old manager.
"Everyone has enjoyed it so far, so it's all good."
Neilson knows exactly what it takes to win the Championship having done so when he was boss at Hearts, seeing off the challenge of Rangers and a Hibs side that included Fyvie that season.
The midfielder added: "They smashed the league at Hearts when he was the manager, but it's a different group of players and I'm sure he will be busy working out the best way to win matches.
"You need to have a game plan but be flexible so you can adjust because it's tough.
"There are a lot of good teams in the league and we are eight points off the top, but there are 28 games to play still so there is a long way to go.
"This league isn't easy and the players who arrived in the summer now know what they have come into.
"Nobody will let you play, you have to earn the right in this league because people will put in a hard tackle and get in about you.
"So you have to be able to battle as well as play football but we believe we have the players in there who can do that."
Fyvie only returned to action at the start of September after being out since December last year with a cruciate knee injury.
And he admitted he is still edging his way back and will not take any unnecessary risks.
He said: "After nine months you can't be fully fit after three sub appearances and one start.
"It will take five or six games to get fit, we will have to see.
"I will do what I can when I am asked to do it, but it's a case of taking it game by game and building things up.
"Obviously you want to be back to your best and playing every week as quickly as possible but when you have been out for as long as I have, you need to be careful."
This afternoon's game was originally scheduled for Tuesday, 30 October but was rearranged due to both clubs being out of the Irn-Bru Cup.
Partick are currently without a manager after parting company with the long-serving Alan Archibald last weekend but Fyvie does not believe that will be too big a factor.
He added: "It's good to have a game this week so we can keep playing and hopefully get the manager off to a winning start.
"The game was moved because neither team had a cup game, so that's a good thing and if we can come away from the match with a win we'll be delighted.
"Partick are in the same situation as we were last weekend.
"It's not the ideal preparation for a game when that happens but it's football and you have to deal with it.
"So I don't think that will be much of an issue for them this weekend."