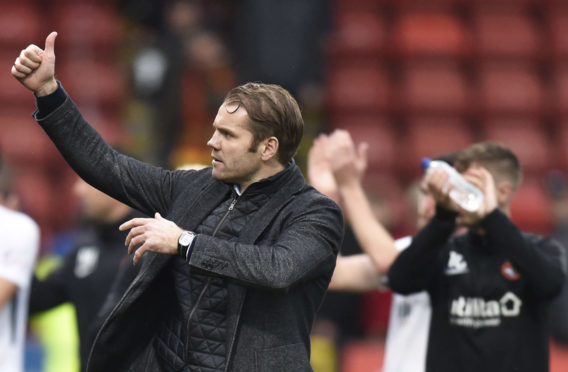 Robbie Neilson was so impressed by Dundee United's travelling support that he can't wait to meet the home fans.
The new Tangerines boss has mentioned on numerous occasions how taken aback he was to see almost 1,000 people in the United end on Saturday at Firhill.
That much-appreciated backing helped the players towards an extremely welcome 2-1 win over Partick Thistle and now Neilson is relishing the prospect of his first match in charge at Tannadice against Inverness Caley Thistle this weekend.
United as a team have made themselves tough to love for some time now and even some diehards have become disillusioned and exasperated.
Now, though, Neilson believes the future could be bright tangerine if the players can carry the punters with them this season.
He said: "The support we took down there was sensational for the players.
"To come out at Firhill when it hasn't been that great a season, let's be honest, and see that almost 1,000 fans had travelled down from Dundee to support them gave them a lift.
"If you can build momentum at a club this size in this league then it will definitely give you a huge advantage.
"You start getting more people back and, as was the case on Saturday, you can get nearly 1,000 at an away game in Glasgow.
"Think what it's going to be like if we can get the place going and we can get up that league. We can start filling our allocation and getting real backing.
"Now I am definitely looking forward to walking out on Saturday.
"I played here for such a short space of time but there were some good games in that spell, with some big crowds.
"The backing we got then was tremendous and I hope to get that back because this is a massive club and the fanbase is big.
"We want to get back to where we belong because that's when we will really start to fill the place.
"I used to love coming here as an opposition player because they were always big games.
"I was lucky enough to play in a team that also brought a big crowd to Tannadice so the matches were tense and the atmosphere was great. They were not far off being sell-outs most of the time.
"So I know what the United fans are like and the backing that they can give the team so hopefully we can get back to that."
Stewart Murdoch is available after suspension but you get the feeling Neilson will stick by his Firhill starters for the visit of the Highlanders.
He said: "Murdo is back and he's been training right through so he gives us another option to the squad.
"It's good to get him back because he trains well and he's a good addition to us.
"I have an idea about Saturday.
"I've looked at Inverness and I will take a bit more to decide what I'm going to do.
"The players did really well against Thistle so it's going to take something special in training to alter the team."