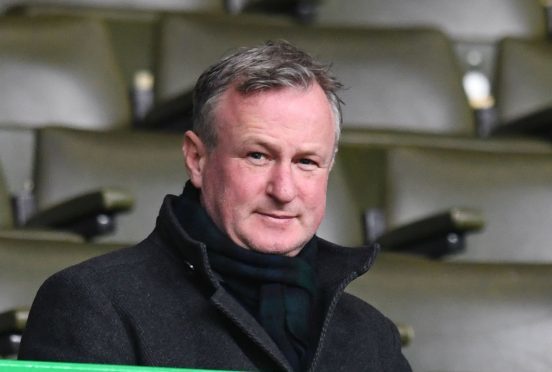 Northern Irish manager Michael O' Neill hopes the appointments of Robbie Neilson and Jim McIntyre will bring about the return of regular Dundee derbies to Scottish football.
The former Dundee United player, who made 64 appearances at Tannadice between 1989 and 1993, said that his old team are the only big club not in the Premiership that he'd like to see back.
He said: "I keep an eye on the league and I think Robbie Neilson is a good appointment.
"A few years ago you had the season with some big teams in the Championship like Rangers, Hearts and Hibs, but now when I look at it Dundee United are the only big club left that really should be in the top flight.
"The Championship is a difficult league to get out of, but as Hibs have recently shown you can come back really strong after some years in there.
"Robbie was a very promising manager at Hearts so he is an excellent appointment. He's got that determination to work well."
Despite the Dark Blues' woeful start to the season, O' Neill would like to see the team stay up so the city can see the return of its derby.
"They're both young managers with a lot going for them so I hope they can both be in the Premiership again for that Dundee derby because you need big games like that," he said.
"It will bring something to the SPFL."
O' Neill famously turned down the Scotland job earlier this year before Alex McLeish returned as national manager – to a less than sparkling start.
Last month McLeish cited O' Neill's early days as Northern Irish manager – which saw just one win in his first 18 games – as inspiration that things can improve given time.
O' Neill went on to improve his country's fortunes, the highpoint being qualification for Euro 2016 in France.
He added: "It took us a while to get results but we started from a low point, that's what people seem to forget.
"The team was ageing and was not in a very good place so we worked to bring in some young players.
"We had to bring new players in and with that come mixed results.
"I think you have to be patient. Alex is bringing in a lot of young players so it is a big step up for some of them.
"People seem to think that if a player is playing well domestically they should be ready to bring that to the national side but it's not always that simple.
"You have to give them the chance to find their level.
"Alex had a successful run as Scotland manager before and I'm sure he will again.
"But I'm not looking at it any differently after turning the job down. I've always said my focus is on Northern Ireland."