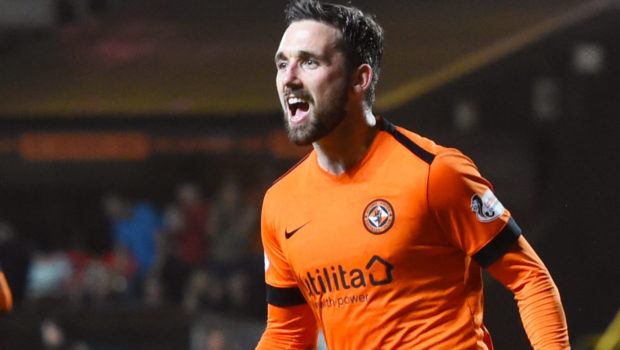 Nicky Clark believes Dundee United are starting to give Ross County "a fright" – even though their title rivals might not be admitting it in public.
An 11-point gap at the top of the Championship has become a two-point one within the space of just over a fortnight.
And according to Clark, the Dingwall players will now be glancing over their shoulders.
"I think Ross County will be looking at us thinking they could have been 14 points clear but now the gap is only two," said the United striker.
"Will it be in their heads? Definitely.
"I think it has to play a part on you. County will no doubt be saying they're not looking at us, but I'd like to think we've given them a wee bit of a fright.
"If I was in County's position I would be saying the same as they are, but you know you would be looking back at the team coming up behind you.
"It would be game on if we can win on Saturday and they drop points, but we have to focus on our game only.
"Once our match is finished we'll have a look at their result, but it's all about doing the job we've got.
"They will be looking at their games in hand but you have to go and win them, which in this league is never a given.
"Everyone is capable of beating everyone else. That has been shown all season so I don't think anyone can look at a match and say they'll definitely pick up full points.
"We will need a wee favour from the other teams but you never know what's going to happen in this league."
United have won three games in a row at a time when anything less wasn't an option.
"It would have been done if we'd lost to Ross County last week," said Clark. "We were all aware of that.
"But we got the win and the next two as well, so we've given ourselves a chance.
"Obviously they have games in hand but we have the points banked already, so we'll see how they do when they play their games.
"The Dunfermline win on Tuesday was huge. We wanted to close the gap to two points before Ross County played again and we managed to do it.
"Momentum is massive at this stage of the season and I don't think we have been on a run like this all year.
"So hopefully it has come at the right time and we can keep it going.
"It's the best time of year to find your form but there are quite a few games to go and we need to win all of them, really.
"We can't afford to slip up, though, we just have to look at each game as it comes and try to pick up three points.
"That's what we've done over the last week and it has worked well, so the approach won't change going to Queen of the South on Saturday."
Clark added: "The Patrick Thistle game was a turning point. We had a chat afterwards and expressed our disappointment.
"It was 11 points then and we knew we'd made things a lot harder for ourselves.
"We didn't go back through that game bit by bit. We just looked at where it went wrong and what had to change.
"Since then we have been playing with more confidence and winning games only makes that better.
"From day one we have said we had a good dressing-room and with the manager bringing in so many new players in January it takes time to gel.
"That process has been happening and in the last few weeks the team have clicked.
"You can see us playing with far more confidence now and long may it continue.
"We just have to build on the last three games."
Clark believes confidence that United will continue to pile the pressure on County is a strong in the stands as it is in the dressing room.
"You can feel the support we're getting from the fans," he said. "They have been brilliant lately and I think they are believing in this team.
"I'm sure they will turn up to the Queen of the South game in good numbers and give the boys good backing too.
"Queens haven't been on a good run lately but we are not looking at that.
"They have good players. Up front having Stephen Dobbie and Lyndon Dykes means they can hurt anyone.
"So we know we will have to be at the top of our game and the same attitude and work-rate as we've shown lately is what we have to bring."
Osman Sow and Mark Connolly could both return to the United squad.