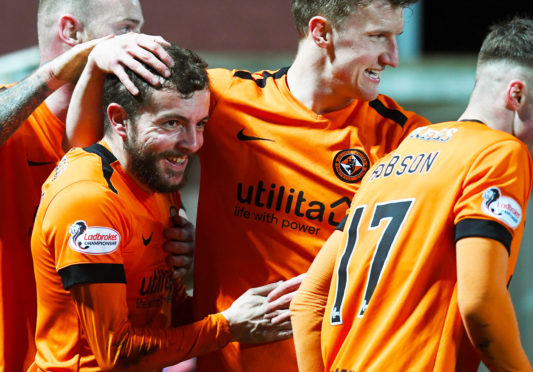 In this week's Talking Football, Eric Nicolson and Ian Roache discuss the importance of Dundee United's recent win against Ayr and Saturday's clash between Dundee and St Johnstone.
Put out the bunting, Dundee United have beaten Ayr. Assess the significance of Friday night's win?
EN: I was covering the game and it felt like a very important one to me. The prospect of finishing third – or even having to fight until the last day to finish second – was unpalatable. Now, you can envisage that particular job being completed with a couple of games to spare and Robbie Neilson can rest players on occasion to get them ready for their play-off entry at the last-three stage. I also thought Ayr's performance was significant. They have the look of the Morton team of a couple of years ago (ie not nearly as good as they were earlier in the campaign). Now that United have beaten them once, I'd expect them to do so again if the sides meet again. I suspect it will be Inverness, however.
IR: In the last month, United have beaten and drawn with leaders Ross County, won at Dunfermline and now finally overcome Ayr (let's not talk about Queens). That's not too shabby. I think last Friday's result gives them greater belief that they can go up to Inverness and win there too. Do that and they will have recorded recent victories over the two potential play-off rivals from their own division and that could be significant.
Paul McMullan is fast becoming Robbie Neilson's main man. Do you prefer him playing through the middle or out wide?
EN: In this division, through the middle. I'm not so sure it would be the same in the Premiership, though. I'd like to see McMullan improve his goals to chances ratio before we talk about him as an out-and-out centre forward. It is an enviable option for Neilson to have because wherever he plays, McMullan is causing panic in opposition defences.
IR: He has certainly come a long way since he scored the winner for a United XI against St Johnstone colts back in August in the Irn-Bru Cup. He was so out in the cold under then boss Csaba Laszlo that he had an icicle hanging from his nose when I chatted to him after the game. By the way, I prefer him out wide.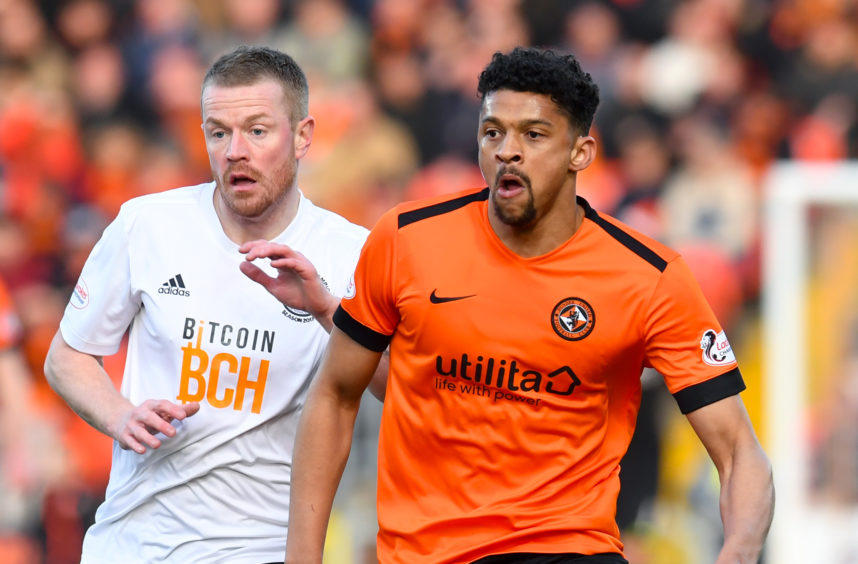 Pavol Safranko and Nicky Clark were substitutes on Friday. Are United's options up front greater than any of their potential play-off rivals?
EN: It's becoming the area of strength for United and, yes, I would say they are. Dundee's goalscoring issues are well-documented, St Mirren don't have an array of attacking talent comparable to the Tangerines, and neither do Hamilton. If he stays fit, I suspect Osman Sow will be a first choice by play-off time and if Safranko and/or Clark are subs, that's real potential game-changing impact off the bench.
IR: Whoa….. Let's not get ahead of ourselves here. If or when they see off either Ayr or ICT then that's the time to compare United with top-flight teams.
Sporting director Tony Asghar has told this paper that the transfer budget will be the same regardless of what league United are playing in next season, and he has given his "100%" backing to Robbie Neilson. Does that take some pressure off?
EN: Absolutely. Asghar left no room for misunderstanding – Neilson is part of the club's long-term plans. So he should be. He's an excellent manager who has got far more right than wrong since taking over from Csaba Laszlo. The budget part of it is hugely encouraging for United fans. They have got a great shot at promotion this season but, if that doesn't happen, they will be the stand-out financial powerhouse in the Championship next term.
IR: Hmmm. A club official in a position of power giving 100% backing to a United manager regardless of whether they go up or not. That sounds familiar! I am glad, though, that Neilson looks like staying on because he is the right man for the long term, in my view. He will get them back up eventually but I don't agree with Eric that they have a "great shot" at promotion this season. It will be a miracle if they catch County and the odds will be against them in any play-off against a Premiership team.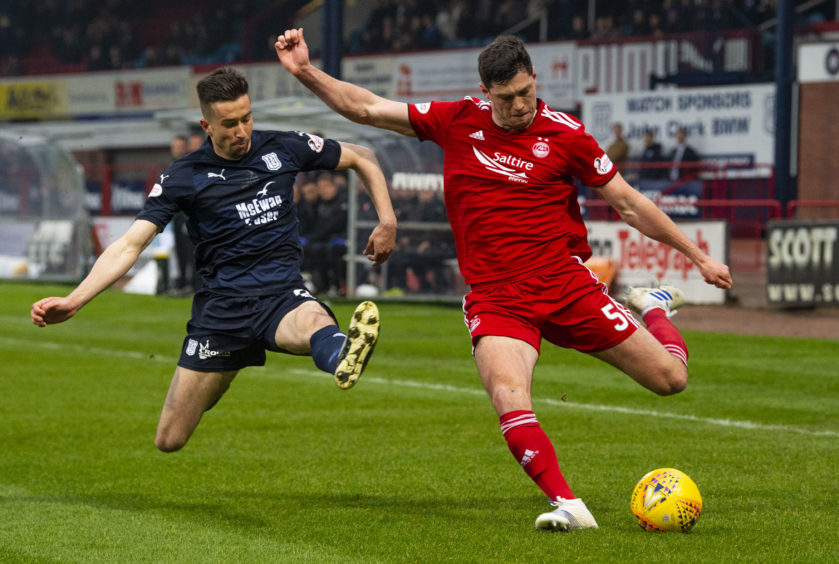 Time to turn our attention to one team who would be delighted to be involved in the play-offs, Dundee. Were you surprised to see Cammy Kerr back in the starting line-up last time out and will he keep his place for Saturday's game against St Johnstone?
EN: Yes and no. Yes, because Kerr didn't even make the bench as recently as the St Mirren game. No, because James Horsfield's form has dipped. Kerr wasn't outstanding against Aberdeen, and had to share the blame for the second goal, but it was his first start in a few months and I would give him another one.
IR: Like McMullan at United, Kerr looked to have been consigned to soccer Siberia. It is good to see him back but it is difficult to predict the Dark Blues' line-up game to game. I think fans call it tombola.
Jim McIntyre's team selections have been hard to predict of late. Pick your starting XI for McDiarmid.
EN: Dieng, Ralph, O'Dea, R McGowan, Kerr, O'Sullivan, C Curran, Robson, Woods, J Curran and Nelson.
IR: Same as Eric apart from Paul McGowan in for Craig Curran.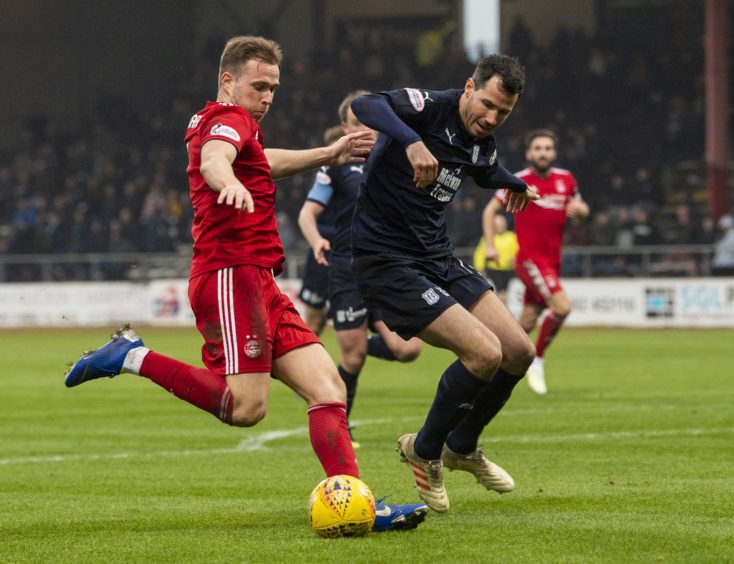 It's time for a few of the January signings to come to the party, is it not?
EN: The biggest disappointment for me has been Scott Wright. He hasn't done enough to justify a start at McDiarmid (there have been two brilliant goals but not enough apart from those since arriving from Aberdeen). At the other end of the scale, Ryan McGowan has been by far the most consistent of the January recruits.
IR: It's now or never when you consider what is at stake. Sadly, I believe defeat will signal a bottom-placed finish for Dundee even with four games to go. I agree that Ryan McGowan has been the standout. Indeed, I would be tempted to name him player of the season even though he only joined in January.
St Johnstone are going for a full house against the Dark Blues. Is finishing seventh enough of a motivating factor to drive them on at the weekend and for the remaining bottom six fixtures?
EN: At this time of year I would always be tempted to back the team who most needs the win. That said, from Dundee's point of view, I would rather be facing Saints a couple of games later when they have even less to play for. Also, Tommy Wright has made it clear that having another year on your contract won't make you safe for next season. He clearly wants to see a strong finish to the season.
IR: Saints won the last game between the teams fairly comfortably so there is a lot of ground for Dundee to make up in this one. I also think the fact there should be a decent crowd and lively atmosphere will help motivate the home players. Unless the Perth men really drop down a few levels from that 2-0 success earlier this month then they are my favourites to make it a clean sweep.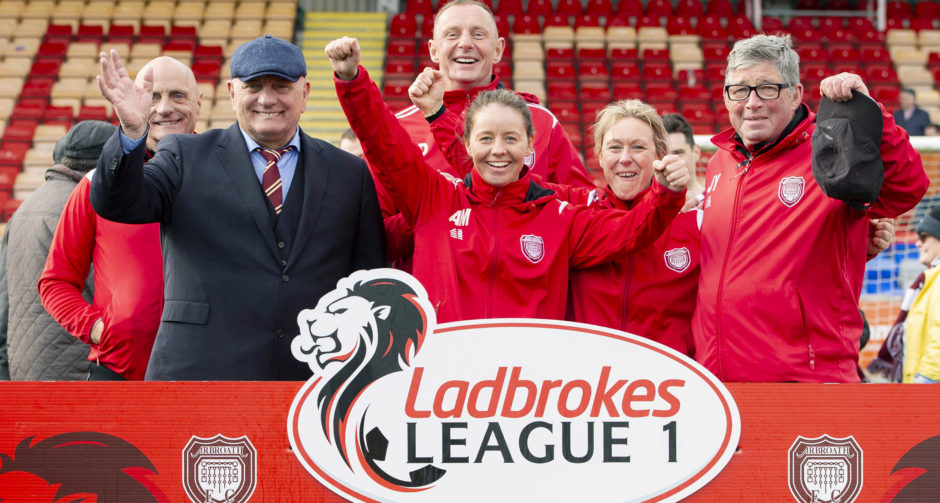 Now that Arbroath have finished the job off in League One, how do you think they'll do in the Championship?
EN: Firstly, congratulations to them. Arbroath have had a stunning season. It will be intriguing to see how significant the squad revamp is over the summer. It's a fine balance between improving what you've already got (which will be needed) and wrecking it. Put it this way though, Arbroath will be much closer to doing an Alloa than they will be to doing a Brechin.
IR: They will love every minute of it. I was going to say they will miss the derbies but they could get Forfar or Montrose up with them. Also, if things go south for Dundee and United then there will be a few trips along the A92 for the Lichties to savour. It will be an exciting season for everyone at Gayfield and Dick Campbell and his players will be welcome additions to the Championship.