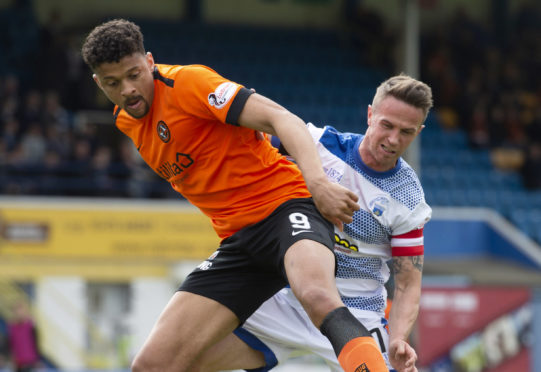 Yet to score for Dundee United, Osman Sow is ready to hit the goal trail in the play-offs.
The former Hearts striker continued to build up his match fitness with over 70 minutes of football in Saturday's 1-0 defeat to Morton.
Now, after eight appearances without finding the net, Sow believes he will make his mark when it matters most – against either Inverness Caley Thistle or Ayr United.
"It would be a good time to score my first goal," said the 29-year-old.
"The goals will come for me. I am sure of that.
"I feel as if I'm getting better and better with every game.
"I've got more minutes played and I'll definitely be ready when we play Ayr or Inverness.
"I'm really looking forward to it. Whichever team we face, we just need to do the job and get into the final."
Sow, who squandered a good chance at the back post to get an equaliser for United just before half-time to cancel out Michael Tidser's 19th minute free-kick, admitted that the players were conscious that there was little or nothing at stake at Cappielow.
"If we were going to lose a game this was definitely the time to do it," he said. "We have much bigger games coming up in the next 10 days.
"It felt a bit like a match that didn't have a big importance.
"We didn't do what we had set out to but we know what we have to work on for the play-offs. That's where all our focus is."
With Ayr and Inverness both beaten by the Tangerines in recent weeks, there will be no fear factor for United when they find out who they will be facing.
But Sow insisted that their favourites' tag won't make them complacent and look beyond their Championship rivals to who might be waiting for them in the final.
"It was good that we beat both Inverness and Ayr recently but these will be different games," he said.
"What happened in the past doesn't matter.
"Hopefully the week we have without a game will help us.
"We'll be mentally and physically prepared. Whoever we play, we'll be ready."
It has been the best part of a decade since Sow was last involved in an end-of-season play-off and it doesn't bring back happy memories.
"I've played in one play-off nearly 10 years ago in Sweden," he recalled.
"It was with Vasby United. It was to get promoted and we lost it.
"Everything is a learning experience and hopefully I'll be successful this time.
"There is always pressure in football. Dundee United is no different. You just have to focus on your own performance.
"I definitely think we've got a good chance."
United boss Robbie Neilson acknowledged that there were mitigating circumstances for a flat performance from his side.
"We made a few changes (six) and we never really got into the game," he said.
"It was disappointing not to get the three points and to continue our wee run of wins but sometimes it can be good to get a wee knock before big games.
"Ultimately we didn't perform and that's why we didn't get the result.
"Everyone's eyes are on the next games. My eyes are on them too because I'm resting players and putting some younger ones in. It's only natural that players feel that as well.
"I spoke to them about not getting any red cards or making any silly tackles.
"You hope you do that and still get a result."
The loudest the United fans got was when news came through that Dundee had been relegated but an otherwise unforgettable afternoon will always be cherished by two of the players.
Teenager Logan Chalmers started his first league game and, at just 16 years and 27 days, the second half substitute Christopher Mochrie became the club's youngest ever debutant, taking the record from John Souttar who was 16 years and 99 days old on his debut.
Neilson said: "I thought the two young boys did well – Chalmers especially.
"Mochrie made a bit of history as the youngest player for Dundee United but he didn't look out of place. He's got quality.
"For Charlie Seaman and Cammy Smith it was all about fitness levels.
"The keeper (Ross Laidlaw) did well apart from the goal. It was a good strike but he could maybe have covered that area a bit better.
"Benjy (Siegrist) has been the number one since I came in and he'll be back in next week but it was important Ross got some game-time in case we need him."
The game was played without Morton management duo Jonatan Johansson and Peter Houston who decided to walk out a couple of hours before kick-off. Jim McAlister and Chris Millar stepped up in their absence.
McAlister said: "I came in, put my bags down and went to the toilet. When I came back in Housty was saying 'cheerio'.
"I don't know what's going on behind the scenes. A bomb was dropped and myself and Chris have had to go and pick a team and a formation. The boys took it on board and they were terrific."