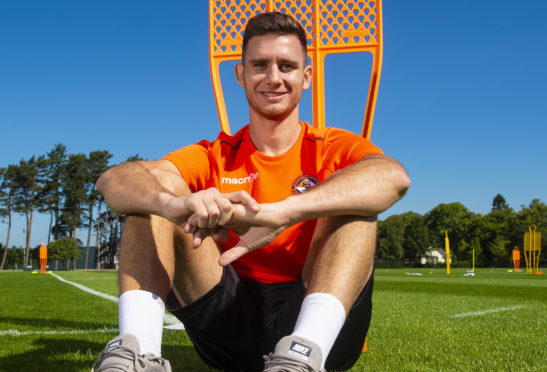 Dundee United's new Argentinian Adrian Sporle believes the best form of defence is attack.
The left-back has promised fans that they will see him go on the offensive as much as possible.
The 23-year-old, who has joined the Tangerines from Atletico Banfield in his homeland, could get some game time today when Robbie Neilson's men play their first summer friendly against East Fife at Bayview.
Sporle said: "I want to give everything for the fans.
"I'm a very offensive player and that's the type of football I like to play.
"I like to get forward and put crosses in.
"I'm going to give everything to, hopefully, win all the games. That's my aim."
Sporle is settling in nicely, having spent the week at St Andrews getting used to his new surroundings and teammates.
He revealed that his career plan is going like a dream with this move to Scotland.
Sporle added: "I'm very happy to be here.
"I have already adapted to the club very well.
"Since I was a little kid – aged about six – I wanted to play top football in Argentina and then move to Europe.
"I've accomplished the first one so now I want to go and make the most of this chance to play somewhere new.
"I'm very excited and just can't wait to get started.
"Dundee United contacted my agent and had watched a few games of me and became interested in signing me.
"It was just such a good opportunity for me to sign and come and play in Europe. So I had no hesitation in doing so.
"Just looking at the facilities here, you realise how big this club actually is. There is huge potential.
"Of course, we want to get automatic promotion by winning the title.
"I know we just missed out last season. We want to go one better this season."
Sporle has already been told all about the Dundee derbies that are likely to be a season highlight.
He said: "Since the minute I arrived, I have heard all about this derby game from a number of sources.
"It's a bit like a classico back in Argentina and I hope I can win all of them.
"I know what they mean to the fans so it will be up to us to make them happy on these occasions.
"Also, I know both Dundee clubs have a history of signing players from South America in the past.
"My father had told me this and I am happy to be the latest in that line."
Sporle is communicating via a Spanish-speaking translator as he prepares to take English lessons.
He said: "I'm going to start.
"It will be important because I will need to speak the language on the park."