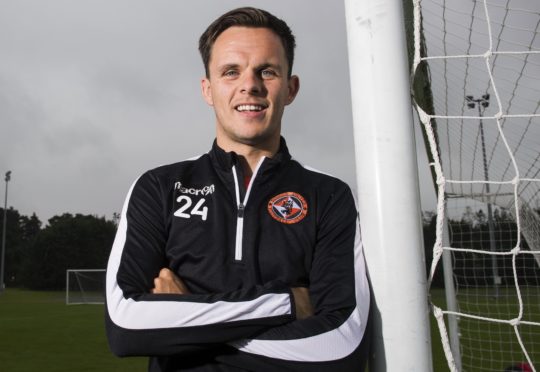 Lawrence Shankland scored 34 goals for Ayr United last season.
But Dundee United's star summer signing isn't putting a figure on what he can achieve with the Tangerines.
Shankland, who is set to make his debut against Hearts in the Betfred Cup tonight, said: "When I signed, I knew that playing with good players I would get more chances and if my conversion rate is as high as it was last year I should be able to do alright.
"I'm not going to go and put myself under major pressure to get a number.
"I've not done that over the last two years and it's worked out for me.
"If I can convert as many as I can I'm sure I will get a good few because I always seem to get in good positions to get chances."
Shankland famously scored four in one game for his former club against his current one and he admitted that Tannadice display was probably his career highlight so far.
"I think the manager (Robbie Neilson) had just come in when we played them," he recalled. "But they'd won something like four on the bounce and we were in really good form at that time as well.
"We were flying and it was just a night when everything went right for us and probably went the opposite for Dundee United.
"Hopefully I have a few more of those nights here.
"It probably was the high point of my time at Ayr because it's a result that shouldn't happen."
Shankland's last big move was a switch from Queen's Park to Aberdeen as a youngster. That one tuned out to be a struggle but he is far better equipped to make sure this transfer proves to be an unequivocal success.
"When I went from Queen's Park to Aberdeen it was quite a big jump," he said. "Obviously it was the third division to the Premiership and it was something that was probably too big for me at that time.
"At that time I probably shouldn't have gone to Aberdeen. Although I went as a youth player I maybe should have gone to a Championship team and then moved up that way.
"It was something I had to think about to make another small step and the right progression instead of a big one I might not be able to make."
Shankland knows the priority this season at Tannadice is the league but that doesn't mean the Betfred Cup will be treated lightly.
"The aim is promotion, simple," he said. "We need to get this club back to the Premier League where it should be. Everybody knows that and I think people get a wee bit of enjoyment when the team misses out. It seems to be that way.
"It's something that needs put right. Hopefully we can do it this year.
"We've got a strong squad going into the league, the boys are feeling good.
"We've got a big game coming up this week and hopefully we can do well in it and the cups so that when we go into the league we're ready to go.
"I've never played at Tynecastle before so it's something I am looking forward to.
"We've got a good side and if we go there and play well we should do well."
Shankland feels equipped to hit the ground running after putting himself through a solo pre-season before signing for United.
"I knew I had to do a bit of work," he said. "The later it was getting I knew boys were back for pre-season, so I had to be in a state where I was more or less ready to be in a team.
"I did my best to do that. I've come here and there have been a few tough runs but I seemed to do alright.
"Match-fitness comes and the way I look at it I'm only 45 minutes behind the rest of the boys, so thankfully enough the two games there I managed 35 and 55.
"I was happy that, so fingers crossed."