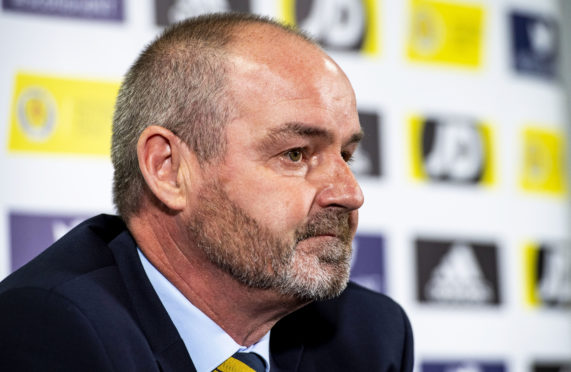 If there were people hoping that the Steve Clarke effect would result in a stampede of returning Scotland players, the national coach's first squad announcement would have left them cold.
Of the high profile names who dropped out of the picture under Alex McLeish, the only one returning to the fold is Fulham's Tom Cairney.
Time was against Clarke for next month's Euro 2020 qualifying double-header against Cyprus and Belgium. Injuries and a wedding haven't helped him either.
But when it comes to selecting squad number two in September, Clarke is hoping that word of mouth about the quality of his work in camp will help broaden his options. And a couple of good results wouldn't hurt either.
"It was probably slightly more difficult than if I had been in the job for a couple of months," said Clarke about picking his 27-man squad.
"With a little more time and a little more attention I could maybe have found a bigger and better squad.
"This squad of players all want to be here and that's the main thing for me.
"It's difficult for the ones I called last week and tried to convince to cancel weddings that they've had organised for the last two years or whatever.
"We have to be understanding that this is the squad that's available and I think it's a good squad. Hopefully in the games you'll see that."
Clarke described the chats he has had so far with players he hopes may yet return as "90% positive".
"I look forward to continuing some of the conversations," he said. "I'll keep them all private.
"That's why I was a little bit miffed when the Liam Cooper one came out. Obviously I did speak to Liam to let him know I was aware of his talents and thought he had a great season at Leeds.
"Unfortunately he is injured for this particular camp."
He isn't the only one. Ryan Jack, David Bates, Barry Douglas, Kieran Tierney, Ryan Christie, Callum Paterson, Steven Naismith and Oliver McBurnie are among those who aren't fit. Steven Fletcher is in need of a summer of "recovery" and John Fleck is the man getting married. It was Clarke's choice not to recall Barry Bannan and promising youngsters David Turnbull and Lewis Ferguson will get their chance further down the line.
"All the people I spoke to, or the vast majority, were very positive," said Clarke.
"Hopefully in the future you can see the results of these conversations but this is the squad we have to concentrate on now. These boys are here.
"I'm not going to close the door on anybody.
"If it takes two or three conversations and I feel that they are the right people to help the squad, to make the squad better, then I am prepared to keep trying.
"It should be easy because everyone should want to play for their country. I take myself as an example. I would never have retired from international football. I got six caps and every time a squad was announced it hurt me that I wasn't in it.
"Now I've got the chance to be the national team manager I'm hoping given time – remember I'm only seven, eight days into the job – we will be able to persuade players to come back and have a stronger national team in the future."
There had been speculation Cairney was holding out for an England call-up but Clarke got the response he was hoping for from him.
He explained: "I phoned Tom up and he immediately said: 'Yeah, I'm coming. When's the camp?'
"It was just: 'Great to hear from you.' We had a general chat about his season at Fulham and he indicated he would be delighted to be involved in this squad. So he made it, he is in."
Clarke will soon get the chance to sell himself.
"Hopefully in the next 10 days, I'll come out with a better understanding of what might have been the issues that caused the last camp to be quite negative," he said.
"We have to get a positive camp and the only way we come out with that is results.
"It's difficult for me, after seven or eight days in the job, to talk about what happened before.
"Some of the more senior ones felt after the qualifying campaign under Gordon (Strachan) that they'd been pushed aside a wee bit. That's something we can work on.
"Hopefully I can put on sessions the players enjoy.
"If the players enjoy working with us, they might phone their mates and say: 'It's not bad here now' and you might get a few more back.
"It's a really important week and if we can make it enjoyable, with good information for the players, they can phone or WhatsApp their mates and get a few more involved."
One player on the top of his game is John McGinn, a Wembley play-off hero for Aston Villa.
"He was excellent yesterday," said Clarke. "Great performance, winning goal. I hope he didn't drink too much champagne because it looked as though there was a lot of it flying around the Wembley pitch.
"From people I know at Villa they are really pleased with him. And the supporters really love him. He has gone down there and pushed his game to another level. Hopefully on the international stage, as he gains more experience and caps, his game will improve even further.
"John, in the form he is now, is a big positive for the squad."
Another big positive would be having a Champions League-winning captain leading his team out at Hampden.
"You want all your players to come in a positive frame of mind so for Andy (Robertson) it would be important he finishes the season with a trophy," said Clarke.
"If you look at the season in England, which I did not concentrate too much on because I was immersed in my job up here, Liverpool probably deserve to finish with a trophy. Tottenham will not like me for saying that."
Meanwhile, Clarke confirmed that his Kilmarnock assistant Alex Dyer will be in his Scotland backroom team, as will former Republic of Ireland international Steven Reid.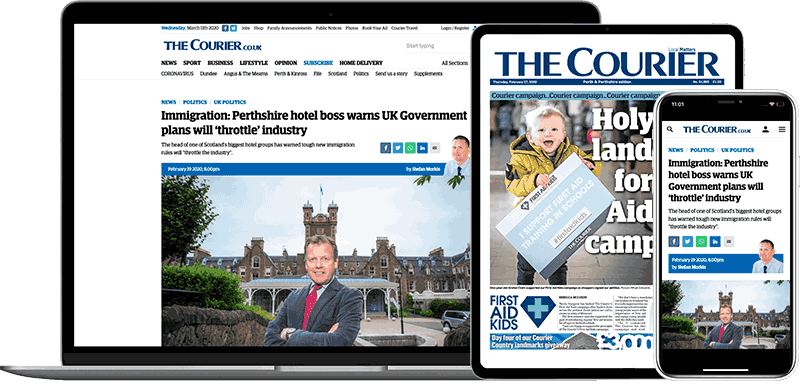 Help support quality local journalism … become a digital subscriber to The Courier
For as little as £5.99 a month you can access all of our content, including Premium articles.
Subscribe