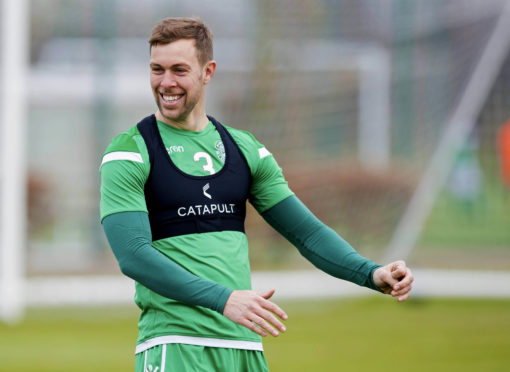 Steven Whittaker is convinced two decades of experience can help him make a telling contribution off the pitch as well as on it after joining Dunfermline as player-coach.
The former Rangers and Scotland defender has penned a 12-month deal with the Pars after being freed from his second spell with Hibs last month.
The 36-year-old is determined to play on for as long as possible but is eager to progress his coaching career as he eyes a possible move into management one day.
And he has vowed to make sure his voice is heard after teaming up with Fifers manager Stevie Crawford and his backroom team of Greg Shields and Jason Dair.
Whittaker said: "With the lockdown and everything that has happened, it was just a matter of weighing up the options to see what was out there for me.
"I had my 36th birthday in lockdown and I was getting to the point where it was going to be an important step, towards what I want to become further down the line.
"When I knew that Stevie was interested in getting a chat going with me we met up and he wanted me to come here and play – but I had aspirations to learn the coaching side of things as well.
"So, once we got chatting, we managed to agree that I could come in and be a player-coach.
"That is something that I am really keen on doing, I really want to get involved with Stevie and the management, have a say and use my experience in the game to help in every which way that I can.
"There will be plenty work to go around, I'm sure. We will all come together – we are a team at the end of the day, staff and players, so regardless of what I am doing from day to day, we are all trying to aim towards the same outcome.
"These guys have coached longer than me. I will be learning from them – at the same time as, hopefully, I have the experience of having played a lot of games to have a good say and help them along the way as well.
"Obviously I will be training and still be playing alongside that. I am really looking forward to the challenge."
Whittaker got a brief glimpse of what he hopes is a future in management when he helped Eddie May and Grant Murray take the reins at Hibs between Paul Heckingbottom's departure and the appointment of Jack Ross last season.
A 4-1 victory away to St Johnstone in November made the experience a more memorable one and whetted his appetite for a future in the dugout.
He added: "It was nice for it all to work out that day. That was just a little taster of it, but it's definitely something that I want to aim towards."
In the meantime, the 31-times capped internationalist is determined to prove his worth on the pitch as he prepares for a midfield role with Dunfermline.
He went on: "I have played a fair amount of games over the years, this is my 21st year, having been a professional from the age of 16 to 36, so far. I am still going, still want to play and I still have the drive to do well.
"Stevie has spoken to me and, when I was playing at Hibs, I was playing in a central midfield role, protecting the back four.
"I was doing well in the Hibs team, up until getting sent-off in the last game [against Aberdeen in March]! I had a good run of games and felt like I was competing well.
"It is a position that I know well and quite enjoy at this stage of my career. Hopefully I can control things tactically and have a big say in where players are. Hopefully it will all fall into place."
Ex-Dundee United defender Paul Watson joins Dunfermline along with Steven Whittaker