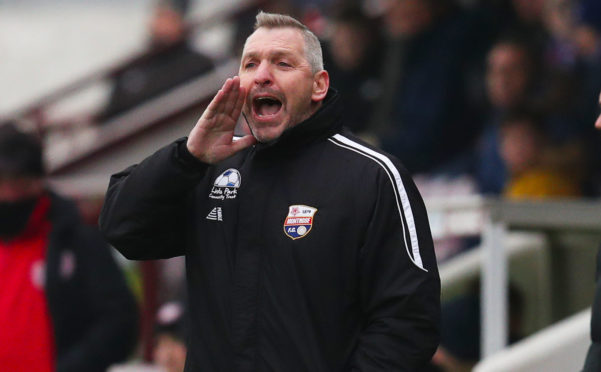 Montrose boss Stewart Petrie's glass is edging closer to being more half full than half empty – but he insists he is still looking for his players to secure their League 1 safety this afternoon at East Fife.
The Gable Endies are sitting in fifth spot, 10 ahead of second bottom Brechin with just four games to play.
Petrie admits his team, who have won three out of their last four matches, are highly unlikely to be dragged into the drop zone but he is looking for them to put the rubber stamp on things this afternoon – and at the same time leapfrog Darren Young's team into fourth, the last promotion play-off spot.
Petrie said: "Securing nine points out of four games recently was massive for us and it would now take a shock turn of events to drag us into the bottom two.
"But until it is a mathematical certainty, there is always that worry at the back of your mind.
"With four games to go we find ourselves just one point outwith the play-offs which is remarkable considering where we were just 18 months ago.
"The club has come a long way but we are not taking anything for granted and we could still do with another win to guarantee our safety.
"So we will try to get a positive result against a right good team on Saturday.
"Darren has them going really well and they are a quality side who have been third or fourth nearly all season.
"East Fife have beaten us twice at home and we have beaten them twice at Bayview so hopefully that sequence continues!"
Petrie added: "In all fairness, it was probably one of our best performances when we won down there 2-0 in January.
"I thought we were excellent that day and that's what you need to produce at Bayview to get a result.
"As I said, we have taken nine points out of 12 and if we could do the same in the next four games we would be delighted.
"We will just take each game on its merit and there is an incentive against East Fife for the boys to push into the top four for the first time this season.
"We probably now have our eye more on fourth than the bottom side of it but we will not be complacent.
"We are aware that we could be safe on Saturday but we would rather make sure it is ourselves that do it rather than have to rely on others.
"So we will go out determined to get the result that will secure our League 1 status for next season."