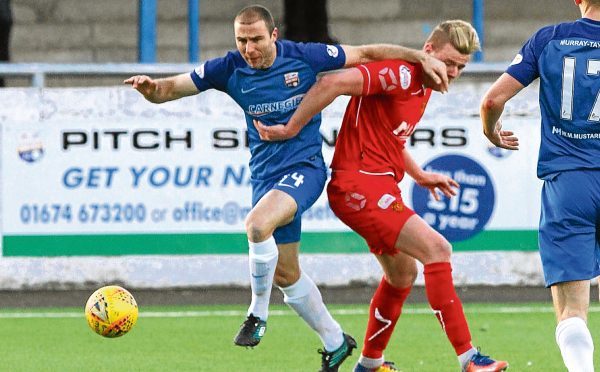 For 10 years during the football season, most mornings Sean Dillon would leave his home in Inchture and drive to St Andrews for Dundee United training.
That regular routine stopped in May when the loyal club servant's time at Tannadice came to an end.
Dillon has a treasure trove of Tangerine-tinted memories that will stay with him forever including a Scottish Cup triumph over Ross County in May, 2010.
However, as his United career closed, another chapter in his life opened.
The genial Irishman had a whole host of clubs, full-time and part-time, all eager to snap him up and more than a few eyebrows were raised when he ultimately opted for Montrose in League 2.
Dillion admits that while he is still adjusting to being part-time, he has never regretted for a moment his decision to take on a player/coach role with Stewart Petrie's Gable Endies who are currently sitting at the top of the table with another key game at Elgin City this afternoon.
And the experienced defender would like nothing better than for the Angus club – and his former side United – to go up this season.
The 34-year-old said: "I spoke to a few sides after leaving United. It felt like a lot longer to get a club than it actually did. It was only a few weeks really.
"When I finished up at United, I had a couple of days in Dundee and then we went on holiday for a fortnight.
"It was during the two weeks that I started taking some calls.
"I had a few people on to me. As far as full-time options were concerned, I would have been looking at a move.
"There was nothing available for me to commute and stay in Inchture. So that kind of knocked the full-time stuff out of the window as I didn't want to move unless it was something we really fancied.
"I like where I am and where we live. My missus Michelle and my boys Shéa and Finn are happy.
"I also spoke to a few of the part-time clubs and had some really good conversations with a lot of good managers.
"But the manager here sold it well to me and being part of the coaching staff definitely helped.
"That had a pull for me as it is something I would like to do.
"But I suppose you just go with your gut feeling. I have always done that throughout my career with decisions I have made.
"I have weighed it up, spoken to different people, done as much homework as you can do and then made a decision.
"I just had a gut feeling and at the end I decided to go with it."
Having opted to sign for a part-time side, Dillon then had to go about trying to find a "day job".
He added: "I also definitely need to be working. At the moment I am involved with the Skilz Academy at Soccerworld.
"I am in there Monday to Thursday for three hours each afternoon working with kids of all ages and all abilities. I am really, really enjoying that.
"We are still trying to get the message out there that we are a football academy based on making improvements to all kids. We are not an elite academy.
"That's my afternoon stuff but I am currently in the middle of doing a personal training course as well.
"I have just converted my garage at the house into a little gym.
"So I am looking into a couple of different things but I certainly need to work – there is no doubt about that.
"It is still a transitional period for me. I don't think I have adapted 100% just yet.
"Instead of going to training, you are getting the kids sorted before the school run, then you come back and you try to make sure you are doing your bit, or spending some time in the gym, or studying.
"But I am still trying to adapt to everything and I think it is going to be a long adjustment.
"I don't think it is going to be straightforward.
"It is a big change and mentally it is challenging. Physically it is tough as well.
"You want to stay fit but officially I am only training twice a week.
"You still want to look after yourself so you also have to do a lot of stuff off your own bat.
"It is a big change but I am definitely enjoying it.
"It also helps when things are going well at the club.
"It would be a fantastic finish to the season if Montrose and United could both win promotion."
Not surprisingly, Dillon, who has played under a whole host of managers including Craig Levein and Peter Houston, is hugely impressed with the job Petrie has done since he took over as Montrose boss in December of 2016.
At that time, the Gable Endies were at the bottom of the table but the new gaffer has helped transform the club both on and off the pitch.
Dillon said: "The manager has been excellent.
"I have been lucky. I would say I have got on with most of the managers I have worked with if not them all.
"Obviously some better than others but Stewart has been really good.
"He has been really helpful for me. Stewart bringing me in was a big confidence boost for me and where I want to be with my coaching. So he has been excellent.
"I have had a lot of people coming up to me and saying you have made a big impact since you arrived in the summer but for me the change around happened that December for the club – not the summer.
"You just have to look where the manager has taken the team and club from since he took over.
"You only have to look at his record since he came into the club.
"He deserves a huge amount of credit and hopefully we will continue to improve."