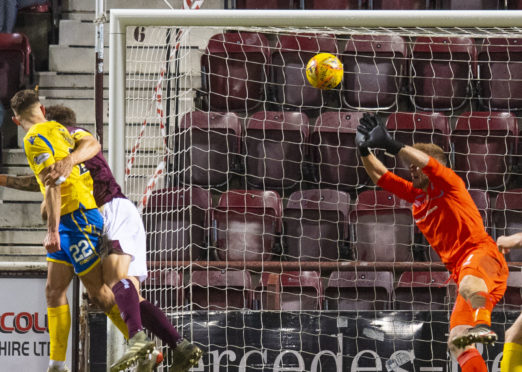 Scotland legend Colin Hendry was none too impressed with son Callum's previous cameo off the bench for St Johnstone.
But dad would have been proud of his boy on Saturday afternoon, alright.
The ex-Blackburn Rovers and Rangers centre-back sung from the same hymn sheet as Perth boss Tommy Wright when he spoke with Callum following his straight red card against Aberdeen.
And on his first game back after suspension, a winning goal at Tynecastle was the perfect early Christmas present for father and manager.
"I was just delighted that he (Wright) put me on again because I thought I had killed myself getting suspended," said Hendry.
"I was too immature and it was just a silly tackle when I got sent off. I thought it should have been a foul to us but in hindsight….I've heard it off my dad as well.
"He was on the phone saying it was a stupid tackle. I told him that he's had more red cards than anyone else….don't have a go at me…I've had one! But I have learned from it and I won't do that again."
The 22-year-old added: "The manager puts his trust in all his players in the way he speaks to us.
"He just said to me: 'Look, it's the type of player you are, you want to throw yourself about, that's the kind of striker you are. But you just have to do it properly because there are times you will get caught and make rash decisions like that, so learn from it'. And I did."
By the time Hendry had replaced Stevie May in the second half, Saints had taken control of the contest. In fact they had taken control of it after a strong opening 10 minutes from Hearts that came to nothing.
But there was a nagging concern that this might be another occasion when chances not put away would come back to haunt them.
The prime example was in the first half when Michael O'Halloran took the ball past Zdenek Zlamal, who had charged out of his box, but found Aaron Hickey with his shot rather than the net.
Then, Zlamal produced a stunning save from Hendry from point-blank range.
Thankfully there were only a few seconds of frustration for the striker to endure as from the subsequent Matty Kennedy corner he headed home.
"I thought that was it," said Hendry of his first chance. "It's one of the best saves from any shot I've had. But I got another chance from the corner and I just felt it was mine.
"The manager told me to sit on the keeper for the corner and no one was with me. We had two corners previously and no one was on me. I was on my own, I was free. There was a gap between me and their keeper.
"There was five yards between their keeper and the front line because they were zonal marking. Matty's put it right on the spot I wanted it. It was a great ball in."
Hendry's three goals in the Premiership have secured a late draw against Livingston, a late win against Hamilton Accies and now a late-ish victory against Hearts.
He'll want to be a regular starter at some point but there are far worse tags than 'supersub' for a young striker still learning his trade.
"As a footballer you want to start every game," said Hendry. "But I am just happy to have the three points and if it's me who scored the winner, it's a bonus as long as the team are winning.
"This is such a hard place to come and it always has been for the three years I've been at Saints."
Hendry's goal has made sure Saints won't be going through a calendar year of football without an away league victory.
"The gaffer said to us before the game that we had almost gone a year without winning away from home so this result was massive," he said.
"He told us we should give ourselves a pat on the back. But home or away these next games are massive and we need to keep the run going. We've been hot and cold.
"Consistency will come. It's just getting two or three games in a row and getting stability. You'd rather have that later in the season. Every season we always have a run where everyone is wary of us. Hopefully, this is the start of it.
"It's a big month for us. Hopefully, we can take as many points as we can before the winter break. This was the perfect platform for us."
New Hearts manager Daniel Stendel had a lot to say after his first game in charge but he could have stopped after his first four words in the post-match press conference.
"A lot of work" summed the situation up perfectly.