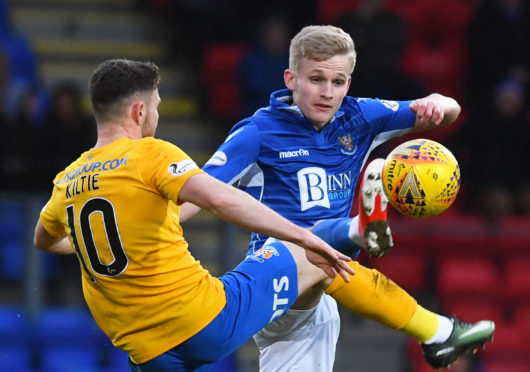 Tommy Wright hasn't had to fend off any January bids for his young midfielder Ali McCann.
But the St Johnstone manager doesn't think that will be the case in the summer.
"Ali McCann is getting better and better," said Wright.
"I am pleased the club have got him on a longer term contract because in the next window I am expecting there will be a lot of interest in him and people knocking on our door.
"You never really know how far a young player can go but in terms of the modern midfielder Ali has all the qualities required.
"He will become stronger in the upper body because he is still a young man.
"But he has a great engine, he can play any role in the middle of the park and has a good range of passing.
"Ali is tenacious and has really good attributes."
It's not often a player comes of age in a 7-0 defeat but you could argue that was the case for McCann at Parkhead on day one of the league campaign.
"In a strange sort of way it was the Celtic game at the start of the season where he got his chance," said Wright.
"We were getting battered. I told him at half-time the game had basically gone. We were down 3-0 when I put him on.
"I said he should just go out and stamp his authority on it. I already knew I had a player on my hands.
"It was whether he could do it against good opposition. He was excellent that day at Celtic Park.
"He saw it as an opportunity and that tells you the type of character he is. Ali stayed in the team the next week (against Livingston).
"He has been a big plus for us. I doubt he will see out the full length of his new contract.
"He has made the Northern Ireland under-21 set-up and I know Michael (O'Neill) likes him. He is Northern Ireland's gain and Scotland's loss.
"I wouldn't encourage him to switch allegiance.
"The type of boy Ali is, I think he is delighted to have the opportunity with Northern Ireland and I think that's where he will stay.
"He has trained when the under-21s and the full team have been together. I know the staff have been very impressed with him.
"They think he can go a long way."
Drey Wright will miss out against Celtic tomorrow night through injury, while Anthony Ralston can't play against his parent club. Michael O'Halloran could return, though.
Wright added: "It was important to go into the Celtic game with a win under our belts.
"The players kept going and kept prodding. They got their just rewards in the end.
"I was pleased for David Wotherspoon. Like a couple of players he has his critics but you don't play more than 250 games for the club without being a really good player.
"His technique for the goal was excellent.
"I was pleased with the effort and the commitment of the players. And the quality was there at times.
"It was good to see the system worked for us. We did a bit of work on it during the summer.
"And it had looked promising when we were chasing the game against Livingston, allowing us to get two up top."