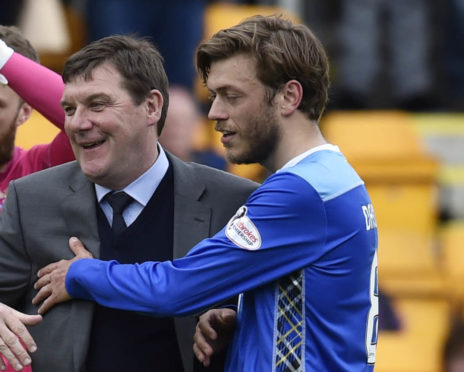 The first thought was: 'What have I done?'
The second was: 'I can't have done anything, we're in the middle of a lockdown.'
A morning phone call from his manager was nothing new for Murray Davidson. Far from it. It was almost as habitual as an alarm going off.
But even after nearly a decade of checking in with one of his most loyal lieutenants at an early hour, Tommy Wright hadn't lost the ability to surprise.
"He phoned me on Saturday morning," said Davidson. "It was about eight o'clock and my automatic reaction was that I was in trouble.
"I've had that call a few times over the years. Normally I'd avoid it but I was pretty confident I was OK this time because we're in lockdown!
"The first thing he said was: 'You and (Steven) Anderson are the only two who are awake!'
"I was shocked when he told me his news about going but now I've had time to look back, you can start to join the dots.
"He's made his decision. He's moved on and we have to do the same."
Speak to Davidson's St Johnstone team-mates and they'll tell you he was the teacher's pet, albeit one that the teacher struggled to keep on a short leash.
The former Livingston man, who made more top flight appearances under Wright than anyone, isn't having it.
"People have always said I was his favourite," he said. "But I can guarantee that I'll have had more tellings-off him than anybody else in that dressing room over the years!
"At times he was tough on me but I always knew that if he had a go it was for a good reason and for your benefit. The other thing was that if you had a barney, the next day it was forgotten about.
"He's someone I could always go to for a chat and that won't change.
"Football moves on but he's certainly one person I'll always be able to go to for advice."
Davidson added: "When you get to my age you'll have played under a few managers – even when you've had the same one for seven years.
"Livingston went through a few when I was there and here there's been Derek McInnes, Steve Lomas and the gaffer.
"It's part of football.
"Mind you, this one does feel the strangest because he's been at the club for nearly 10 years.
"When he phoned a day or two after he left I answered it: 'Hi gaffer' and he said: 'It's Thomas for you from now on!'
"We'll miss him. He's done an incredible job and personally, he's done a lot for me on and off the pitch. He'll be a hard one to replace, that's for sure.
"I always think that you don't get enough credit when you're still at a football club.
"I live in Perth and I've not heard one person say they are glad he's gone. Everybody is gutted. Some have shed a tear. That speaks volumes."
You didn't have to be a multi-season regular to feel important to Wright. But throughout his time in charge the Northern Irishman has known who his go-to men were and Davidson is proud to fall into that category.
"Trust was a big thing for the manager," he said. "He knew there were a group of players he could rely on.
"That was one of the reasons he played me a lot. There might have been a couple of naughty things off the pitch – I was always up to mischief – but come a Saturday he knew he could trust me.
"Frazer Wright, Ando, Cuptie, Easty, Midge, Macca, people like that were ones he could trust as well. Looking back, that does mean a lot to me.
"I can remember games like the 4-0 at Dens Park a couple of years ago when we really needed a win. The gaffer turned to people he knew would get him a result at times like that. More often than not we did."
To Wright's credit, his successor won't have a rip it up and start again job on his hands.
"From Derek McInnes onwards there's always been a rebuild but it's never been a massive one," said Davidson. "That will be the same for the new manager who comes in.
"Myself and Liam (Craig) can help to pass on what has worked so well in the dressing room."
Wright deserved to go out on a high, according to Davidson, and that he has.
"This season has been one of his biggest achievements," said the Scotland international.
"When we weren't getting results he was so confident that it would turn. That never changed.
"By the end we were winning games we would have drawn and drawing games we would have lost. We were the form team in the country after Celtic. But the gaffer wasn't doing anything differently.
"He didn't change and that's the biggest praise I can give him. That's because he trusted what he was doing and trusted his players. Other managers would panic. When that happens it spreads."
St Johnstone hero Dave Mackay hails Tommy Wright's legacy and lifts lid on coaches who have influenced him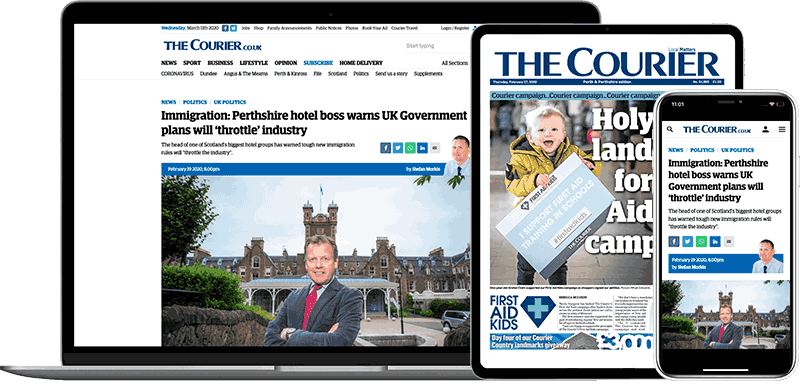 Help support quality local journalism … become a digital subscriber to The Courier
For as little as £5.99 a month you can access all of our content, including Premium articles.
Subscribe