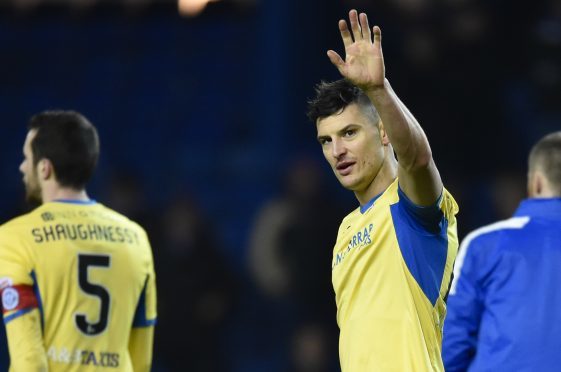 If Graham Cummins the newspaper columnist suffers from self-doubt he does a very good job of hiding it.
The former St Johnstone striker is in that transition period between the end of one career and the beginning of another, a transition that Covid-19 may be accelerating.
He's still a professional footballer in Ireland, albeit not one with any prospect of kicking a ball anytime soon. But he is also a qualified journalist, penning well-structured and thought-provoking opinion pieces for The Echo in Cork, and bringing his insight and anecdotes to podcasts for the Irish Examiner.
Whether it's spelling out some harsh truths about what this pandemic will mean for lower league pros, nailing his colours to the mast on the best three Manchester City players of the Premier League era or incurring the wrath of the Liverpool social media fanbase with his observations on their club, Cummins has strong views and he doesn't back down.
Perfect for the Wild West of online football comment and reaction.
That same clarity and strength of mind would also be perfect for a centre-forward. But Cummins didn't need two months of lockdown reflection to realise he wasn't born with the ideal psychological wiring for a number nine. It's an awareness he has been living and playing with for his whole career.
Greedy goal-getters don't let the skied 10-yard side-foot eat them up. Cummins did.
"I've always said that I was too hard on myself," he said. "I definitely lacked confidence. All of the best strikers are able to put missed chances behind them instantly.
"I would come home and think about it and it would even affect me in training the next week.
"My St Johnstone career effectively ended in the European game at the start of my last season (the first leg against Lithuania's FK Trakai). We were 2-1 down at home and I missed a chance. I could hear the crowd's reaction at the time and there were all the media interviews I had to do after it.
"I never recovered from that and left later that season.
"It had been building up and that finished me off. I started well at Saints (he scored in his first three games after signing from Exeter City) and sometimes I felt I was getting harsh criticism.
"Even if you play well as a striker, if you don't score a goal some people are saying 'get him out'. Fans always want a new striker – even if they've got one who scores 20 goals a year.
"If a player is bringing a lot to the team, works hard and is providing goals for others, that's what a manager wants. Some fans don't see that, though."
A footballer's life is defined by the 'what ifs' as much as the medals, goals, relegations, cups and titles. The intriguing one for Cummins would be what if he'd played all his professional days in the position he has now gravitated to – the one he enjoyed the most.
At last, in his early 30s, he gets to call himself a centre-back.
"I've gone back to playing there with Waterford and I'm delighted with it," he said. "It's gone well.
"I used to play there years and years ago. At that time I was actually going to finish up with football because I wasn't enjoying it up front and I thought I'd try centre-back. I must have been about 21. I did well in pre-season but then the manager signed two centre-backs and I was up front again! That was the last time I played there until recently.
"I've been trying for a while to get back to it. When I was at Shamrock Rovers last year I said I'd like to give it a go and I said the same at Cork before that.
"We played Rovers in a pre-season friendly and I looked quite comfortable there. The manager has stuck with it. It was just a case of getting over first game nerves.
"It's a much easier position. You just need to have a football brain to play there.
"It's not a hard transition because I know strikers' runs, where they want to go, where they want the ball played and what they don't like.
"The older I'm getting, the slower I'm getting. I wouldn't say I'm an unfit player or that my legs have gone but you do lose a bit of pace. If you can read the game that's a big thing at the back.
"It had been the first time in a long time I'd been enjoying going into training.
"When you win a game you just enjoy it. Fair enough you want a clean-sheet but when you're a striker you still go home and think about that missed chance even if the team has won.
"I'd imagine I'll be staying there now and that was my aim. That's my position now. In the back of my mind for years I've thought: 'Why didn't I just stay at centre-back?'
"All you have to do is defend. People don't expect the world of you. It probably is a regret."
Cummins even put positional happiness over financial reward when he was weighing up his most recent change of clubs.
"I was thinking about finishing up. Going back was the only viable option to continue," he explained.
"I had an offer to sign for a club up north. They were saying that Tommy Wright had given me a great recommendation and I was being offered double the money that I agreed with Waterford.
"But I didn't want to play as a striker.
"It's only been this year that I've started to enjoy football and not take it as seriously."
Managers wouldn't have kept signing and playing Cummins as an attacker if he hadn't been very good at it, of course. Twice he was Ireland's First Division Player of the Year before Preston North End paid a six-figure fee to Cork City for his services.
It's probably no coincidence that the goal for which he'll be remembered at Perth is the one he scored at a time when he felt best equipped to cast aside the mental baggage that had been inhibiting him.
It was coming off the bench to seal a 3-1 win at Ibrox in December 2017.
"Ibrox is definitely the highlight," said Cummins. "I knew I wouldn't be at the club much longer and it ended up that was my last goal and I was away soon after.
"I was playing with the pressure off that day.
"It was a case of: 'Let's just see what happens'. That's when you play your best. Football starts to become enjoyable when you're relaxed. For my goal, I didn't overthink. I just hit it.
"I was actually in the toilet when they were looking for me to bring me on.
"Tommy was shouting to find out where I was!
"That was a motivation to do well and I knew I was going out that night to celebrate my 30th so that might have been a bit of motivation as well."
Columns rather than clean-sheets are the focus for Cummins just now.
"It would be great to do it full-time," he said. "It doesn't feel like a job. It's something I enjoy doing.
"The column is keeping me on my toes.
"I started the podcast series as well. I was really enjoying doing them but they've had to stop during this lockdown."
Which brings us to Liverpool and the reaction to Cummins' written and spoken word a few months ago.
He followed up his assessment of Jurgen Klopp's side and their place in Premier League history with a podcast tale about coming up against Virgil van Dijk with Saints and the Ballon d'Or runner-up telling him "I'm just too good" when the pair were in direct opposition at Parkhead.
"I'd written a column a week or two before the podcast, saying that Liverpool weren't the greatest Premier League team ever and I got absolutely battered by Liverpool fans," he recalled. "I mean like threats and everything. I thought: 'This is insane'.
"Then some of them were saying I only said what I said on the podcast to stay relevant – but I'd actually recorded that podcast a few weeks earlier!
"I wasn't making the story up. Why would I make something like that up? Of course it happened.
"I was looking back on my own career in the first episode of the podcast and people picked up that bit about van Dijk.
"The game was at Celtic Park. We lost 3-1 I think and it was his last game for Celtic. He literally left for Southampton the next day. I'll always remember it.
"I'd never heard anybody say something like that to me before, that's for sure! He was joking, though. I'll have a laugh myself on the pitch these days myself. I've changed during my career and would joke with opponents rather than get angry and agitated."
But he'll be the centre-half trying to wind-up the striker, rather than the other way around.
Tommy Wright has been the perfect manager for Stevie May at St Johnstone again