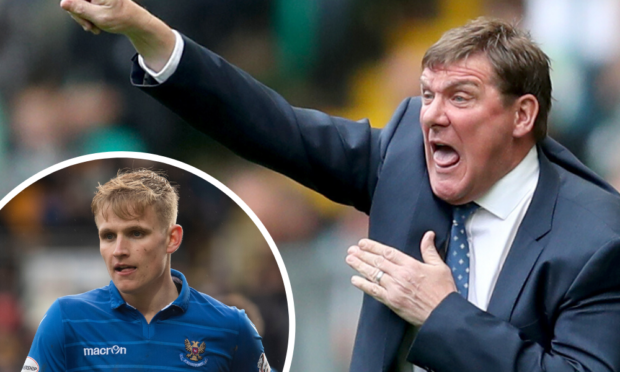 St Johnstone were bottom of the league in December before an incredible run of form to charge up the table saw Tommy Wright leave McDiarmid Park with yet another top-six finish.
Who were the key players in the club's revival? With huge shoes to fill, what's a realistic target in 2020/21 for Wright's replacement in the Saints hot seat?
The Courier's Eric Nicolson and Sean Hamilton have their say on the season.
---
Player of the Year
EN: This is actually a bigger dilemma than you might think. I have gone with Ali McCann but the argument for Callum Hendry is nearly as persuasive. Hendry's seven league goals secured key points for his team and quite simply, Saints would have been cut adrift by December without them. McCann it is, though. As a central midfielder, he's got the lot. He was the most consistently influential member of the side and watching him boss Lewis Ferguson at Pittodrie was all the confirmation I needed that he is the best young midfielder in the Premiership.
SH: Eric is spot on. I first saw Ali McCann back in August as Saints drew 2-2 with Hibs at Easter Road. In the first half, the then-19-year-old looked a tentative member of a hesitant team. After the break, he was a player transformed – and his teammates grew with him. From that afternoon on, his comfort on the ball, shrewdness of distribution, strength in the challenge and willingness to get forward has been at the heart of Saints' success. McCann is the best young midfielder in Scotland, bar none – and he was the Perth side's main man.
Young Player of the Year
EN: In true awards fashion, I'm going to spread the silverware around. McCann got the big one, so it's only right to recognise Hendry in this category. He's 22 but is really a late teenager in football years given the amount of time he was injured. Every goal he scored seemed to be an important one and Saints haven't had a centre-forward with as sharp a predator's instinct since Fran Sandaza. He started out as a supersub – I used that term far too often over the campaign – but was a starter and late match winner by the time of the last game against Livingston. He'll make Saints good money when they sell him and could even end up emulating his dad and playing for Scotland.
SH: At the risk of stripping early drama from things, I have to agree with Eric again! Callum Hendry's seven league goals were worth 15 points to Saints. Take them away and sixth place becomes 12th. Admittedly, that methodology is miles from scientific, but it's instructive nonetheless. Hendry's initial appearances hinted at his potential. By the end of the season, he was in the business of fulfilling it. Next term promises to be a huge one.
Goal of the season
EN: I'm torn between two by that man Hendry. The glancing header at Tynecastle was probably the most significant of the season but I've chosen his late winner against Hamilton. The Perth side hadn't won in the league – and we were nearly into November. They should have had the three points in the bag through two David Wotherspoon strikes but Accies levelled with an 84th minute penalty. Up stepped the supersub – I'm at it again – to control a Matty Kennedy cross on his chest and smash a left-foot half-volley (the proper definition) into the net. It was a high tariff strike that only a few of his Premiership peers have the technique to pull off.
SH: I was swithering between the Ali McCann dink over Joe Lewis that secured Saints three points in Aberdeen in February and Callum Hendry's opener against Rangers a few weeks later – both for the coolness of the finish after a lengthy run in on the keeper. In the end, I plumped for a good, old-fashioned rasper into the top corner from January's Scottish Cup win over Greenock Morton, courtesy of Callum Booth. It wasn't the most meaningful goal of the season, but for my money it was the most spectacular.
Most memorable match
EN: Beating Hearts at Tynecastle in December. This win was the real momentum changer. Daniel Stendel's first game in charge had the home fans behind their team for a change but Saints were magnificent. They didn't let a fluffed chance by Michael O'Halloran deflate them and the celebrations after Hendry's winner matched the quality of the header. Scenes, I think they say. Saints never looked back.
SH: I can't shake a different game against Hearts from my memory – the bonkers 3-3 draw at McDiarmid Park in February. Saints went ahead, then they fell behind, then, with half-an-hour to go, they surged ahead again. All they had to do was hang on, and they looked on course to do exactly that, only for Sean Clare to pop up at the death with a rocket of an equaliser for the Jam Tarts. It was a sore one for Saints fans – but what a game.
How did Tommy Wright perform as manager?
EN: There are few other managers I can think of in this country who would have turned a team's season around so dramatically. Saints were devoid of confidence and conceding terrible goals for months but a combination of Wright's experience, faith in his methods and players and a couple of inspired January recruits made fools of those doubting him and his team.
SH: Tommy will rightly go down in history as the man who led Saints to their first ever major trophy. The achievements of his final season will be a footnote by comparison – but there's a strong case to be made that they were harder won. As Eric says, Wright transformed St Johnstone in his final few months in charge. From being bottom of the league in December, they finished the season in the top six – and did it using a promising young squad packed with talent. Saints' greatest manager of all time has left a terrific foundation for whoever takes the reigns.
Biggest disappointment
EN: That they didn't beat Ross County. Four times the teams faced each other and Saints were the better side every time – the October and December draws were a travesty.
SH: Not being able to properly finish the season must rankle. Saints gave the impression they were a team peaking at just the right time. With Motherwell faltering, Aberdeen plodding and Livingston rotten away from home, it would have been fascinating to see how far up the table the Perth side could have gone.
Realistic target for next season with new boss in place
EN: Top six. The squad Wright has bequeathed is strong in every area of the pitch. There are plenty of teams – and clubs – I would worry about coming out of this shutdown but St Johnstone aren't one of them. Make the right managerial appointment and sixth will be the lowest they should finish.
SH: The top six is certainly realistic. The right managerial appointment will be key – and the makeup of the Premiership will play a part too. But looking through Saints' squad – and the upward trend of their key men – there is plenty for fans to be excited about.
If Saints could sign one rival Premiership player (outside the Old Firm) or Championship star ahead of the 2020/21 campaign, who would you recommend?
EN: One player who I've always thought would work perfectly in a St Johnstone team is Shaun Byrne. His talents were starting to be best used in the last couple of months of the season with Dundee but his role at Livingston is probably the template you would look at. Byrne is a holding midfielder who does the basics brilliantly and would allow the likes of McCann and Murray Davidson to get beyond the strikers.
SH: It says everything about how Saints finished the season that I'm struggling to answer that question realistically. Any club in Scotland would take Lawrence Shankland, but that's never going to happen, so why bother even posing it? Beyond him, I don't see any upgrades in the Championship. Should Drey Wright depart, which remains uncertain, the addition of a proper, attack-focused wide man would become desirable. Under those circumstances, Saints could do worse than taking Connor McLennan off Aberdeen, should he become available.
Young St Johnstone players should look to Callum Hendry as their role model says Alec Cleland