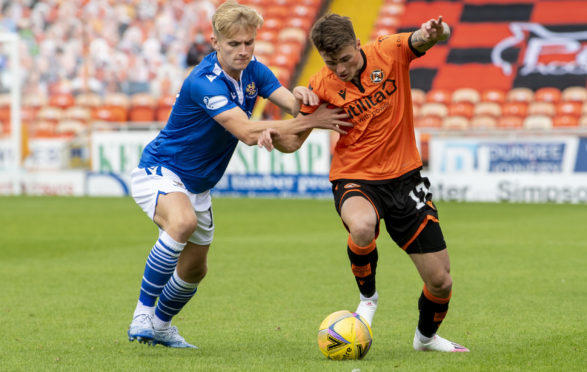 An all-action Ali McCann was the beating heart of St Johnstone last season.
But the way he is refining his game in a new formation this campaign will be crucial to the Perth side's continued success – and help prepare him for a big career move.
Saints boss Callum Davidson will pick and choose the times to let the Northern under-21 international off the leash.
A two-man central midfield, which is the McDiarmid Park manager's system of choice at the moment, requires his star turn to rein in some of his box-to-box instincts.
And it's a strategy that will benefit both team and individual, according to Davidson.
"Ali is playing a different role this season and I have been pleased with how he's understood it," he said.
"It's a more disciplined role – more of what I see a centre midfielder as.
"The good thing about Ali is he has a good football brain. I could ask him to play anywhere on the pitch and he would understand what he's supposed to do.
"The difference for him this season is he's been asked to play behind the ball more instead of just running.
"It's about using your energy. Last season when I watched him he was running all over the place, full of energy, making tackles and getting on the ball.
"He had a very good season last year and if I asked him to do that again he would get right back into it and be fine.
"But we have changed the system a bit and it's more about choosing when to be making those tackles and breaking."
Davidson added: "Ali reads the game very well, so it's about knowing when to press. He's got the intelligence to adapt and I've been pleased with him.
"Having Liam Craig beside him, helping him along has been a big thing.
"It's just about adapting to a different system. He's still got to get forward, get into the box and we will add the goals back into his game."
Davidson spent the vast majority of his playing career in England and was working south of the border as a coach before he returned to Perth. The former Scotland international is well placed to judge what is needed for a midfielder like McCann to fulfil his potential, adding layer upon layer of tactical and technical detail to raw ability.
"For Ali's future development I think it's a good thing because he's learning a new way of playing," he said.
"That will only stand him in good stead for the future. It adds different strengths on top of what we know he can do already.
"So if he does move on and a bigger club comes in for him, then it's all the better for him.
"It was good to see him play for the Northern Ireland under-21s. He will be back with us on Wednesday hopefully."
One player who has adapted his style of play through the years is Craig Conway.
The St Mirren game before the international break showcased the former Dundee United man's full skillset.
The winning goal he set-up for Stevie May was the Conway United fans would recognise – buying a yard of space out wide with a clever change of pace before delivering a perfectly weighted cross. But at other stages of the match he was deployed centrally, linking up the play to set the likes of Danny McNamara on the charge.
"Craig's delivery is excellent and I thought the St Mirren game was the best he's played for us," said Davidson.
"We have had to work on his fitness because he missed a bit of pre-season, but you can see his footballing brain, his energy levels and the quality of ball he puts into the penalty area.
"Craig's versatility is another asset because he can play out wide and also centrally.
"We knew when we signed him he could play right across the front three. He's got the cleverness to do it.
"I would imagine playing out wide is his favoured position but he comes inside anyway so has learned how to play the role in behind."
May will be in contention for a start at Motherwell on Saturday, with Chris Kane an option from the bench.
"Getting Stevie and Chris up to speed will be massive for me," said Davidson.
"Stevie scored a very good goal against St Mirren so that will give him confidence.
"It was a great striker's goal. His movement was excellent to delay the run and then have the tap in.
"It was a great ball in and from my perspective it was a good one to see from the team because it was the kind of goal we need to be scoring.
"So getting Stevie on the pitch and into the box is what we need. That's what we have been working on with him."
St Johnstone's Jason Kerr wants to follow under-21 team-mates into full Scotland squad