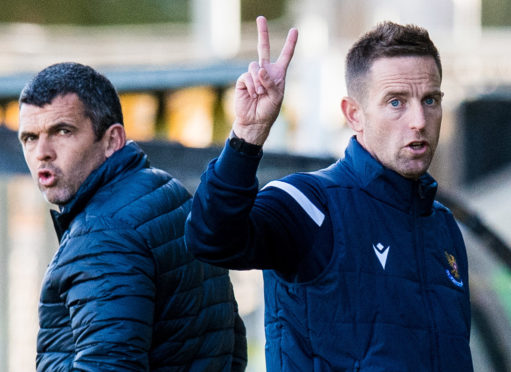 It would take an "injury crisis" for St Johnstone manager Callum Davidson to get his assistant Steven MacLean out of retirement.
The Perth boss admitted 38-year-old MacLean's fitness and football ability makes him a break glass in case of emergency option should it really be needed.
But turning to the 2014 Scottish Cup hero to get Saints scoring goals again in the Premiership isn't an option under consideration.
"He's playing deeper and deeper every time he gets involved in training," said Davidson. "He's playing centre-half at the moment!
"Macca can still play, no problems. He's still training, still fit, still doing the runs with the lads and still near the top.
"It would only be if I had two or three injured. It would be unfair to use him otherwise. We'll only use him if there's an injury crisis."
Recruiting a striker is on Davidson's wish-list as Monday night's transfer deadline approaches – but he hasn't ruled out making more than one signing over the next few days.
"We're working behind the scenes to try and make a few signings," he said.
"We'll see what happens. Hopefully we'll get at least one in, possibly two. It's a time when things can change quite rapidly so we're always looking.
"In the last month things have picked up in the market and more players have been signed. There are players available and deals to be done. I'm hopeful that we'll definitely get one in."
Could it be case of waiting all the way to deadline day?
"Probably," said Davidson. "That's what usually happens. To make deals happens sometimes you need to take a leap of faith in who you want to sign."
The progression of Stevie May is one reason Davidson does not need to put all his eggs in the new striker basket.
"Stevie May has only had two games when he's been fully fit and he's had chances in games," he pointed out.
"I'm not overly concerned by that. If we weren't getting into the right areas and creating chances then I'd be more concerned.
"I'm really pleased with the way Stevie's moving and I'm sure the goals will come back.
"If I can find the right striker to improve the team and get me consistent goals, not just add to the squad, it's something I'll push the chairman for."
There is a good chance Craig Bryson will make his St Johnstone debut against Celtic on Sunday.
"Callum Booth and Craig Bryson are both fit," Davidson reported. "The only one with a slight niggle is Chris Kane. He'll be touch and go. Hopefully we'll have everybody available.
"With Craig, we need to make sure we get his training load right. We need to get him ready for Sunday – whether that's starting or coming off the bench.
"We've got a couple of games in quick succession after Sunday and we need to have a full squad to pick from. We'll lose Ali McCann and Danny McNamara for the Betfred Cup games, which will be an opportunity for others to step in and perform well."
Davidson stressed that his players will be walking a tactical tightrope in Sunday's clash with the Premiership champions.
"I think sometimes you have to make sure that you frustrate Celtic at the same time," he explained. "You have to show them a little bit of respect but not too much respect.
"If you just go gung-ho against them, they have the quality to pick you off.
"If you sit off them then they have the quality to break you down as well.
"It is getting that right balance and getting that little bit of luck. I think every one of my players has got to work to the best of their ability.
"It is a great game for them. It is a kind of free game. I always say that when you play against the big two.
"Just go out there and enjoy yourself, perform to a high level and perform as well as you can."
Predicting a Celtic line-up and formation is complicated by the Hoops' Europa League fixture last night. Second-guessing Neil Lennon won't be easy.
"We are working towards a couple of ways to set up against them," Davidson added.
"You don't quite know how they are going to go, I think a lot of players are fluid and can change positions."
This will be Saints' first home game against Rangers or Celtic in front of four empty stands rather than three of them packed with away fans.
That won't give either team a clear advantage, however.
"For me, I just can't wait for the fans to come back," said Davidson. "If you ask any other manager in the league, they will probably say the same thing.
"There are slightly different elements to it. I wouldn't say it is a huge help or a huge hindrance just now.
"Celtic and Rangers are top teams anyway. It won't matter whether they have crowds or not."
There has been a debate in football recently on the subject of running numbers dropping as a consequence of the closed-doors environment. Davidson doesn't believe that is an issue at McDiarmid.
"I don't particularly look at stats that way," he said. "I assess on energy levels, performance, how long they can sustain it.
"Going through my last nine games, in the majority of them my players were performing for 90 minutes.
"The energy levels are in there so I won't look at the stats too much.
"There is an element of crowd, pressure and different things that make football – that is why we love football and I think the fans are desperately missed.
"The sooner we can get them in the better it will be for the game all round."
LONG READ: St Johnstone 5-0 Aberdeen – historic scoreline that created Perth legends