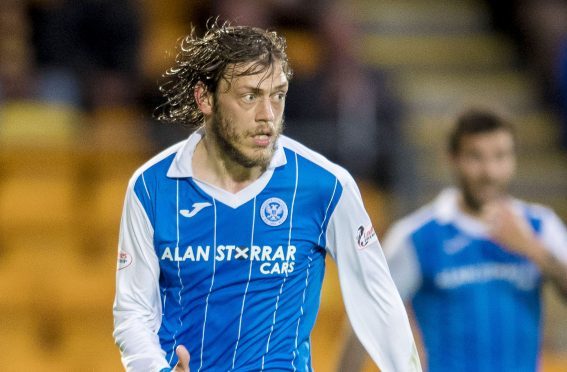 After a stint in goals that he just about got through with his pride and dignity intact, St Johnstone's Murray Davidson will be relieved to be back in his comfort zone of the hustle and bustle of midfield against Rangers tomorrow night.
Twenty minutes between the posts in Dave Mackay's testimonial were enough to satisfy the  frustrated keeper in him.
The phrase 'be careful what you wish for' springs to mind and Davidson admitted that the nerves of not wanting to show himself up were far greater than they will be when he's flying into tackles with the likes of Graham Dorrans seven days later.
"I've been at the coaching staff for years now, just to give me a shot in training," Davidson explained.
"When the testimonial came about I sort of jokingly said I would maybe get a run in goals.
"The manager said, 'have a haircut and a shave first – and then you can play for 20 minutes!' I came in three or four days later with my hair cut and shaved – and he said I could play.
"But, even when I came off on Friday and he turned to ask me if I was ready to go back on in goals, I kind of thought he was joking. Before I knew it, I was standing in goals.
"Even though it was a testimonial, I immediately felt a wee bit out of my comfort zone. There was a bit of me wishing I had never said anything, aye – when I was running on!
"But I thought, 'just try to keep the ball out of the net and don't cost us any goals'.
"I know that sounds stupid but, even though it was only the last 20 minutes of a testimonial, I was taking it really seriously. I was probably the only one! My technique was awful, I agree with the coaches about that. But I made a couple of saves.
"It's all about keeping the ball out of the net, not how you look while doing it … that's my argument!
"It was as nervous as I'd felt for a while – more than I will be facing Rangers. Hopefully I'll be back in midfield for that one."
A goalkeeper's view of a match wasn't really to Davidson's liking.
He said: "It's a different experience, knowing that any mistake is nine times out of 10 going to end in a goal. It's about your angles, knowing where to start. I'm talking a good game!
"The hardest thing was when we were attacking. I kept thinking, 'I'm miles away from the play here, I need to get up a bit closer to the action'.
"Then I remembered I was goalie.
"It was a good laugh. But my goalie days are over. I can at least say, in 20 years' time, that I played in goals for St Johnstone.
"The goalies here have nothing to worry about from me. They're quite safe – and we're quite well off in that department. It was my chance to stake a claim. Unfortunately I didn't do that."
Davidson's ball-winning skills and drive will be much-needed as Saints seek to bounce back from their poorest performance of the season at Pittodrie.
"We were well short against Aberdeen," he said. "We knew that right after the game.
"Aberdeen were very good, credit them for that, but we didn't do well enough in a lot of areas.
"It's been a long couple of weeks after a defeat and the international break.
"We've got a chance to put it right this Friday, to go and get a positive result.
"It's obviously a good game to bounce back with, a big event on TV, in front of a big crowd.
"What better way is there to bounce back than getting a result against Rangers? We know we're capable.
"But there's no point in just talking about it. We need to do it. If we learn the lessons from Pittodrie, we'll be OK."
Tomorrow will be the first time Davidson has come up against his old Livingston pal, Dorrans.
He said: "Graham is a big player for them. He was in my youth team in Livingston and I know exactly what he brings.
"Even when he was in my youth team at Livingston, he was Rangers daft. It's not an act with him. You know certain people might say, 'I've always been a Rangers fan' because they've signed for the club.
"When I saw him in pre-season, I had a laugh and joke with him, said, 'You finally made it.'
"You know what football is like. If the chance is there for him to kick me, I know he'll kick me. And, if the chance is there for me to leave one on him, it has to be done.
"He's trying his best to get three points for Rangers, I'm trying my best to get three points for St Johnstone.
"This will be the first time I've played against him in a competitive match – and it's one I'm looking forward to."