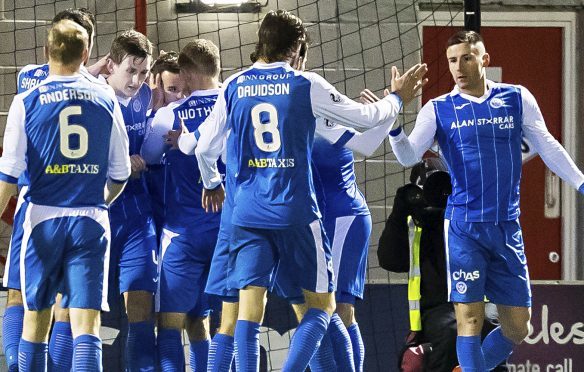 Stefan Scougall may have stumbled upon a formula for his St Johnstone career – training ground nightmares add up to match day heroics.
The Perth midfielder had to put up with dressing room jokes about his form in practice in the build-up to the game against Hamilton Accies.
But it was a small price to pay for scoring the winning goal when it mattered most.
And Scougall will be happy if he keeps saving his best for a Saturday.
The former Livingston man, who cashed in when Scott McMann and Dougie Imrie got in each other's way to slot the ball home midway through the first half, said: "Obviously the two defenders got mixed up. I can't remember too much about it but I think I took a good first touch and thankfully hit the back of the net."
Manager Tommy Wright mentioned the "ribbing" he'd been taking from his team-mates and Scougall said: "It was on Thursday when we were doing boxes and I must have been in the middle so many times.
"If you have a bad week in training and a good Saturday, I'll take that every time!"
Scougall admitted that finally finding the back of the net after over four months of the season is a significant moment for him.
"The longer you go without a goal, the more it plays on your mind," he said.
"You start thinking, 'when am I going to get it?'
"It affects your mindset and your performances. It's great to break the duck. I wish it had been earlier but I've got the goal and hopefully I'll go on a little run now.
"It would be nice if I can do what Michael (O'Halloran) did earlier in the season. Hopefully it's my turn to go on a run.
"I think my last goal was last December (it was in fact November).
"I actually went on a little run of four in five or six games back then so hopefully that can happen again."
Scougall's form has mirrored the team's this season – patchy but with plenty of promise.
"As a team we've been up and down but I've settled in here really well," said the ex-Livingston and Sheffield United man. "The players and the coaching staff have been very welcoming.
"Hopefully I can kick on now and improve my performances week on week throughout a whole game.
"My ideal position is more central but I've been asked to do a job out wide by the gaffer and as long as I see plenty of the ball, I can't complain.
"As long as that happens, wherever it is on the park, I'm going to be enjoying the role."
With only one win in eight going into the game and the bottom six of the Premiership starting to become congested, this had the feel of a pivotal win.
"It was a hard fought game and it was going to take a bit of composure to win the game," said Scougall. "Thankfully it was us who got it as a team and it was great for me personally.
"It's been a tricky run but we've got another tricky run coming up.
"We've got to take confidence from today's victory into two big games against Aberdeen and Rangers.
"We'll be hoping to get something from them.
"As a team there is much more to come from St Johnstone.
"In terms of our league position it gives us six points on Hamilton and we've moved three points further away from Partick Thistle.
"If you're looking back the way – which we don't want to do – it does give us extra breathing space.
"We're close to Hearts and Motherwell and we are looking upwards. We're on their tails and hopefully we can catch them."
Wright said: "When you've been on a run like one we were on, and you lose a game last week that you were expected to win, this is a massive result.
"It's a clean sheet away from home which I've got to be pleased about. It was more like us.
"A lot of our problems have been self-inflicted but you couldn't say that today."
Accies had the best of the chances in the first half – in truth Saints didn't have any – and that left their manager Martin Canning feeling as if six games unbeaten should have become seven.
"I thought we were the better team on the day," he said. "We've lost because of a combination of poor finishing and a stupid mistake.
"It was a typical St Johnstone performance if you like. So many times over the last couple of seasons they've dug into games and found a way to win. That's credit to them but from our point of view it feels like a win we've given them."