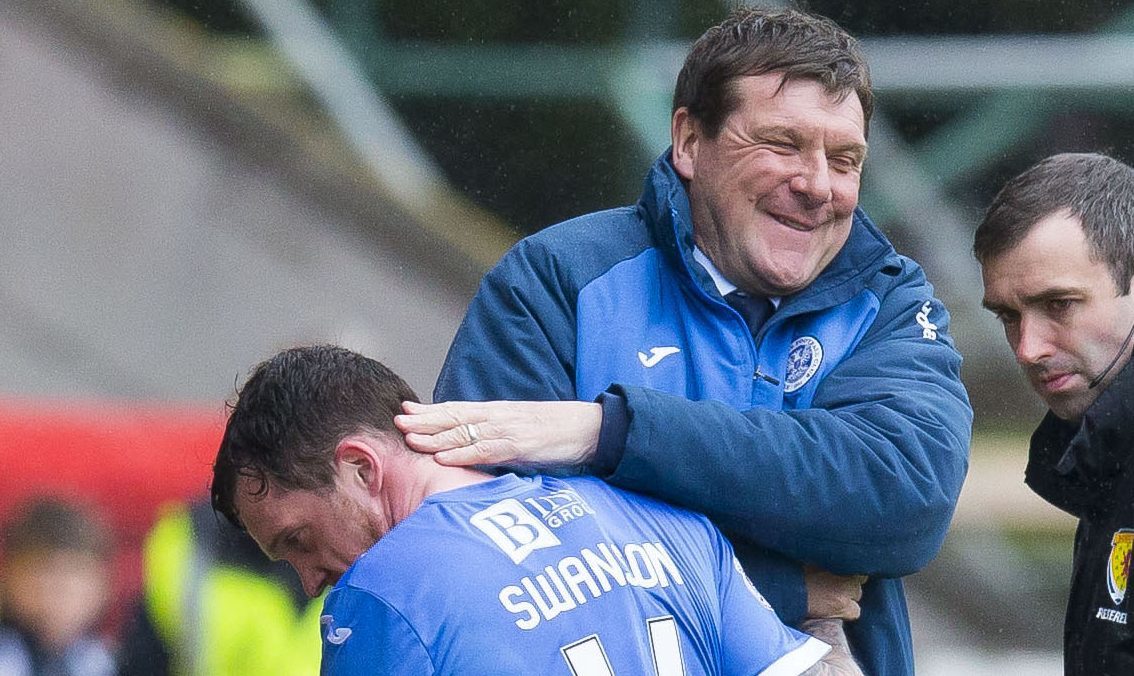 Tommy Wright would be "foolish" not to try and bring Danny Swanson back to St Johnstone for a third time if Hibs decide to cut him loose this month.
The indications are that Neil Lennon does not see Swanson in his plans for the second part of the season and if that does indeed prove to be the case, Wright wants to be at the front of the queue.
"Danny is a Hibs player and they'll decide his future," said the Perth boss. "If he is available and shows a willingness to come back it would be foolish of me not to look into it because of what he's done here in the past. Danny is a player who has done extremely well here.
"At the minute there's nothing imminent. Danny's future is for Hibs and Neil to decide, and not me.
"It's an easy option for me, but there are other options that we have.
"The main thing is to have someone who will impact the starting XI and not just the squad, because we have enough young players who can step up."
Rory McKenzie is also a target, with Wright stating: "He's a player that I like but he's very much a Kilmarnock player."
Meanwhile, defender Brain Easton could be facing another spell on the sidelines.
The left-back only returned to action in the last game of 2017 after a two-month lay-off following knee surgery. He may have to go under the knife again, though.
Wright, who confirmed Paul Paton will also miss tomorrow's Scottish Cup clash with Albion Rovers, said: "Brian is a concern. We'll have to send him for a scan.
"He had a problem around his pelvic area at the start of the season. He got an injection during one of the international breaks and that made a difference but last week the problem started to come back.
"We'll see what the scan shows. The fact that it's come back suggests that we might need to get him a small operation.
"Paton did his ankle. He's making good progress and will probably return to full training within the next five to seven days."
Richard Foster is suspended but Keith Watson could be in the squad at Coatbridge.
"Keith is back," said Wright. "I can't see anything happening with Hartlepool. With Easty's injury, he'll be going nowhere at the minute.
"Keith proved last year what a good player he is. He's just been so unfortunate with injuries.
"Football can give you opportunities when you don't expect them. Things can change very quickly. He'll travel with squad."
Saints should have a clear indication today of whether the match is likely to go-ahead, with snow not being cleared from the pitch while temperatures are low in Lanarkshire.
Wright is ready to deal with the less than glamorous surroundings when the match gets played.
He said: "We've watched them four times. I've watched them once myself. I haven't been to the ground but it won't faze me and won't faze my players.
"I've played in the Irish League and managed in the Irish League. I'm fully aware of what sort of game we can expect.
"It will be set up for a cracking cup tie. The supporters are on top of you and we have to realise it's a potential banana skin.
"We need to make sure our attitude is right.
"What happens in these games is quite simple. The smaller teams always lift themselves and play with more vigour and enthusiasm. That makes it really difficult.
"If we're right we know we can get a positive result."