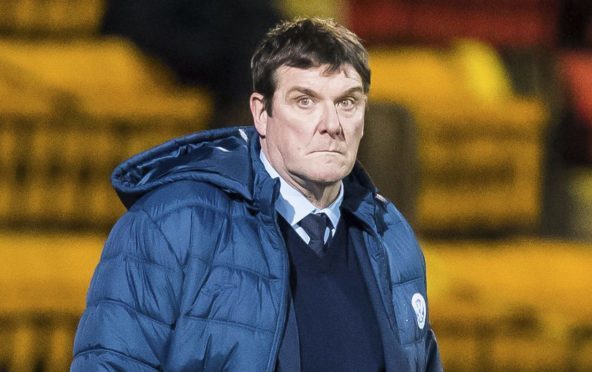 After a four-week winter break that has felt more like a close-season, St Johnstone are ready for a "fresh start" to 2018, according to manager Tommy Wright.
The Perth side's home record in the first part of the season was none too impressive.
And, even though Wright doesn't think the football his team played at McDiarmid Park was of a poorer standard to the football they produced in years gone by, he wants the players to start as they mean to go on against Partick Thistle tomorrow.
"We have to improve our home record," he admitted. "The results have been mixed. But I just feel we have made more mistakes at home and that has cost us.
"I don't think we have played any worse at home than in previous years. We have certainly tried to play football. But when results don't go your way the negativity is always highlighted.
"When you win games people are happy but lose and they tend to be critical of performances. That's the way it is.
"But it is important the fans get behind the team and give us their support for the second half of the season.
"You saw how the players responded against Dundee with help from the fans.
"It feels like a fresh start. The first half of the campaign was interrupted by a few international breaks but we seem to enjoy the demands of the second half of seasons when it is game after game. We deal with the pressure of that well."
With the second postponement of their Scottish Cup tie with Albion Rovers, the fixture pile-up that Wright had feared is about to arrive.
"You have just got to get one with it," he said. "We will have to cope with it.
"In terms of time without a game it is almost like a pre-season but they are fresh and should be looking forward to playing again.
"Hopefully we can take the enthusiasm we have seen in training into our first competitive game of 2018.
"It doesn't bother me that we will have games coming up thick and fast as long as they are scheduled in a proper and fair manner.
"Partick have a slight edge in terms of having had two tough games to help their sharpness."
Wright added: "We quickly arranged a bounce game amongst ourselves when the cup tie was postponed. It was too late to organise anything else.
"With the forecast we were getting there might have been a case for not even trying to play it this week and we could have gone ahead with the league match with Kilmarnock. That would have been a possibility.
"But that's the difficulty of two different associations with people handling two different competitions. You can't really get any joined-up thinking.
"It is difficult having a turnaround to play within 48 hours and it is worse on the back of having a break for a month. Playing the tie next Tuesday would have been better for the players, particularly given the state of the pitches just now.
"But it is the same for us and Albion Rovers and we will deal with it."
Several Saints players will miss out tomorrow.
Wright reported: "Foster, Paton and Davidson are suspended and Easton is seeing the consultant.
"Callum Hendry has suffered a blow and will be ruled out for three months. He has a problem in the pelvic area.
"Scougall would have missed the cup game with a sickness bug but he has recovered."