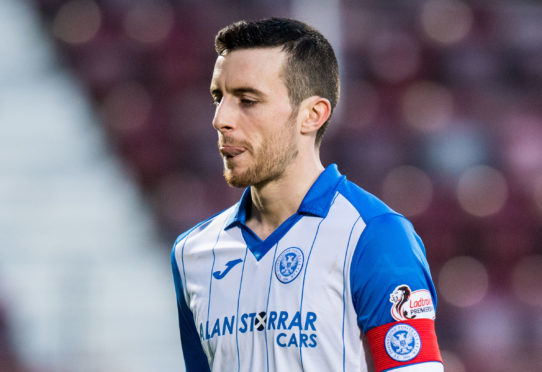 The Joe Shaughnessy throw-in has been one of St Johnstone's biggest attacking weapons in recent games. Probably THE biggest, actually.
But in one of those cruel football ironies, it set in motion the Perth club's exit from the Scottish Cup on Saturday.
After Saints had settled nicely into their clash with Hearts and the Irishman's touchline delivery twice had the home defence in a panic, he decided to aim one from the half-way line in-field for Murray Davidson.
Arnaud Djoum was on to Davidson quickly, played the ball forward to Kyle Lafferty, he scored, and the team who is toiling to score these days was left to chase a game against the team who specialises in clean-sheets.
From eight minutes in, the end result looked all too predictable.
If he could have his time again, Shaughnessy wouldn't have gone anywhere near the centre circle with his re-start.
"Probably, yeah," he admitted.
"It's early in the game. I thought he (Murray) was in space but it's easy to say that now. I should have just thrown it down the line."
This was a new way to concede but, in the grand scheme of things, it still felt familiar.
"We let ourselves down," said Shaughnessy. "We have given them a goal that should never really happen.
"It's happened all season. We've not really been good enough.
"The first goal killed us. It wasn't what we needed. Last week we were good here in the first half and we wanted more of the same.
"We didn't really trouble them at all this time. All over the park we were second best. Defensively we weren't great and we weren't troubling the keeper at the other end. That doesn't add up to anything good.
"It's happened too much. We're losing goals that would never have been conceded last season.
"We've got to stick together and work hard to get out of it. It's not an easy place to be but you can't be up all the time in football.
"I believe we will get ourselves out of this. It's just taking time. We know we've got the players. It's just a case of doing it."
The imminent return of David McMillan after the aborted start to his Saints career, and the addition of Fulham winger George Williams, should help the Perth cause.
Shaughnessy said: "It would be good to get two January signings into the team and hopefully that will give us a lift and help turn this around.
"David has got a good pedigree for scoring goals. It would be good if he could hit the ground running.
"We haven't seen too much of George yet. He just joined us for training at the end of the week. Hopefully he can give us something extra going forward as well.
"We can't be giving away goals at the other end, though. We have to do our bit at the back too."
Alan Mannus was nothing like as busy as Hearts keeper Jon McLaughlin had been at the same ground seven days previously.
It was pretty much a case of Hearts having three chances and scoring them all. Mind you, the second was a stunning strike from Demetri Mitchell – the first of two second half goals for the hosts early in the second 45. Lafferty got the other.
Tommy Wright reflected: "Ultimately when you give away two goals like we did you can't win a football match.
"I don't know what Joe was doing. We worked on throw-ins yesterday and the idea certainly wasn't for Joe to throw it at Murray Davidson on a bobbly pitch.
"So we've gifted them the first goal. We actually started the game well and had two or three opportunities off Joe's long throws when nobody has gone to attack the ball.
"It's the worst goal we've given away all year. I don't know what Joe's thought process is to put it where he put it. He's put somebody under pressure. There's no explanation for it.
"Take the goal out of it and Alan Mannus hasn't had a save to make in the first half.
"In the second half there was nothing in it, we were on the attack. Scott Tanser or David Wotherspoon should put the ball in the box instead of dwelling on it. We lose the ball, they counter-attack and score a wonder goal and we're 2-0 down. Overall we have just made far too many individual mistakes all season."
Chris Millar was withdrawn in the first half and Wright confirmed that was for tactical reasons.
"It's got nothing to do with Chris's performance," he said.