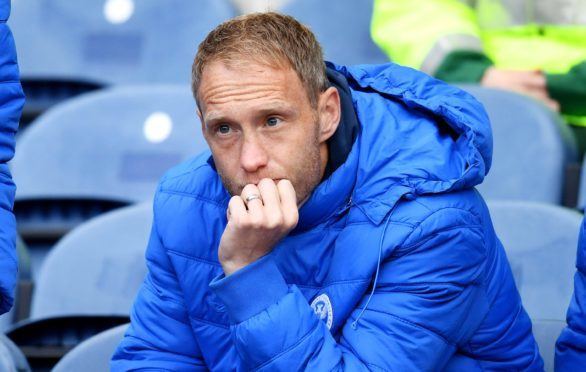 Steven Anderson has served St Johnstone through the most successful era in the Perth club's history.
With 400-plus appearances under his belt and a goal in the historic Scottish Cup triumph of 2014, the defender is guaranteed legendary status at McDiarmid Park.
He has been an integral part of the club's rise from the lower reaches of the First Division to claim regular top-six finishes in the top flight and European campaigns.
But Anderson (32) knows there is work to be done to ensure they aren't sucked into a relegation battle this term.
The centre-half was lured from Dundee United in 2004 as a raw teenager but found himself locked in a fight for survival under manager John Connolly.
And memories of that anxious campaign still linger, when Saints survived while Partick Thistle and Raith Rovers dropped into then Second Division.
"When I first joined we were battling against relegation to the Second Division," recalled the club's all-time appearance record holder.
"In the end we stayed up by finishing third bottom but it was horrendous. It wasn't nice so we don't want to get into another situation where you are struggling.
"Boys need to step up. Every single one of us needs to do our jobs better.
"It's not just one or two people, we need to work for each other and drag ourselves out of this run.
"The character is there, we have a lot of experienced players in the dressing-room so that's not an issue.
"But it's about stopping talking about it and going out and doing it."
Tommy Wright's eighth-placed side haven't won in six league games heading to Celtic Park tomorrow.
But Anderson believes one result can transform their season.
"What do we need to do to get out of the run we're on? Win games, it's as simple as that," he said.
"We need to get back to being a horrible team to play against and be hard to beat.
"I don't think we have been hard to beat this season and I never thought I'd say that about a St Johnstone team.
"We haven't been as solid as we have been in recent years and it has been costing us.
"So for me that's what it's all about, become that team that the opposition hate playing again.
"Everything we have done in the last few years has been built on being tough to beat.
"Why has it happened? I honestly don't know, but it can't go on because if it does we're going to end up in bother.
"It's easy to sit here and say it though. We need to go out and do it.
"Every single player has to take responsibility for it. It's down to every one of us.
"There are a lot of games to play so there is plenty of time to turn it around, but we have had a lot of chances to do that already and haven't done it. So we need to do it now.
"If we can get a win, and it doesn't matter how we get it, then the confidence will come back.
"That's a massive thing in football and when you are on the kind of run we've had you need something to change it.
"This is one of these games where the onus isn't on us, it's on Celtic to go and beat us.
"We have done well when we're underdogs going there in the past so who knows, this might be the kind of test we need.
"We are going to have to dig in and fight."
Wright is ready to blood on-loan Fulham winger George William against the Hoops but former Dundalk striker David McMillan is recovering from a hamstring strain.
"We have a couple of new players waiting to come into the team and hopefully they will give us the spark we have been needing," said Anderson.
"David was unlucky with injury, having to go off after about 15 minutes on his debut against Partcik Thistle.
"The new boys will have to buy into what we're doing as well, which I'm sure they will do.
"Hard work is what this club has been built on and we need to get back to what we're good at."