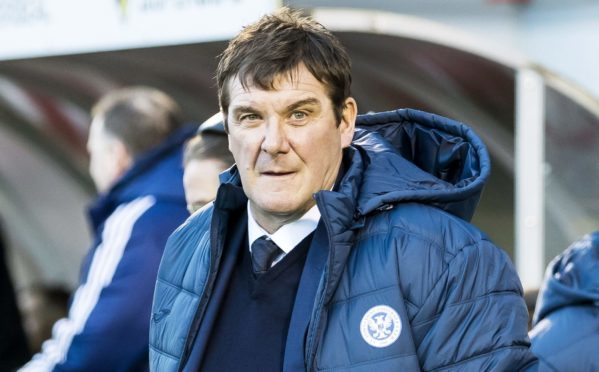 St Johnstone boss Tommy Wright saw Euro stars Celtic secure a thrilling win over Zenit St Petersburg but is confident his players can still derail the Hoops.
Brendan Rodgers' team had Celtic Park rocking on Thursday night as Callum McGregor's dramatic winner gave Scotland's champions a 1-0 Europa League lead over the fancied Russian side Zenit St Petersburg going into the return leg.
It was a display full of passion and pace, which sent out a warning – not that they need one – that Saints will be right up against it when they travel to Glasgow for their Premiership clash tomorrow.
The Perth men have shown in the past, though, that they can deal with that kind of pressure and Wright is backing them to take it in their stride as they go looking for a result to keep them away from the relegation danger zone.
He said: "Celtic really deserved the win and they'll probably be disappointed that they didn't get another goal.
"They still have a great opportunity and have set the tie up nicely now.
"Brendan will be delighted with the performance because, from the first whistle to the last, they dominated the game.
"They should have confident going into the second leg on Thursday but that's of little or no concern to me.
"All I am concerned about is trying to beat them on Sunday.
"We have to make sure we go there and make it as difficult for them as possible.
"We have shown in the past that we can do that but we maybe haven't shown that often enough this season."
Wright feels his players have been unjustly criticised for sitting in the bottom half of the table, and argued that the reason for the stick could be that historically they have done so well.
"The level of inconsistency has meant that we are just short of the top six at the moment but it's not as black a picture as people are making it out to be," he said.
"It only looks black based on a comparison with the three fourth places we have had in a row.
"The league is also stronger this season.
"You have the big five (Celtic, Aberdeen, Rangers, Hibs and Hearts) and they have all improved. That was always going to happen because Hearts and Hibs weren't going to let what's happened to them in the past happen again.
"Also, Kilmarnock have picked up under Steve Clarke and Motherwell have improved.
"They have all strengthened so it has to be given some sort of perspective.
"Yes, we are not happy with what we have done this season but 'decline' and 'crisis' are words that are being bandied about by people who should probably know better.
"I am not saying that we have done great this year and that I am happy but all that has to be taken into consideration.
"We now have to look at it as if we are in third place in a seven-team league because the top five will stay in those five positions.
"Criticism is bandied about a lot in football and we have to accept that but some criticism can be unfair.
"We have a lot, lot going for us. We are in a sticky patch, we know that, and things have to improve but what has been written and said has sometimes been a bit harsh on the players."
Meanwhile, although a final decision has yet to be made regarding ankle for Stefan Scougall, Wright believes it will happen.
He added: "Stefan saw the specialist on Thursday night and we have a decision to make about an operation on his ankle, which will mean a six- to eight-week absence.
"It is one where we have one consultant who would go ahead with the op and another who would maybe wait and see.
"So we will discuss it with the player and the medical team but I think he will end up having the operation.
"Also, Liam Craig trained so he is coming back, while Callum Hendry is still struggling.
"Keith Watson took a wee knock during the week – a kick on his ankle – so that will probably keep him out, while David McMillan is making good progress but it will still likely be the Ross County or Rangers game for him.
"Brian Easton felt a few wee twinges in the development  game (against St Mirren) on Tuesday but we will get him going again, even though he is doubtful for Sunday."