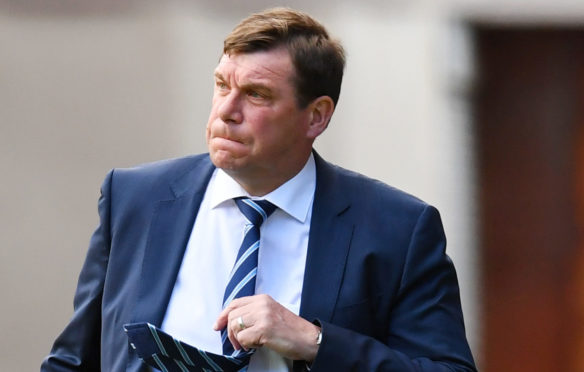 Figuring out what Livingston's gameplan will be is the easy bit.
But beating the Premiership's form team is a good deal more difficult.
St Johnstone go into tomorrow's clash with the recently-promoted West Lothian club buoyed by back to back victories.
But the Perth men now have to find a way of getting the better of a side that has stunned Scottish football with their start to the season.
Saints manager Tommy Wright said: "The one thing about Livingston is that they are proving extremely difficult to beat.
"I think it is seven unbeaten and that doesn't come through luck, it is down to hard work, being organised and asking questions of the opposition.
"We know where their strengths lie. They have got six goals from set plays in recent matches, with four in one game against Dundee.
"They have a physical presence and a good delivery.
"They keep it simple and don't over complicate the game, which is good. We know what the challenge is going to be and we have to make sure we are up for it.
"In the last two games we have shown how versatile we can be.
"We battled hard at Motherwell and against St Mirren we played really good football and dominated them from start to finish."
Summer recruit Drey Wright has been an instant hit at McDiarmid Park, with the Englishman impressing once again in the 2-0 defeat of St Mirren on Saturday.
His manager, though, predicted even better is yet to come.
"Drey has been getting better with each game," said Wright.
"We watched him for quite a while so we knew his qualities. We were really pleased to get him.
"It wasn't underhand but we did use the cross-border rules to our advantage.
"Without them we wouldn't have been able to get him because in five years here as the manager I haven't paid a transfer fee.
"And Colchester would have been looking for a fee well into six figures in terms of compensation.
"It would probably have been around £300,000 going to another club down south but we didn't even get into that sort of detail.
"It was just good that Drey chose to come to us.
"He did extremely well getting us a penalty against St Mirren because Lee Hodson certainly isn't slow.
"He still has some improvement to make. We want more goals from Drey and more end-product.
"But he has turned in a consistently high level of performance since coming to the club. Let's hope that vein of form continues.
"He has settled in really well and hopefully he will have a big season for us."
Wright picked up a knock against St Mirren but "should be alright" for tomorrow's game. Danny Swanson is available again after serving his two-match suspension.
Wright hasn't yet decided who will be on penalties in the wake of the double miss on Saturday.
Tony Watt might not get another chance from the spot but Wright has backed him to start scoring again soon in open play.
"You just persevere when a striker like Tony has a game like that," said Wright. "He didn't miss the chances deliberately.
"He was in the right positions and he was brave enough to take the penalty.
"Anyone can miss a penalty – Liam missed one as well – and I wanted him to take it.
"Tony will obviously want to start scoring goals again but he is a bubbly character and won't need much said to him. He shouldn't feel under any pressure.
"I have a decision to make with the penalty taker and whether or not Tony is on them again."