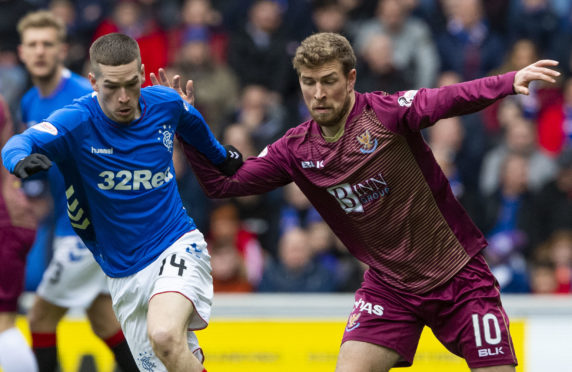 A St Johnstone fan who has been a crucial part of the most successful era in the club's history, David Wotherspoon is well placed to not take the good times for granted.
The midfielder has signed up for another two years of football at McDiarmid Park, with the short-term goal a top six Premiership finish this season.
It has been virtual non-stop success for Saints in Wotherspoon's time but he hasn't forgotten what it used to be like for one of Scotland's yo-yo clubs.
"I used to come to games when I was younger and watched the First Division," he recalled. "Which was always a battle.
"The stability we have got at the club is great and the fans should realise that we're over-achieving every year.
"Everyone is working together to stay where we are and continue to progress as much as we can.
"Playing the top flight of Scottish football is great.
"I'm delighted to sign on for another two years. I'm settled, happy and have another child on the way so I need to look after the family.
"It would have been a massive risk if I was to let my contract run out and then not have anything at the end of it.
"I'm happy here and I'm playing most weeks. I feel like I'm doing well so it was a case of signing on the dotted line and carrying on.
"I signed a two-year deal when I first joined and was hoping to progress as much as I could. I feel like I have.
"Winning the cup with Saints was excellent. It's been great and I hope it can continue for us."
Saturday's draw at Ibrox was a return to form for the Perth side.
"We're doing well and this season has been a bit better than the last one," said Wotherspoon. "But we've still got work to do to hit our targets.
"We had a bad run of games and there were a combination of things that didn't go right for us.
"But we started fresh and the boys were right at it at the weekend.
"The defence was brilliant and up front I thought Chris Kane was excellent running the line. He was just what everyone needed.
"It felt a bit like when Stevie May was here, chasing everything down and giving you an out-ball.
"It was an all-round great team performance."
Wotherspoon is hoping to make his first competitive appearance for Canada before the season is finished.
"The next game is in March," he said. "My wife is due this weekend so it's a case of waiting and seeing what happens with that.
"I've not played a competitive game yet, just in a friendly. But I've been involved and on the bench for every other game.
"I've not got on which is disappointing but I always get positive feedback from them.
"I feel if I keep going then I can make that breakthrough. It's massive for me and for my family.
"I'm travelling a long way and I'm hoping that I get that chance. I know I can do well.
"It's a great experience playing with top level players and some of the best in the world.
"Alphonso Davies, for example, has gone to Bayern Munich. Playing with that standard is good to be involved in and be around."