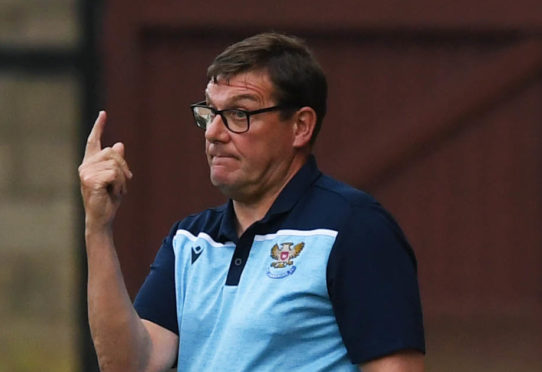 Tommy Wright felt as if the blood had been sucked out of him when he was told that the Stevie May transfer had collapsed.
The St Johnstone boss has moved on to new targets but the disappointment at the May deal falling through at the last minute is still fresh.
"I have missed out on targets late on before – even over the summer – just when you think you have them tied up," said Wright, who had expected to give the Scottish Cup hero his second Saints debut against Brechin on Wednesday night.
"It is an unfortunate part of the business.
"The only difference is that this one has been played out in public, which isn't the way we like to conduct our business.
"We couldn't keep this quiet.
"But it is extremely disappointing from my point of view and I'm sure Stevie is feeling the same.
"It was a moment when you felt the blood had almost been sucked out of you because it was so disappointing.
"I'm sure the fans will be sharing that disappointment."
The Northern Irishman added: "The biggest losers here are probably Stevie and myself, who could have been his manager again.
"We have been working on other targets but I thought he would have been a great signing. That is why I asked the club to do everything we could to get it done.
"I didn't speak to Stevie during the process because I knew he wanted to come back.
"But I did chat to him on Tuesday before he passed his medical that night and he was looking forward to coming back.
"He was going to play in the cup game with Brechin.
"We were one man down on the subs' bench and it isn't rocket science to work out why that was.
"But I got a call from the club to say the deal was dead and I was to start looking for another striker.
"I don't know the ins and outs of it and why it fell down.
"When I put forward a player I want, the club deals with the contractual stuff.
"But for Stevie to go through a medical, the club must have been fairly confident the deal was pretty much done.
"The bottom line is I haven't got a striker I wanted and Stevie hasn't got the club he wanted.
"But ultimately it doesn't really matter why it fell through.
"We just have to get on with it and look forward to the Forfar game and the start of the league campaign.
"We are speaking to targets at the moment and there is money for a striker.
"Hopefully it can happen quickly."
That striker won't be Jason Cummings, with Wright dismissing speculation earlier in the week that the former Hibs and Rangers man was Perth-bound.
One deal that has been confirmed is the arrival of Estonian international centre-back Madis Vihmann.
Wright said: "Madis is a current international and tall at 6' 5". He is match fit after playing in Norway.
"It is a minimum of a one-year loan with possibilities to extend it or make it permanent.
"Hopefully we get clearance for him to play at Forfar.
"I saw him play against Northern Ireland and our scout has seen him play. So we know quite a bit about Madis."
There was no news to report on departures.
"David McMillan has been told to find himself a club and that hasn't changed since January," said Wright.
"He needed minutes on the pitch and that is why he and Ross Callachan played in a game at Blairgowrie in midweek.
"I still need cover at left-back but any other movement will depend on players going out."