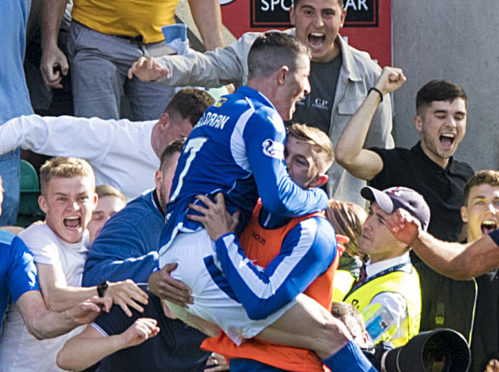 Two comeback draws for St Johnstone have stopped the rot after a pretty grim start to the season.
And Michael O'Halloran is now looking for wins to get the Perth men into the sort of position in the Premiership that they are accustomed to.
Saints' performance against Hibs in the 2-2 weekend draw was an impressive one and, coming after the turnaround against Livingston in their previous fixture, momentum is starting to build.
The next target for O'Halloran and his team-mates is their first three-point return against Kilmarnock this weekend.
"You can see we can score goals so if we can cut out the mistakes we can start turning the draws into wins and push up the league," he said.
"That was a game we deserved to take something from. With a wee bit of luck we could have won it.
"In the Livingston game we came back from two goals down and this time we've come back twice. It shows we've got a bit of character.
"The gaffer has told us that last season when we went a goal down we didn't come back very often."
O'Halloran scored Saints' first equaliser of the game – an unstoppable finish from a Liam Craig pass to cancel out Adam Jackson's headed opener.
The fact that they conceded within seconds of it going to 1-1 would have finished off many a team at a ground like Easter Road but it was one-way traffic after that and the Jason Kerr goal after four minutes of stoppage time was a reward for Saints' perseverance as much as the quality of their play.
Saints fans should take even more encouragement from the fact that there is better still to come from the team as a whole – and O'Halloran as an individual.
"When I came in last season it had been so long since I'd played," said the former Bolton and Rangers man. "I lacked match sharpness because of that.
"The gaffer knew that and was patient with me.
"It counts for a lot when you feel wanted. It makes you feel good about yourself when you go out to play on a Saturday.
"After getting a good pre-season I feel sharp again and I'm enjoying it.
"He expects a lot from the wingers – we're the ones who have to go and produce goals and assists. You've got to take that.
"The gaffer's been trying to get a striker in but it's good that we've been able to score two goals in the last two games.
"Hopefully that will cheer him up a bit!"
O'Halloran showed another side to his game by helping young full-back Wallace Duffy on the right side of the pitch. In the end, both were contenders for man of the match.
"Wallace did really well," said O'Halloran.
"He settled himself into the game and you can see he's a good footballer.
"He's been brought up at Celtic and his confidence will grow from playing games. He should be really pleased with his performance.
"We've got a young squad. When I was her before we were always an experienced squad so it's good to see the young players coming through."
Wright insisted that a foul on O'Halloran by Ofir Marciano at the start of the second half should have seen the Hibs keeper get a red card rather than a yellow.
Reflecting on his own team's performance, he was a happy man.
Wright said: "We should have won the game. There's no doubt about that.
"After we lost a disappointing goal to a set-play we totally dominated the game.
"We controlled midfield and they didn't have the ball.
"We went to sleep for their second but we showed character to keep going and going and then we got what we deserved deep into injury time.
"Our performance was superb. Hibs fans were as quiet as anything, simply because of our performance."
On O'Halloran and fellow winger Matty Kennedy – another player still building up his match sharpness – Wright added: "I'm very demanding of Michael and Matty in particular because I know the levels they can take us to.
"Both of them were basically unplayable.
"When Michael runs at people they just don't know how to cope with it."
Wright may have thought the home fans were quiet in the second half but from Paul Heckingbottom's perspective they became a hindrance rather than a help to his team.
"The whole stadium was anxious and it spread to the players," he said. "When there is just one goal in it you have to defend crosses because you can't stop teams putting balls into your box."