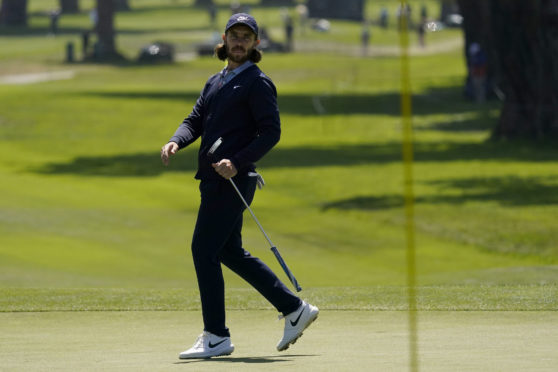 It might be "different" but the second day of the PGA Championship at Harding Park had all the usual daft hallmarks of a major championship.
We had an unexpected leader, Haotong Li, apparently spending six hours bashing balls on the range after he'd scored a 65 to lead by two.  There was the championship favourite Brook Koepka lying prone on the grass getting stretched by a physio three times during his round, but still maintaining his billing.
Rory McIlroy came roaring into view – and then tumbled over on a banana skin and limped in, seven shots behind the pace. The new putter that Tiger Woods had trumpeted on Thursday went stone cold on Friday, and he's eight behind.
China's Li raced through his front nine in 31 strokes held on down the back nine, benefitting by the morning again producing the far easier playing conditions. The balance of the draw was just about right though, given the other half of the field had it easier on Thursday – those with late-early tee-times, like Li and Tommy Fleetwood, maybe had a slight advantage.
Fleetwood, as seems almost customary now at majors, moved up into conention with a six-under 64 in that morning wave to begin a group of eventually six players two shots behind the leader. He's joined there by first round leader Jason Day, Koepka, Daniel Berger, Justin Rose – moving quietly under the radar – and France's Mike Lorenzo-Vera.
Cameron Champ, the forgotten big basher in the hype over Bryson DeChambeau, shot another 64 to be three off the lead (DeChambeau, with conditions in his favour, had a par 70 to be two-under). Among those hanging around ominously within four are Dustin Johnson and many people's sneaky tip for the week, Xander Schauffele.
Li's 65 and his lead might have been slightly overshadowed by a mistake by ESPN, the US broadcaster, whose cameras spotted him in intense practice some three hours after his round and assumed he'd been there since he left the recording area.
Rather than a displaying a hand-blistering work ethic, Li had in fact been back to his digs, had lunch and a nap, and returned to the course. The former Dubai Desert Classic winner had an adventurous day anyway, hitting only six fairways and just the one on his back nine.
"I think the key on this course, you just need to hit as many fairways as you can," he said afterwards, apparently not being sarcastic. "Especially putting and short game is quite important.
"I have no expectation," said the 24-year-old when asked about being China's first major winner. "The last few months I've been at home doing nothing. I just want to play my best and if it happens, it happens."
Fleetwood did his best work on the back nine, three birdies from the 14th getting him home in 31 and back in the mix on relatively few outings since lockdown.
"It's funny, when you play poorly, you feel like a long way off, but you have a day like today and you feel so much better about everything," he mused.
Fleetwood is, like most of the field it seems, missing some major championship audience interaction.
"It's clearly quiet, and it's probably stranger when you think of a major without crowds," he said. "If you look at players' career-defining moments in majors or other events, the crowd plays such a huge part in that, and you look back at the closing shots on the video footage and there's massive crowds.
"But we'll see what it's like. We're out here to play golf, the tournaments are still on, they all still mean the same, so crowds or not, get on with it."
Koepka's calisthenics on the fairway during his 68 caused alarm among some, but it wasn't his gammy knee but a hip problem, he said.
"It was tight this morning, worked out and it got even tighter and then we loosened it up," he said. "It was a little tight when I was hitting balls on the range and again during the round but it's nothing to be worried about. We'll just loosen it up again and it will be a lot better."
He's confident as usual about the weekend, but is loving the challenge.
"It's a great course, you've really just got to understand where you need your ball to be sometimes to make par," he said. "You can't go at some of the flags. You've just got to settle for middle of the green and be disciplined. That's what I think separates the great players from the guys who are just below a lot of the time."
McIlroy went for the flags early and after his now customary slow start, rattled off four birdies in succession around the turn to go to three-under, but it all came apart at the 12th with a triple-bogey seven.
He was in the rough off the tee and the ball squirted right, but it was taking four to get down from the back of the green that was the problem.
Rory had his ball trodden on in the rough at the third by a media man, and when he replaced it, made sure it was in the difficult kind of lie he envisaged it might have been.
"The rule is try to replicate the lie," he reasoned. "If everyone is going around looking for the ball, the lie obviously wasn't too good.
"It just doesn't look right to me, so I placed it down a little bit. At the end of the day, golf is a game of integrity and I never try to get away with anything out there."
Woods still thinks he has a shot at winning despite his 72 leaving him eight off the lead at halfway, and his putting performance undoing a solid driving day.
"If I can get myself in position where like I did today off the tee, I think I can have a really good weekend," he said. "The greens were putting faster than they looked and I struggled with that.
"They've got (the pins) in some tough spots tomorrow, I'm going off early and hopefully I can get it going, drive the ball like I did today, hit my irons a little bit more crisply and be a little bit more aggressive on the putts."