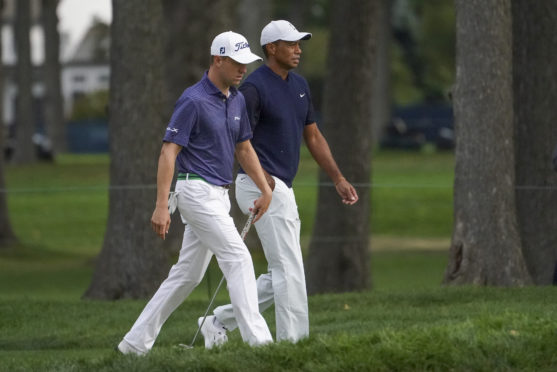 Justin Thomas underlined his billing as many people's smart choice for the US Open with a stunning first round 65 while Patrick Reed spun an ace into a four-under 66 to lie a shot back at a surprisingly benign Winged Foot.
Thomas, the 2018 PGA champion, birdied the 18th with putt from over 30 feet to edge ahead of his US Ryder Cup team-mate and get to five-under, a score not many were predicting for what is supposed to be the toughest of major championship venues.
The leader got his momentum from a three-birdie streak around the turn and then scrambled well whenever he was loose on the back nine, the finish putting an exclamation mark on his day.
The former Masters champion Reed had his hole in one at the 7th hole, the end of a three-hole stretch where he went double bogey-birdie-eagle, but having extricated himself from his early difficulties, he made the most of it the rest of the way, being six-under for his last 13 holes – almost unheard of in a US Open.
Rory McIlroy could have also reached to four-under with a birdie at the long ninth – his final hole of the day – but couldn't quite get there. He also three-putted twice, once after driving the short par four sixth.
Tiger Woods had a chance for a fine start to his quest for a fourth US Open title and a 16th major, but Woods had a rollercoaster day with five birdies but six bogeys and a double at the 18th in his 73, hitting just six fairways – often missing by just inches, but that's enough at Winged Foot.
The rough at course just north of New York City was as tough as was advertised and there were some interesting adventures for the first half of the field on the famously undulated greens, but a few easier pin positions and a course dampened by the dew made for much more playable conditions than had been promised.
The USGA's fear of not getting the entire field of 144 around the course in the diminished hours of daylight in mid-September perhaps partly explained them going "soft" on the field in the first round. In the last US Open at Winged Foot in 2006, only Colin Montgomerie broke par after 18 holes, but that was played in the usual slot in June.
Thomas was only at level par after a bogey four at the 231-yard third hole, but he picked up a shot at the sixth and then three-in-a-row around the ninth, tenth and eleventh, barely missing a fourth birdie on the bounce at the 12th.
Playing with Woods and new PGA champion Collin Morikawa – who toiled to a 76 – Thomas had some escapes before the last when he rolled a double-breaker from 35 feet from the back left for his finishing three.
"It's one of the best rounds I've played in a while tee to green," said Thomas. "There are a couple things here and there that definitely could have been better, but I made sure all of my misses were inthe right spot, and that's what you have to do at a US Open."
Reed's ace came with a nine-iron "with just a hair off it, hit at 90%" but without any spectators to cheer it there was a delayed reaction.
"Honestly I did not see that many guys being under par so far," he said. "Even with the pin placements and the course setup and with the greens being soft, it's still a hard golf course."
McIlroy didn't think it was that easy for the field, and pointed to the quality at the top.
"You've got JT shot 5, Patrick 4, myself 3, but then after that there's not that many – if you shoot even par you're just outside the top 10," he said. I wouldn't call it scoreable by any stretch of the imagination."
There's a couple of guys that have went a little lower than maybe was expected, but it's not as if the rest of the field are finding it that easy."
Woods experienced the toughness of the course at the 8th when he barely missed the fairway by six inches but had a lie he could barely get airborne.
The key for Woods was at the 12th, when he was walking in his birdie putt only to see it spin out of the cup.
That would have been his fourth birdie in a row, but instead he struggled down the home stretch, losing two more shots before another missed fairway and a chunked approach cost him a double bogey six at the last.
"I just think that the golf course is there to be had," he said. "They gave us a lot of opportunities with the hole locations. Obviously they could have made it a lot more difficult if they wanted to, but I thought it was very fair."