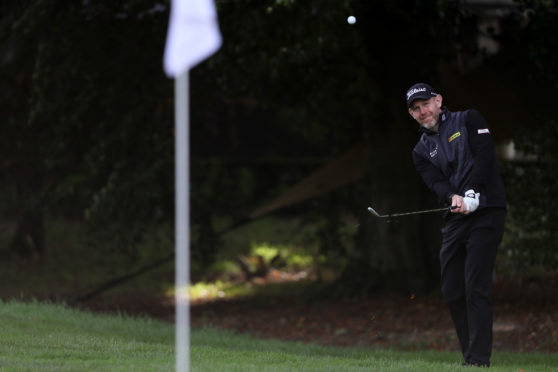 Stephen Gallacher looked like tearing up Galgorm Spa and Golf Resort in foul weather at the Dubai Duty Free Irish Open, but was still happy enough to be tucked in behind the leaders at the end.
The 45-year-old's re-emergence from lockdown was late because of the tragic death of his father Jim after a short illness, but the five-time European Tour winner looks to have been gearing up nicely for the big stretch of events coming up.
He raced to the turn in 30 strokes and was tied for the lead at five-under with early finishers Dean Burmester of South Africa and England's Jordan Smith, before the brakes hit, but a three-under 67 was good for openers.
"I really good off to a flier, holed a few putts and really got it going," said Gallacher. "I was reeled in a bit after that but really disappointed not to birdie 16 or 17 from the fairway.
"67 is a good score out there, even if I'd like to have taken advantage of a few more of the opportunities. It's a great golf course here and a great resort all round. It's a lovely track and I enjoyed it."
The Scottish Open, Wentworth and the new Scottish Championship follow on in the next three weeks but Gallacher chose to come to Ireland to get properly warmed yp.
"We've got a big four weeks coming up for all of us and that's why I came here," he said. "These few weeks are going to require a lot of patience with the cold weather and I wanted to get my game in shape for an important run of tournaments."
Golf in late September and October is going to mean layering and beanie hats and the field got a taste of that at the resort near Ballymena on the first day.
Burmester was "still cold" some time after his 65, but would definitely have taken a 65 on "a beast of a golf course like this".
"It's been a long time since I've woken up and hit range balls in the dark too, but the greens were perfect and obviously it worked out for me today," said the 31-year-old.
"I didn't really miss a shot. A couple of great up and downs kept the momentum going and a 65 in round one – anybody would be happy with that."
England's Aaron Rai also moved up later in the day to share the lead on 65.
There was no happy return to Northern Ireland for Open champion Shane Lowry, who toiled to a five-over 75.
"I pretty much did everything really badly today, from course management to decision making to actually pulling off the shots," he said. "It was not very nice weather out there, but I gave it my best, that's all I could have done, and it ended up in a 75.
"First and foremost my goal tomorrow will be to make the weekend. Everybody who knows me knows that I want to do well in this event. It's just very disappointing today.
"I'm not going to stand here and make any excuses. I felt great yesterday evening, I played 18 holes, felt good playing them, had a great sleep last night and woke up this morning ready to go so I'm not going to stand here and blame the U.S. Open for my poor performance.
"It was just on me."
David Law and Scott Jamieson were the next best of the Scots with one-under 70s, while Perthshire's Calum Hill, a former winner of the Challenge Tour event at Galgorm, fashioned a brilliant comeback from a triple-bogey eight at the par five 10th.
Hill had nothing else but pars until the final stretch where he birdied three of the last four holes to come in with a level par 70, good enough for a share of 21st place.
Ewen Ferguson was also on level par, with Connor Syme and Richie Ramsay both signing for one-over rounds of 71.