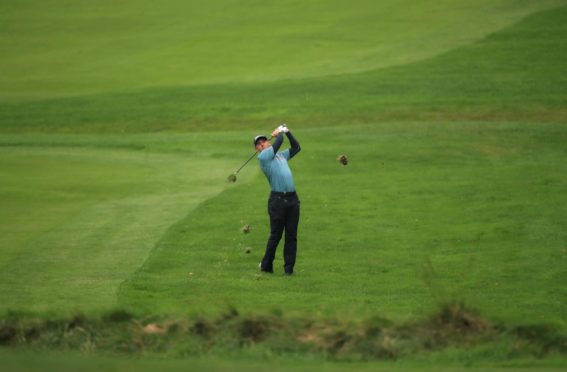 Grant Forrest is poised for his best European Tour performance lying just four shots off the lead at the BMW PGA Championship at Wentworth as a soft course proved vulnerable to scoring again.
Open champion Shane Lowry and Matt Fitzpatrick – whose double bogey on his last hole of the day cost him the advantage going into the weekend – share the lead on 12-under but Forrest, making his first appearance on the famous West Course, produced a superb five-under 67 yesterday which included an opening spurt of six birdies in eight holes.
Eight pars to finish came as he admitted he lost a little of his swing consistency but left the 27-year-old from East Lothian in great shape for the biggest weekend of his career.
"Really pleased," he said after he completed his 67. "My first week playing this golf course, it's playing long and soft, and it lives up to its reputation, definitely.
"This course is just about hitting quality golf shots. We've had quite a lot of wind this first couple of days, so you've really got to be in control of the ball."
Grant even threw off losing a ball on the 18th – his tenth of the day – after his blistering start, making just a bogey there for the only square on his scorecard.
"Hit it right off the tee there, but that was the only blip, and I did well to make birdie with my second ball," he added. "The first eight holes I played excellent, didn't really miss a shot and holed a couple of nice putts.
"In a way just making a six on 18 kept the momentum going, because it started to get a little scrappy on the back nine and I lost my rhythm a little, but managed to hole out really well and parred everything on the way back in.
"I'll go to the range now, hit a few balls and work it out."
Forrest can see the way that Wentworth should play, but he's making the most of the softer scoring conditions.
"It's a lot more target golf this week, I think that's why you see some really low scores," he said. "I've never played it when it's been firm, but I can imagine — my caddie, John, was telling me some of the holes when you play them firm, it's really a different golf course."
For the second week in a row Robert Macintyre followed an uncertain first round with a strong second one, a four-under 68 which included a double bogey six at the ninth. That was more than enough to get him to the weekend at three-under, while both Richie Ramsay and Stephen Gallacher both made the final two rounds on one-under.
The Dundee-based Dunhill Links champion Victor Perez is also challenging in a share of fourth place after rounds of 69 and 66, rolling in a 70 foot putt for eagle on the long fourth hole.
"It's the only really putt that I've made," said the Frenchman. "The rest have all been inside ten feet, I feel like I really haven't made anything, but I'm very pleased with my first two rounds."
He doesn't think that he necessarily plays better in these autumnal conditions, even after his success last year at the links.
"People have been saying I've been playing well this time of the year, but I don't know if it's just coincidence," he said.
"Every year so far I've been getting to a new level and playing better tournaments, bigger tournaments. I think it's taken me a couple of months through the middle of the year to adapt and get comfortable, and maybe that's what it is."