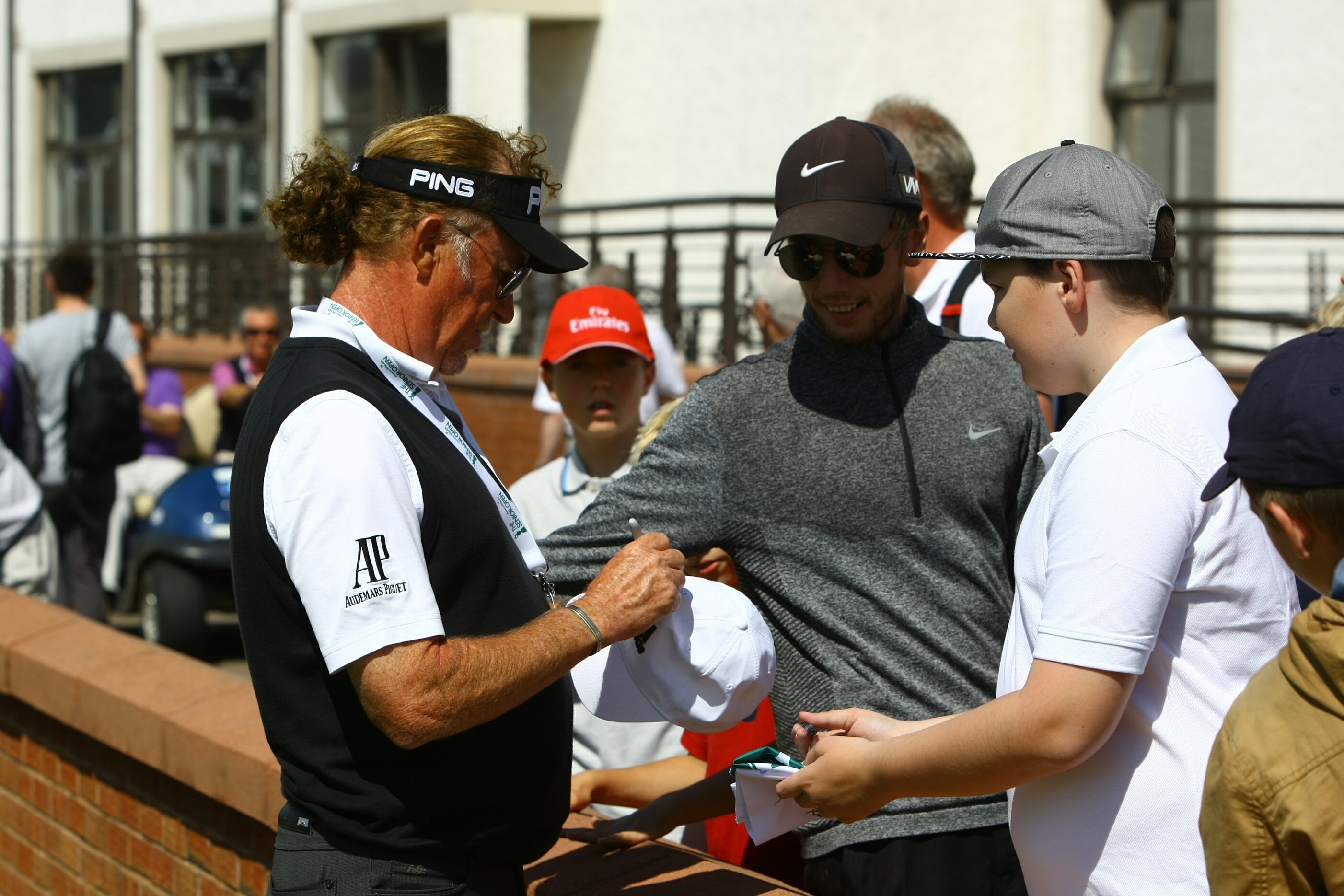 Woody Austin is best remembered for his President's Cup pratfall in 2007, but he steered well clear of British golf's most famous water hazard on his way to the lead of The Senior Open at Carnoustie yesterday.
The American won four times on the PGA Tour in a solid career and three times on the Champions Tour this year alone, but still he's still remembered for partnering Tiger Woods in the President's Cup at Royal Montreal, when he tried to play a shot out of lake, lost balance, and tumbled face first into the water.
"I still get people shouting to stay away from the water, wondering if I brought my goggles," he said after he avoided the Barry Burn entirely during yesterday's four-under 68, which snapped a tie of eight players at the top of the leaderboard.
"People won't let me hear the end of that, `do I still have my goggles', `stay away from the water', `don't fall in'. It's nearly 10 years ago now."
18 players are covered by two shots after a first day which was not among Carnoustie's most brutal, but offered a capricious wind that changed direction confusingly often.
Austin might have slipped away himself after successive bogeys at 9 and 10 – not an uncommon double at Carnoustie – left him at level par.
"But all of a sudden, my swing showed up," he said, and he birdied four of the next six holes, including the 16th which got him that little edge over the opposition.
"You always want to sneak ahead of everybody or at least get up there," he said. "It would have been nice to make the last one at 18 to get that little two-shot cushion or whatever, but I made a 35 footer on the first so I'm okay with it."
Austin won three times in four events in April, and although he lost his form since he's not that keen about going out and chasing it.
"I said all along when I came out on the Champions Tour, this was going to be my retirement," he said. "I'm not into grinding. I'm not into beating a bunch of balls anymore. I did that for 40 years, so I'm done.
"I go home, I play with my kids, be with my family. I own a golf course while I help run, you'll find me sometimes weeding, jumping on a mower.
"This week I've had an extra couple days to work on my game,  when usually I don't get to the golf course until Wednesday and play the Pro-Am on Thursday.
"But I'm finished grinding on a week off. I don't need that anymore."
It's a varied cast chasing the man from Florida, with former Open champion Mark O'Meara, Australia's Peter Fowler, Mexican Esteban Toledo – Sandy Lyle's caddie at the Masters this year but eight shots better than his pal yesterday – among those there.
Jesper Parnevik and Brad Faxon are in the group on two-under, while the tournament favourites, Miguel Angel Jimenez and Bernhard Langer, are well in touch at -2 and -1 respectively.
The charismatic Spaniard more than  pleased with his two-under score, constructed almost entirely on his eagle two at the 14th.
"Under par is always good, I always say the same thing," he said. "I thought under par was good on this course.
"The conditions are perfect. The wind is changing a little bit on the par 3, No. 13, and then it was changing back to the southwest. But the conditions are amazing to play golf.
"I feel positive for tomorrow and day after tomorrow."
Langer finished early but felt that -4 would probably lead – he was dead right – and felt his 71 would be well in touch.
"The wind was a challenge, it was fairly strong earlier on and then it flipped twice in the middle of the round, which caught us off guard a little bit," he said. "Like on 17, I hit as good a shot as I did all day and it wasn't even on the green. The wind switched during my swing."
"But I'm right there. You can't win the tournament the first day. You can lose it by messing up real bad, but there's a lot of golf to be played yet."
The question to Langer has to be what can possibly be his targets now at the age of 58, but his morivation remains much the same as ever.
"I had a target of winning a hundred tournaments a few months ago and I achieved that," he pointed out. "That was a milestone in my career. Now the goal is to keep winning, into my 60s, to keep winning more than anyone else ever has.
"I'm a competitive person, I enjoy that game. And if I spend this much time away from the family and home and friends, I might as well do well.
"If I'm out here finishing 50th every week, I don't think you're going to see me out here very long."