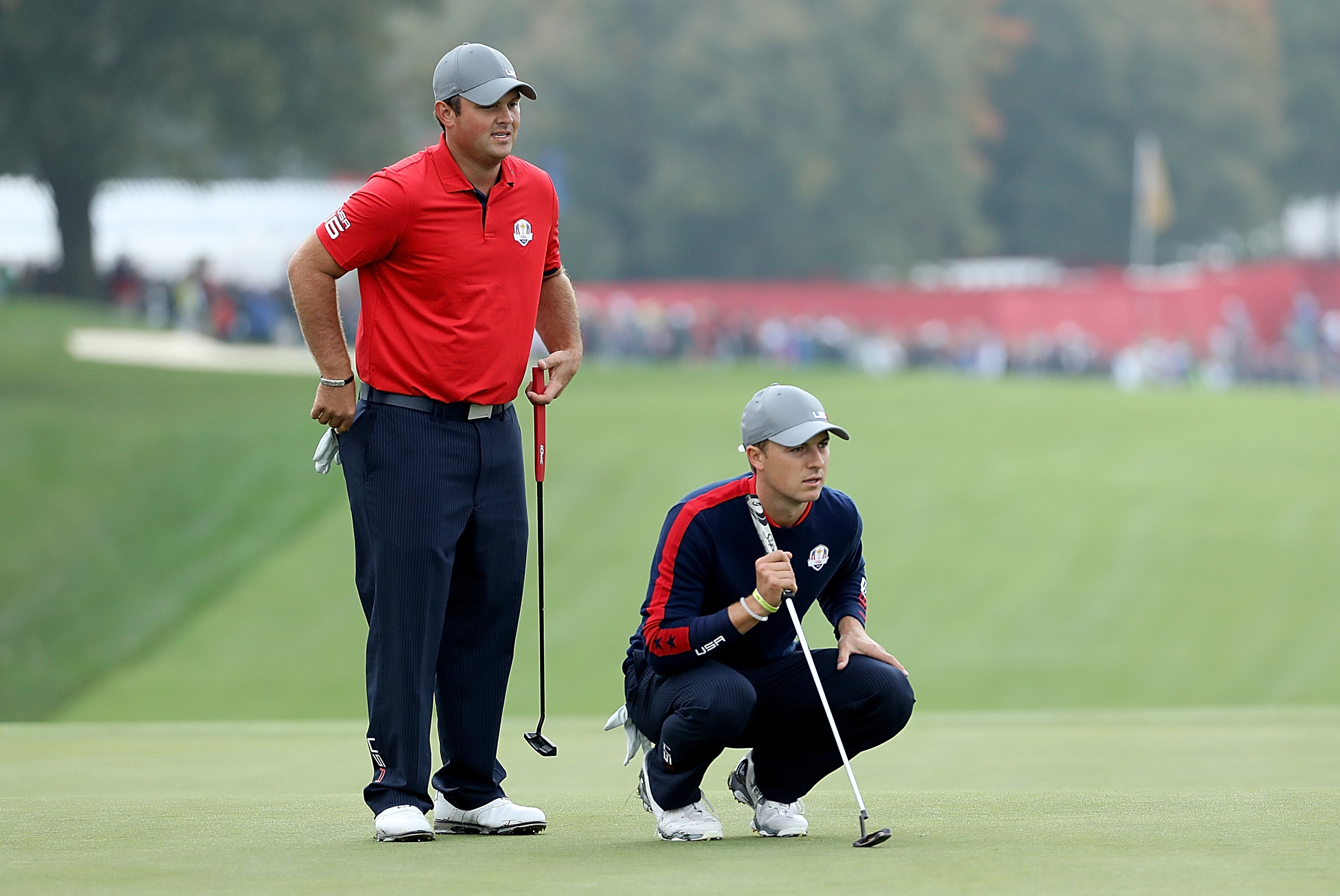 Europe's unbeaten pairing from Gleneagles fell to the USA's unbeaten duo to give the hosts their first win in a first-out Ryder Cup match since 1995, and the difference was almost entirely on the greens.
Justin Rose and Henrik Stenson couldn't pick up the pace of dewy Hazeltine putting surfaces early on and didn't manage to hole out a putt until the sixth hole, when Stenson made a testing four-footer for a half to stay two down.
Jordan Spieth had landed the first two blows with birdie putts at the second and third to give himself and Patrick Reed a lead they were not to relinquish, but it was the elder of the young Texans who carried the fight for the most part in a game that took an unacceptable four hours to play the 16 holes required and was conducted "on the clock" for almost the entire back nine.
"There wasn't much in the match tee-to-green, they made a few putts and we couldn't buy one," said Rose. "We felt that we would start to get into a run but it never happened."
Reed, who played in short sleeves despite the front nine being played in chilly conditions, agreed that it was on the greens that the US team had won the tie.
"Anytime you take on Rose and Stenson, it's never simple," he said. "We had a great gameplan, which was to just hit a lot of greens, in alternate shot you have to do that, give yourself opportunities.
"We were lucky enough to hit greens and give ourselves a lot of good looks."
The US duo were three-up and three-under through eight before their first mistake gave the European duo their first hole win, but Reed's putt for a half at 10 after his partner put him in trouble off the tee to stay two-up was the key.
"That was the key, we had just won 9 and they were in a bit of trouble," said Stenson. "It was one of those days where we needed to make one or two putts but we didn't, and that enabled them to stay ahead and why they won."
Rose was given a bad time at bthe 12th after referee Andy McFee had instructed both teams to take no longer than 60 seconds for their shots, but no matter how long it took them the Europeans couldn't seem to find the line on their longer putts.
The Englishman finally holed a 10 footer – the first putt of any significant length they'd managed all morning – but it was for a half and despite Spieth's waywardness off the tee after the turn Reed was carrying his partner to the finish.
The star of the poor American effort last time at Gleneagles finished the Europeans off with a 16 foot birdie putt at the 16th to put the first red on the scoreboard.
"In foursomes we make one mistake, one bogey, but we didn't capitalise when we had chances," said Rose. "We didn't miss a shot, but we couldn't buy a putt."