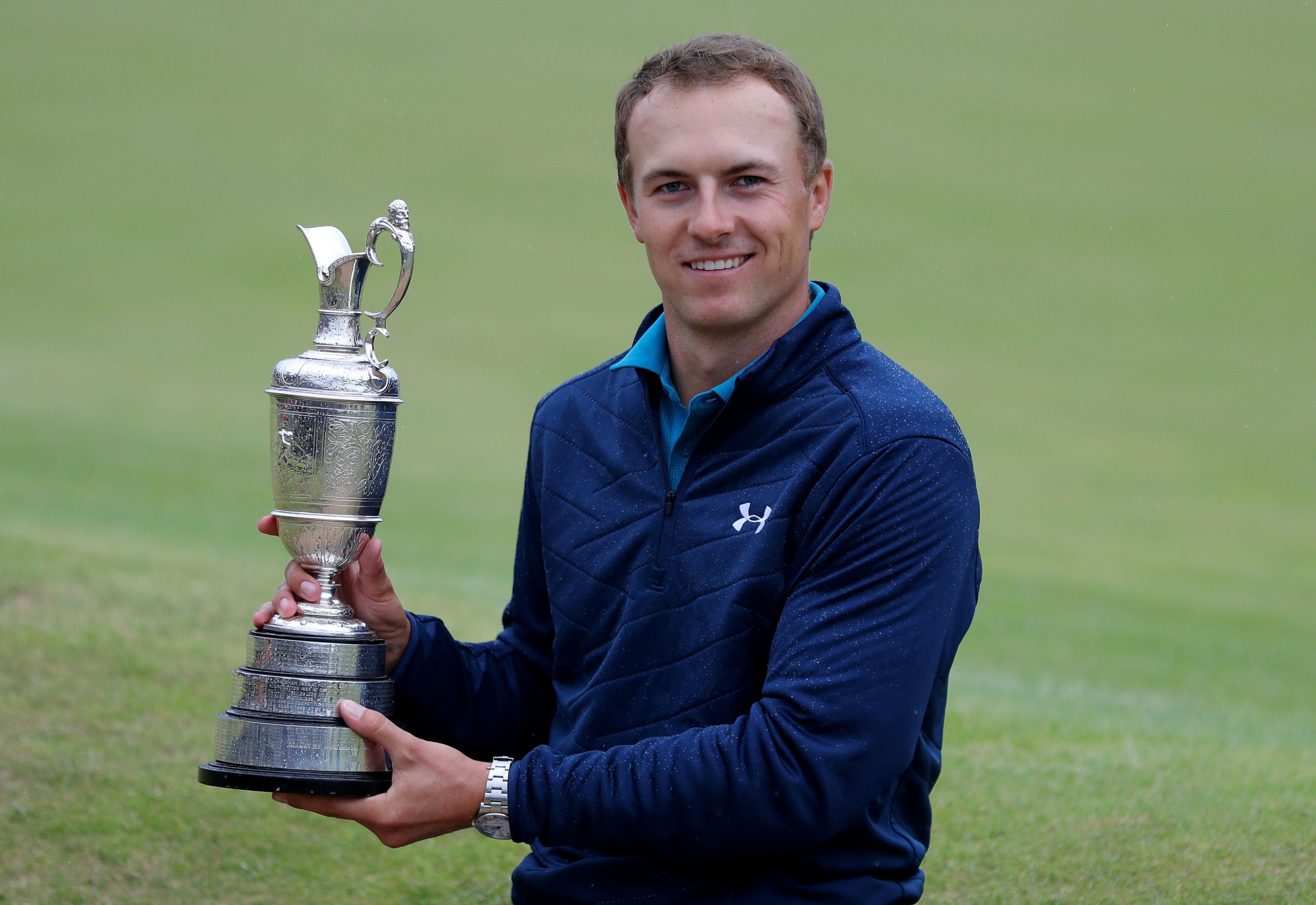 Jordan Spieth had to go to the verge of a complete breakdown in front of millions watching around the world before he surged to claim the Claret Jug in another unforgettable final day of the Open Championship at Royal Birkdale.
The 23-year-old from Texas had unravelled in alarming fashion but after a mental catharsis on the 13th hole, he suddenly regained his focus with a vengeance and produced a blistering surge of scoring to reclaim the initiative and his third major title.
After escaping the 13th with just a bogey after carving his drive so far right he needed to take relief on the practice ground behind an equipment truck, Spieth went birdie-eagle-birdie-birdie to repair all the damage of his previous 13 holes and leave Matt Kuchar trailing in his wake.
Spieth finally signed off a one-under 69 for a winning 12-under-par aggregate of 268, three shots clear of Kuchar, but those mere figures in no way relate the incredible drama at Birkdale in what was supposed to be an easy procession.
Spieth's half-hour prowling the practice ground trying to get clear sight for a penalty drop will enter Open folklore like Jean van de Velde in the Barry Burn at Carnoustie in 1999, but amid the chaos he seemed to recover the focus and strength that was deserting him during the final round.
The young American was every bit as close to a collapse as his famous disaster at the Masters last year, and there's no telling what the damage would have been to him had it happened again.
"When I hit that drive on 13, I thought, you're five-over (for the day)," he said. "I'm thinking if it weren't to go my way today, then all I'm going to be questioned about and thought about and murmured about, and that adds a lot of pressure to me."
The Masters last year was still in his head, he admitted.
"I always thought, how could I not close out a five shot lead with nine to play," he said. "Today could have been (the same), and it's funny, when I was tied I didn't feel the nerves. When I was in the lead I was, but it's all about powering through that."
With that mindset, unlike van de Velde's devastation, the madness evaporated and Spieth's almost immediate recovery was astonishing.
Even after the practice ground craziness, the further drama of the 15th, as he drained a 40 foot eagle putt to regain the lead and then instructed caddie Michael Greller to "go get that!", will become one of the Open's signature moments.
What was supposed to be a simple procession – and looking only at the bare numbers you'd still think it was – was anything but. Spieth looked uncomfortable from the start, his famously smooth putting stroke almost a twitch, and his three-stroke advantage was gone as early as the fourth hole.
Kuchar was hardly shooting out the lights either, dropping shots at the third and sixth. But he was level at the ninth when Spieth's third three-putt of the front half had him out in 37.
The pair were fortunate that there was no semblance of assault from the field behind. China's Li Haotong shot a brilliant 63 to get into the clubhouse at six-under, but the big guns behind – Rory McIlroy, Branden Grace, Dustin Johnson, Brooks Koepka, Hideki Matsuyama – were firing blanks in conditions that were quickly deteriorating once Li was safely indoors.
After his record 62 on Saturday, Grace could only manage a par 70. McIlroy promised but his game remained frayed around the edges, and a 67 was a shot short of Li and eventually sharing fourth with Scottish Open champion Rafa Cabrera Bello.
Matsuyama had a triple bogey at the first, Dustin Johnson a double, while US Open champion Koepka never really got out of second gear.
Spieth was still showing signs of frailty on the back nine – a poor tee shot at 10, a horrible hook at 11 – but salvaged pars and seemed to steady the ship, only for it all to go off on the 13th.
His drive was wildly right, clearing the huge sand dunes there and causing an almighty scramble amongst the galleries. After an age of talking with his caddie Greller, the referees and even the crowd, he took an unplayable and a line of relief back to the practice ground, where Li was warming up in the hope of a possible play-off.
Spieth seemed to even want one of the 30-tonne equipment trucks moved before he finally hit the shot, short of a bunker in front of the green, chipped and made a ten footer for a bogey, while Kuchar just missed a birdie putt that might have swung the contest decisively in his favour.
"Michael had said to me coming off 13 "that's a momentum change" and he was dead on," continued Spieth.
"All I had to do was believe it. All of a sudden I felt and believed that I could win that golf tournament, when 30 minutes prior and really the entire day, after the 4th hole, I didn't feel that way."
Instead Spieth turned the relief of his escape and the chaos of the 13th into a renewed focus, and almost holed his tee shot at the 14th, repairing the lost shot in the process.
But it was the 15th, where he was on the front of the green in two, that made this one for the ages. Gone was the uncertainty of the first 12 holes as Spieth sent his ball from 40 feet away, never going anywhere else than the heart of the cup to regain the lead.
"I mean for the way it was looking on the front nine, all those 3-footers were 10-footers to me," he continued. "And all of a sudden the lid came off, and the 30-footers were 2-footers to me.
"I don't know why I can't make it a little more boring sometimes."
If that wasn't enough, he rattled in birdie putts at 16 and 17 as well, making the 18th almost an anti-climax as Kuchar, who matched his birdie at 17, bogeyed the last.
"It's crushing, it hurts," said the veteran from Georgia. "But there's pride in knowing I fought a good battle and played well."