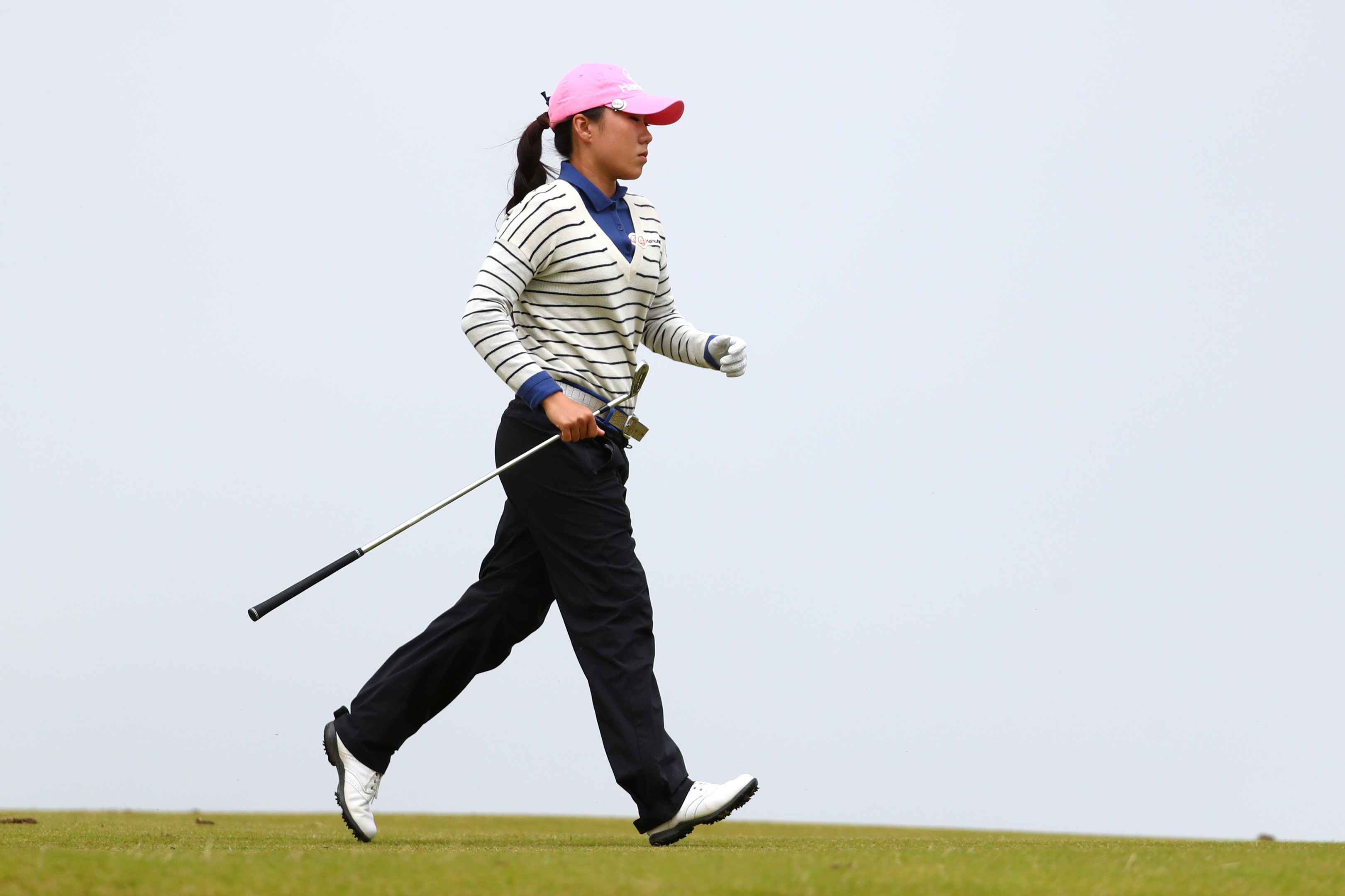 In-Kyung Kim was sympathetic when the questioning dried up pretty quickly at her press conference as she led the RICOH Women's British Open at the halfway stage.
"Everyone wants to go home," she said, as rain continued to batter off the roof of the Kingsbarns media tent, although it had hardly deterred the 29-year-old Korean just a moment earlier.
Even though the rain fell pretty solidly during the final few holes of Kim's round she recorded a 68 to lead at eleven-under, two ahead of Georgia Hall and Lexi Thompson.
Kim's playing group were warned about pace of play in the gloaming but the deluge meant that "everybody pretty much struggled" to get in. However she produced a birdie at 17 to turn what looked like a fragile one-shot lead down the stretch into two at the end of play.
The key to her round was the eagle on 11 which came just before the heavens opened for good, one of the few times she felt she got the ball up to the hole as the greens continue to slow with all the moisture on them this week.
"I'd like know what the reason is," said Kim when asked about her improved form on the LPGA Tour this year. "I think it's just consistency, making a few more putts, hitting a few more fairways.
"Today was tough but to be honest it was worse at Liverpool (the Women's British Open at Hoylake in 2012). I think trained for two whole days, 36 holes, and the wind blew stronger then as well."
Earlier sudden streaks of scoring promoted England's promising young Hall – just a month younger than the more hyped Charley Hull but a with a lot less time on tour – and the probable favourite going into the weekend, the USA's Thompson.
Hall had a run of four birdies in a row on the front nine and was able to bring that home with a 67 to be the first in the field to get to nine-under. Thompson had been flatlining to the turn but suddenly sparked as she took the bend, rattling off five birdies in succession. Another birdie at 17 brought her home in 30 – equal to Michelle Wie's score on the inward half on Thursday – and in at nine-under.
Hall has come under the wing of legend Gary Player, having played in his Invitational Pro Am at Wentworth recently.
"He have me plenty of advice," said Georgia. "I should take a pad out with me and write down how many times I get up-and-down from a hundred yards.
"And he said if you're going to practise for three hours, you should practise short game for two hours. He also said that you should never feel sorry for yourself and never give up.
"Those things were kind of big to me. If some like him is going to say that to me, then I'm certainly not going to give up on the golf course if I have a bad hole."
Thompson had three-putted twice on the front nine but then "just got on a roll" after she made the turn.
"I stayed in it after the first two bogeys and stayed patient and positive," he said.
Certainly caddie Kevin McAlpine, who looped at Kingsbarns for four years and has formed a strong working relationship with Lexi these last 10 or 11 weeks, has been worth his weight in gold so far.
"Basically his input is at every hole, honestly," she said. "Going into the greens, he tells me where to land it and like where I need it to come down. And he's been spot on every time. He knows the greens here like the back of his hand."
As so often happens, after her record 64 on Thursday Michelle Wie was a more subdued figure despite conditions being all round easier on the second day.
Wie had slipped back to seven-under coming down the stretch, losing her lead to Hall and Thompson who were safely home in the morning wave at nine-under.
Still, it wasn't calamitous up until she admitted to trying to "force things" coming up the final two holes, found the burns at the front of the 17th to take a double bogey, then dropping another shot at the 18th with a poor approach she put down to a bad lie.
Instead of being clear leader, she was six shots behind the lead after her 76.
"I just kind of got a little impatient out there," she admitted. "It's a good lesson learned. I still feel like I have a really good chance. Got to go out there and make birdies and climb back up there."
Lydia Ko had only ever missed major championship cut as a pro and with a couple of brave up and downs and a fine birdie at 17, seemed to have done enough to just avoid it a second time.
However the former World No 1 had a torturous wait to see if she would qualify for the weekend as the cut mark fluctuated before falling just on the right side for her .
Defending champion Ariya Jutanugarn missed the cut, shooting a 77 including a sextuple bogey  nine taking six shots in a bunker at the short 12th. As a contrast, Korea's Jenny Shin was four-under for the par threes, including an ace at the signature hole at Kingsbarns, the 14th.